Tigers Roar
Picked to finish eighth in the Atlantic Hockey preseason poll, RIT is certainly exceeding expectations. The Tigers are currently tied for third in the standings on points, with the best winning percentage in the league. RIT boasts the top offense, defense and penalty kill in the conference, and is tied for first in power play.
Head coach Wayne Wilson isn't surprised. "We were hopeful," he said. "We knew we had a good team but coming into this year, we were an unknown and the league was an unknown to us. Who knew that Mercyhurst would be where they are right now and that Army would be where they are right now? It goes to show the parity in this league, how evenly everyone is matched."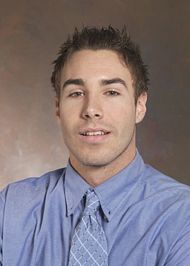 The Tigers are coming off a home 2-1, 5-1 sweep of defending league champ Holy Cross. The Crusaders came into the weekend with the top-rated power play in Division I, but were held to just one goal on 19 chances. RIT converted on a healthy four of its 15 attempts.
"It was the most complete six periods of hockey over a weekend that I've seen," said Wilson. "Most games you win, there's one or two things that win the game for you — goaltending, power play. But this weekend we were strong from top to bottom. I don't think we had a weak area."
RIT is 5-1 in league play at home, but just 1-1-1 on the road. The Tigers face a tough stretch with games this weekend at Mercyhurst and then December 29 and 30 at Army.
"A point of emphasis for us was to go undefeated at home," said Wilson. "But we've already missed that. In this league, you want to win at home and split on the road."
The Tigers have arguably the best goaltending in the league, with junior Jocelyn Guimond (2.51 GAA, .929 save %) and sophomore Louis Menard (2.15 GAA, .930 save %). Menard's numbers in the three league games he's played so far are exceptional: a 0.67 GAA and a .976 save percentage.
Wilson has lately been alternating Guimond and Menard, with the junior getting the start the last two Friday nights and the sophomore starting on Saturday.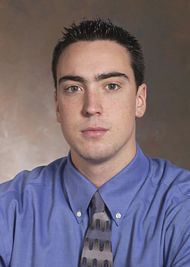 "We've been very pleased (with the goaltending)," said Wilson. "If you play well, you get to start, and right now they are both playing well. We tell them the night before (which one is starting)."
Wilson has had little trouble motivating the Tigers, even though RIT is ineligible for the postseason in its final year of transition to Division I. Since Atlantic Hockey gets an automatic qualifier for its playoff champion and RIT is ineligible for the NCAA tournament, no Tigers in the playoffs.
"The goal every year is to win your league, and for us that means the regular season," said Wilson. "You can do that and lose in the playoffs and not get an NCAA bid anyway."
I asked Wilson if that means that every league game feels like a playoff game.
"Not really," he said. "It's a long season. To be honest, we haven't really talked about it. We have our hands full from week to week and this week is certainly no exception. We're going to have our hands full with Mercyhurst, and coming off the weekend that we had, they can put us back in our place in a hurry. The same goes for Army."
One thing's for sure — RIT isn't sneaking up on anyone any more.
"We're still proving ourselves," said Wilson, "But the bar has been raised in terms of what's expected of us. The players raised it themselves."
Weekly Awards
Player of the Week
Anthony Canzoneri, Bentley — The sophomore forward had a five-point weekend to lead the Falcons to a 4-3, 5-2 sweep of Canisius. He scored two goals in each game, including the game winner on Friday.
Goaltender of the Week
Jason Smith, Sacred Heart — Smith stopped 70 of 74 shots on the weekend as the Pioneers earned a pair of road ties at Air Force.
Rookie of the Week
Dan Ringwald, RIT — Ringwald scored three points, including his first goal of the season in a 2-1, 5-1 sweep of Holy Cross.
Trying to Get on a Roll
It's been an up-and-down season so far for the Mercyhurst Lakers. Rick Gotkin's squad got off to a tough start at 2-8, but started turning things around in mid-November, going 1-0-3 in games against Canisius, Yale and Holy Cross. But the rollercoaster took a dive when Mercyhurst lost at AIC last Friday, as the Yellow Jackets chalked up their first win of the season. The Lakers rebounded to win on Saturday and return home this weekend to face an RIT squad riding a three-game winning streak.
Following the RIT series, Mercyhurst travels to Maine for a single game against the Black Bears before the holiday break.
"At least it's in Portland," laughed Gotkin. "It's two hours closer to Erie than Orono."
The Lakers' coach said wasn't overly upset about being AIC's first victim of the season last weekend.
"They played great, take nothing away from them," said Gotkin. "We watched them on tape and saw many positive things. (AIC goalie Tom) Fenton played great on Friday. He gave them life, especially in the early part of the game when we had our chances. The better team won on Friday.
"They're better than their record. Before last weekend, they had played two (league) games at home and eight on the road. They've been to some tough places. This was their first full weekend at home and they were psyched for that."
The Lakers came back to win 8-3 on Saturday.
"We were able to finish our chances on Saturday," said Gotkin. "A much better game for us all around."
RIT awaits for the Lakers, then the long ride to Maine before Christmas. Things don't any easier after that as Mercyhurst faces Denver in the first round of the Wells Fargo Denver Cup on December 29.
"This should be a great weekend of hockey with RIT," said Gotkin. "They're going to play great and we're going to play great. I'm really looking forward to it.
"At this point, it's all about trying to get on a roll and I think we will eventually. This is a very different team than we've had (in recent years) but it's a really good team. It's all about rolling in February and that's what we're shooting for. I think we'll be there."
Around the League
Sacred Heart: Senior captain Pierre-Luc O'Brien was named the CSTV/Hockey Commissioners' Association National Division I Player of the Month for November. O'Brien tallied a whopping 22 points in a seven-game stretch as the Pioneers went 6-1 over that span. O'Brien currently has 12 goals and 15 assists to lead the team.
Air Force: Junior Eric Ehn's eight-game scoring streak came to an end on Saturday against Sacred Heart. Air Force has lost seven games this season, five of them to ranked teams.
AIC: The Yellow Jackets' win over Mercyhurst last Friday stopped a 15-game winless streak dating back to last season. AIC's four goals in that game were the most it has scored this season. The victory was the Yellow Jackets' first over the Lakers since 2001.
Bentley: The Falcons' sweep of Canisius last weekend was the first time this season that Bentley has not split a league weekend series. Bentley has now beaten Canisius five straight times, with four of those games decided by a single goal. Senior goaltender Ray Jean made 51 saves on the weekend while sophomore forward Anthony Canzoneri tallied five points in the two games. The Falcons travel to Nebraska-Omaha next weekend for the first-ever meeting between the two teams.
Mercyhurst: The school has a new assistant Athletic Director and it's a familiar name in college hockey circles: Craig Barnett, who was head coach at Findlay and most recently Athletic Director and head coach at Becker College in Worcester, Massachusetts, a new Division III program. Barnett is a former assistant at Mercyhurst. "It's great to have Craig back, " said Lakers' coach Rick Gotkin. "He has ties to this area and always wanted to come back."
Happy Holidays
With just a handful of games left in 2006, this column goes on holiday break for a few weeks. The 2007 portion of the Atlantic Hockey season is shaping up to be intense. There's a logjam in the middle of the standings with just five points separating teams from second through seventh place, and plenty of hockey to play.
Have a peaceful and happy Holiday season!