One couldn't fault the Massachusetts hockey team for looking a little bit ahead to see what the second half of the season will bring, but seasoned veterans like senior Chris Capraro aren't likely to let that happen.
"In my experience in both life and hockey, I think it's always best to keep your entire focus on what's going on right now," said Capraro, who had his personal philosophies put to the test when he left the team for a season due to personal reasons before returning last season. "There's no sense in worrying about what's happened in the past or what will happen to you in the future … you come to the rink every day focused on just that day."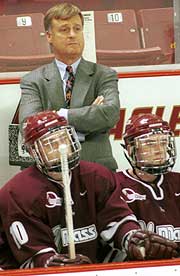 After missing several games to begin the season, Capraro and the Minutemen have done just that — building up a 6-5-1 record in Hockey East that has contending for home ice in the Hockey East tournament and cracking the USCHO.com/CSTV Top 20 for the first time since their almost-Cinderella season of 2003-04.
Though the Minutemen are currently just outside the national rankings, observers around Hockey East have kept a keen eye on what's going on out in the pastoral Amherst campus.
"They really have a strong hockey club that can really skate, and they were very impressive to me," said Boston College hockey coach Jerry York. "They also have a good goaltender in [Jon] Quick, and you're going to have some success when you put those two ingredients together. I think [UMass head coach] Toot [Cahoon] has done an excellent job there, and they're for real."
There are holdovers from the 2003-04 Minutemen squad that was one Jimmy Howard performance away from capturing the Hockey East tournament title and earning its first NCAA Tournament berth — with the aforementioned Capraro, defenseman Mark Matheson, forward Matt Anderson, and power forward Kevin Jarman all playing roles on that team.
While this squad doesn't have the star power that skaters like Thomas Pock, Greg Mauldin and Nick Kuiper brought to that team's table, these Minutemen do have a nice combination of quick, skilled forwards, strong, offensively skilled defenseman capable of scoring points and frustrating opposition with their forecheck, and a big, agile goaltender.
"You got the feeling back then that you could beat any team at any time because of the special players we had on the ice," said Matheson, who leads the team with 10 goals after entering his senior season with only seven goals in 93 career games. "I don't think we have the same individual talent, but this team can skate, play good defense and has good goaltending — if we're playing hard, then good things should happen for us."
These Minutemen also have constant reminders all around the locker room of what they're shooting for — a return to the success that the previous squad enjoyed.
"There are framed pictures of those players and moments from that UMass/Maine triple-overtime game all over the locker room, so we know where this program has been and where we want it to go," said Minutemen winger Chris Davis, third on team in scoring with seven goals and eight assists. "Coach is always telling us about what it takes to get there and the price that needs to be paid and we're just trying to go out on the ice and apply that."
It's been an interesting mixture of youthful exuberance and seasoned experience, as the old guard with postseason experience has done its part and youngsters like former Catholic Memorial player Cory Quirk, freshman Wil Ortiz and Quick have also emblazoned their stamp on the team.
"I like to think that we all bring a little something to the table," said Quirk. "I think Capraro just seems to make things happen and really knows how to set guys up; Chris Davis is a burner and beats people with his skating speed; P.J. Fenton is just a classic goal-scorer and is looking to shoot with every opportunity; Matt Anderson is another guy that really knows what to do with the puck.
"I think I'm just a guy that tries to kind of hide out and sneak up on people," added Quirk, who leads the Minutemen with eight goals and nine assists through 19 games. "I try to always be in the right position to make a play."
The improvement on offense has been a difference-maker for the Minutemen — as they've gone from scoring 2.1 goals per game last year to 2.63 this year — but Quick has also been a gift from the hockey gods after being the most highly-touted and heavily-recruited goaltender coming out New England as a prep schooler.
In his first season as the unquestioned starter after sharing duties with Gabe Winer last season, Quick has blossomed into a 'tender who can steal a game or even score a goal — against Merrimack — something that's given opposing teams something to worry about on both offense and defense.
The 20-year-old Quick is tied with UVM goaltender Joe Fallon for the Hockey East lead with a .929 save percentage — good for seventh in Division I — and has a sparkling 2.15 goals against average.
"He's so quick and athletic back there and he really sponges up all of the rebounds when things are a little hectic in front of the net," said Matheson. "As a defenseman, he allows you to take chances and be a little more aggressive on D because you know he's back there.
"He was up-and-down a little bit as a freshman last year, but he's come into his own this year."
"From the beginning, we knew he was athletic and capable," added Cahoon. "He was a highly-touted recruit for a reason. He won championships at Avon Old Farms and the Los Angeles Kings thought highly enough of him to draft him in the [third] round.
"The key was him growing up a little more, getting to know himself more … what he needed to do away from the rink to be [his best]. He's made great strides there and has been solid for us, game in and game out."
The biggest question for the team is the second half of the season, and how this mix of young and old players will deal with the heightened intensity and bigger stakes that come with a run to the playoffs. It's a query that Cahoon believes still awaits his team after a weekend home-and-home split against Merrimack that moved its record at the Mullins Center to a dominant 7-1-1.
"The big thing is staying in the present and not getting too far ahead of ourselves," said Cahoon, who clearly hasn't fallen in love with his team's promising start. "You just have to prepare yourself as best as you can and bring your best game to the rink to give yourself the best chance of winning. Because anything less than your best in this league is likely to result in an L."
That's the kind of never-say-die attitude that pushed the Minutemen to the brink of NCAA glory in 2003-04 — and may just place them there again this season with a strong second-half surge.