As the bus pulled out of the Milford Ice Pavilion, Jeff Siegel, RIT's equipment manager called out to the driver, "Hey, Bussie! How about four honks for four points!"
The driver obliged, sounding his horn four times as the bus left the rink for the six-hour ride back to Rochester.
A cheer went up, and then it was back to business as usual, as players fired up laptops and iPods. You wouldn't know that RIT had just shocked the college hockey world. The Tigers, a team with no players on scholarship and still half a season away from being full-fledged members of Division I, had swept Sacred Heart to take over sole possession of first place in Atlantic Hockey.
There were signs that this team had promise last season. RIT was just 6-22-2 as an independent, with only four wins against Division I opposition. But the Tigers had defeated a ranked St. Lawrence team 3-2 behind a record-tying 66-save performance by goaltender Jocelyn Guimond. And RIT had come close n many of its losses. The Tigers pulled their goalie a whopping 20 times last season en route to 10 one-goal defeats.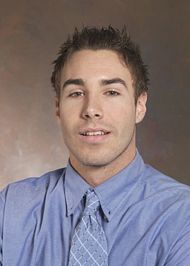 This season, its first in Atlantic Hockey, has seen RIT go 13-4-1 in league play. The Tigers have the top offense, defense, penalty kill and power play in the conference.
In other words, this isn't a fluke.
"The foundation for this was built last year," said RIT coach Wayne Wilson. "We would work harder and harder but not get results. But now the hard work is paying off."
Wilson said that while last year was certainly discouraging, there were signs of things to come.
"I knew we would be competitive in the league," he said. "There were a couple of games that were indicators. I thought we outplayed Mercyhurst (a 4-3 loss). We were coming off a game the night before (at Bowling Green) and had to play them the next afternoon on a Sunday while they were idle the rest of the weekend. We ran out of gas but I thought we played well enough to win. Even Sacred Heart last year (an 8-5 loss) was a game I thought we could have won."
The Tigers didn't have many believers outside of Rochester. They were picked to finish eighth in the AHA preseason poll. Wilson voted his team fourth. "We were an unknown," he said. "I can see why. We had proved nothing at that point. We were coming from Division III. Half our players were told at some point that they weren't good enough to play Division I Hockey."
The main reason why RIT was competitive in its inaugural year at D-I was the play of goaltender Guimond. Besides the eye-opening 66-save performance early in the season, the Quebec City, Quebec, native posted a .908 save percentage, averaging over 30 saves a game, keeping the Tigers within striking distance in almost every contest.
"Joss gave us a chance in every game," said Wilson. "And he's playing even better this year."
"Personally, last year was a good year," said Guimond. "But we weren't winning, and that's what's really important."
Guimond's numbers are indeed better this season: a .925 save percentage and a 2.44 GAA, both tops in the league. But this season he's been fresher, as freshman Louis Menard has started 10 games as well. Menard has a .912 save percentage to date.
"We feel both goalies are above average," said Wilson. "We're very happy with Louie. We're happy with (backup) Jared DeMichiel. He could start for many teams. It's hard to keep three guys happy."
"This year has been a lot more fun," said Guimond. "There's pressure, but it's a better kind of pressure. We're scoring more goals, which makes it easier on me. The pressure is now to win games and finish in first place."
"We knew we needed to build a foundation of good goaltending," said RIT assistant coach Brian Hills. "We're really happy with our defense, too. All the pieces came into place and starting off the season well really helped build the momentum. The guys have really come together."
Hills, who was an assistant with Wilson at Bowling Green, was most recently the head coach at Geneseo. He left that post before last season to rejoin Wilson, a former teammate at Bowling Green.
"I always thought of (the Geneseo head coaching job) as a three- to five-year transition time," Hills said. "It was certainly something I wanted to do. But when Wayne approached me, it was a great opportunity. RIT has a lot to offer. I felt it was a program that could be successful."
While the two Division I recruiting classes are getting the majority of the points, both Wilson and Hills pointed to the three seniors, Brad Harris, Tristan Fairbarn and Rob Tarantino, as having a big impact.
"I have a lot of respect for the seniors," said Hills. "Nothing has been given to them. They've earned it all."
"They're not on the scoresheet a lot but it's the little things that make them important to the team," said Wilson. "Playing a strong shift, winning faceoffs, making hits. Their experience is invaluable."
Harris has dressed most nights, but Tarantino and Fairbarn, both the younger brothers of former All-American RIT players, have been battling to get into the lineup amid a talented group of underclassmen.
"Brad is one of our top penalty killers and is excellent in defensive situations," said Wilson. "Tristan is one of our captains and leads by example in terms of effort. Rob was not playing up to his abilities earlier in the season, and at that point you can either get angry with the coach or angry with yourself. Rob got angry with himself and fought his way into the lineup."
"Every game feels like a playoff game," said Fairbarn. "The intensity has to be there. The older guys need to make sure that the younger guys understand that."
"We've got our playoff beards going," added junior forward Simon Lambert, stroking his stubble. Lambert was the Tigers' main offensive weapon last season, producing almost twice as many points (1.21 per game for a total of 34) as any other player. But this season there are four Tigers averaging over a point a game: sophomore Steve Pinizzotto (1.29), Lambert (1.21), junior Matt Smith (1.12) and defenseman Brent Patry (1.00).
"We were so close last year in so many games," Lambert said. "We weren't really that far from where we are now. We just needed some more ingredients."
Some of those ingredients include Menard, a redshirt freshman, as well as rookie forward Anton Karin (16 points) and defensemen Al Mazur (18 points) and Dan Ringwald (15 points).
"It's a great group of guys," said Hills." Everybody gets along well. You can see it on the bench. Guys are pulling for each other and keeping it positive."
"We go four lines deep. We have great balance," said Fairbarn. "It's up to us now. It's all about getting it done."
RIT has 10 games remaining, and leads Atlantic Hockey by two points. Since the Tigers have no postseason to look forward to, they know exactly when their season will end: February 24 at Bentley. But who would have thought that at this point the season that RIT would control its own destiny with a league regular season on the line?
"It's great to have something to play for," said Guimond. "No playoffs, but playing for first place is something, and we want to win it."