Eric Ehn doesn't exactly have a scorer's mentality, and that's not always a bad thing.
"I'm in shock that this whole thing is happening. It feels like every time I skate past the net the puck hits off my shin pads and goes into the net. It feels like I've been getting one of those a weekend. I guess my shin pads are just bigger than everyone else's," said Ehn.
The junior forward wears number 24 because longtime NHLer Bob Probert was his favorite player, a guy hardly known for lighting the lamp. And the self-described blue-collar Ehn has picked up points by being in the right place at the right time, working hard, and winning battles.
"Showing up every game has been a big key to my success," said Ehn. "If I don't take a shift off and I can manage to get an assist or even a goal and do something to contribute, the points can add up quickly as the year goes along."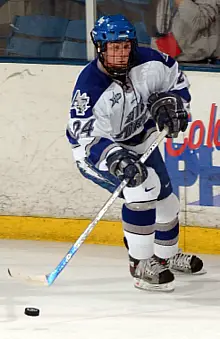 And the points have definitely added up. Through 26 contests, Ehn has registered a 19-26–45 line and is averaging 1.73 points per game, both tops in the nation — four points ahead of his closest competitor, Michigan's T.J. Hensick, through the same number of games played. Ehn ranks third in the nation in goals (19) and is tied for second in assists (26), and is among the leaders in power-play tallies (seven).
"Consistency is the word for me. It's not too often where I go out and have a couple four-point games on the weekend, but there have only been a few games this year where I didn't go out and get a point," said Ehn.
The Dexter, Mich., native grew up in a tiny village that borders Ann Arbor and hangs in the shadows of Michigan's Yost Ice Arena, but the levelheaded Ehn never felt quite at home watching Wolverine hockey.
"I went to a lot of Michigan hockey games when I was younger. They'd be winning 7-1 against a team like Bowling Green and their fans would be all over the goalie. I don't like that, so I kind of shied away from them in hockey. I'm a big Michigan football fan, though."
East Lansing, home of the Michigan State Spartans, wasn't exactly any more hospitable.
"I didn't get too much interest from Michigan or Michigan State. I played midget hockey in Lansing for a year, but Michigan State wasn't interested in many local players unless your last name was Miller. That's not a knock on Drew, who is a great player, but it was the truth at the time," said Ehn.
For the most part, Ehn has taken the road less traveled to the top of the national scoresheet. Not only is he playing at a non-traditional hockey school, but also he also almost had to give up on the sport before he even got there.
"One year, I think I got cut from every midget major team in the state of Michigan. I thought that I had run out of options," Ehn said. "So I ended up playing Junior B hockey."
Looking back on his choice to play Junior B, Ehn describes his time with the Waterford Metro Jets of the Central States Hockey League as the turning point in his career.
"It really helped my game because it might not have been that talented of a level but it was so physical with guys that were 21 years old. I was a kid playing against men, so that really helped," Ehn said.
It's that type of battle-testing that developed the work ethic and tenacity Ehn is seeing pay off. Last weekend, the prolific scorer notched his 100th career point in just 93 career games.
Some consider Ehn a surprise to be among the nation's scoring leaders, but he has been consistently impressive throughout his career, earning 22 points as a freshman, improving to 35 points last season, and taking off this season with 45.
"I'm a little in awe," said Ehn. "I was surprised when I read last week that I was so close. I had a conversation with my dad before I started playing hockey and he told me that if I scored 100 points in my career that it would be a pretty good career."
"There's a little bit of pressure to put up some points, but we have plenty of depth. I can put up an 0-fer on the weekend and I know we'll still compete."
Speaking of family, Ehn has a more talented hockey group than most. In addition to the Hobey Baker hopeful himself, his family boasts Adam Hall, former Michigan State captain and current New York Ranger.
"With our schedules we really only catch up at family reunions, but we'll have to have one soon so that we can start comparing notes," said Ehn.
Hall should take his cousin up on his offer for a family barbeque, as Ehn can flip more than a puck into the net. He's chef for his squadron in charge of barbeques, showing quite a gift for manning the grill.
"Each squadron makes up a group, which makes up a wing, which makes up the school. That determines my living arrangements and the people I'm around on a daily basis. I'm the person who procures the food for the squadron. I jump on the grill and cook up the hamburgers and make sure the barbeque goes right."
Despite getting attention from other service academies, Ehn chose the Air Force and has loved every minute of his time in Colorado Springs and abroad.
"From day to day I've had more fun than I could have ever imagined playing hockey during the year and then in the summer they ship us off to Air Force bases. I'm constantly going somewhere and doing something, so I'm absolutely loving it," said Ehn.
Now, Ehn's favorite player is Alex Foster, a lesser-known star who put up big numbers last season at Bowling Green before bolting for the Toronto Maple Leafs' organization. Ehn sees a lot of himself in Foster, and that's part of the reason why he respects and admires his teammate Peter's older brother.
"Alex and I have gone through a lot of the same situations," said Ehn. "He's been overlooked and he put up some big numbers in the USHL too. He's been constantly overlooked and now someone gave him an opportunity and he's getting to live the dream. He's visited Peter before and he's a really down-to-earth guy, and I hope to follow that same path."
It was difficult to get the blue-collar Ehn to describe his personal achievements, as he is firmly focused on the task at hand — taking Air Force to an Atlantic Hockey crown in its first season in the Eastern league.
"Second half of the year is a different type of hockey, a lot more defensive and gritty. Numbers across the board will go down and it will be a lot harder to play. I'm not sure whether my numbers will stay where they are, but I know that teams are going to have a tough time coming up here to the Academy and trying to knock us off," said Ehn.