It almost seems that this year's Boston University team needs a verbal slap to play its best hockey.
A month ago, BU coach Jack Parker ripped his Terriers after an uninspiring 0-0 tie with Northeastern.
"It's as if they want to be college students playing a sport," he said. "We could be playing volleyball. You know, 'We're in second place in the intramural volleyball league with a Friday night win; let's go have some fun tonight.'
"They don't want to be hockey players; they want to be something else. They don't want to pay the price you have to pay to be focused and ready to go, game in and game out, practice in and practice out."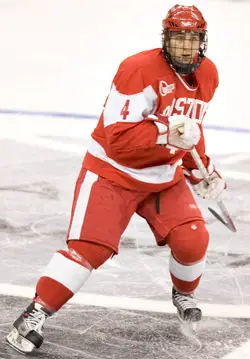 The Terriers responded by traveling to Alfond Arena and sweeping then second-ranked Maine, 6-5 and 3-0. The momentum continued with another three wins.
This past Friday, however, Massachusetts-Lowell totally outplayed BU with the Terriers salvaging a point only through the heroics of goaltender John Curry.
Again, Parker didn't mince words.
"Other than our goaltender — who played fabulously — we didn't have one guy who came to play hard tonight," he said. "We got beat to every loose puck. We got embarrassed by a team that's in last place. When they watch that game film, they won't believe that they didn't win this game six-nothing."
The response in the opening round of the Beanpot? BU defeated Northeastern so convincingly that it prompted NU coach Greg Cronin to say, "This game was men against boys."
Perhaps there is something about the Terriers needing that verbal slap.
"The next one will be a physical slap," Parker quipped after the win. "I don't have any verbals left in me."
In a more serious tone, he added, "This team has needed that a little more often than usual."
Senior captain Sean Sullivan conceded the point.
"You'd hope that it doesn't have to come to that, but it has been a trend," Sullivan said. "In both of those games we didn't play hard, we didn't play smart, and we weren't fast.
"When Coach gets on you and shows film about how bad you were, you start bearing down. It shows in the next game. Once in a while we've needed a jumpstart like that."
Parker's criticisms, however, hadn't stopped there. He'd specifically ripped the senior leadership.
"It's bad leadership," Parker said a month ago. "That just goes right down the line when seniors don't take hold of [a complacent attitude] and make sure it doesn't happen. And some of our seniors and juniors were our biggest offenders."
And then again on Friday night: "From lack of senior leadership to lack of intensity to lack of willingness to compete, it was as bad a show as I've seen."
Lack of senior leadership.
Plenty of coaches go nuclear after bad performances, but this cut to the quick.
"It is tough to hear that," assistant captain Ken Roche said. "But at the same time we do have to take some blame. Coaches can only do so much to get you ready for a game, It's up to the people inside the locker room for the rest.
"That starts with the seniors. If you don't have the team ready to go, the first people you're going to look at is the seniors."
All of which prompted some soul-searching.
"There are six of us seniors and we all took it pretty personally," Sullivan said. "Maybe we weren't doing our jobs on the ice, on the bench, talking in the locker room."
The seniors got together for a couple nights and reevaluated themselves.
"We said that we needed to make this thing right," Sullivan said. "This is our last year and it would be a shame if we didn't give our all. So come Beanpot time we really wanted to make a statement.
"It showed on the ice."
Indeed it did.
---
Thanks to Scott Weighart and Jim Connelly.