In the days leading up to coaching his first-ever Beanpot last year, Northeastern head coach Greg Cronin looked like a deer in headlights.
The first-year Huskies coach appeared almost lost as he tried to express his team's desire to win what most everyone within the Northeastern hockey family considers the biggest games of the year.
But who could blame Cronin, who previously served as head coach at Maine in the mid-1990s when the late Shawn Walsh served a one-year suspension? It was February in his first season on the Northeastern bench and his team had exactly one — yes, you read right, one — win.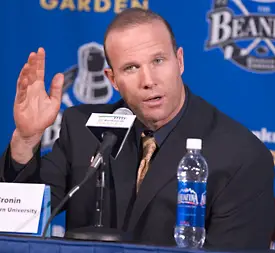 "Last year was painful," Cronin said candidly. "We came into the tournament with only one win. It was a tough march."
Though his Huskies haven't exactly ascended the national rankings, in year number two Cronin has begun to build momentum and, with that, success. The 2006-07 campaign again started somewhat slowly. Northeastern won just two games in October and November, but signs of hope existed.
The most notable accomplishment was a 3-2 upset of Michigan at Yost. Northeastern also earned ties with Boston College and Vermont and played a good Boston University team tough.
Once December arrived, though, things began to look up. A two-game sweep against Merrimack gave NU a burst of confidence, and upon return from the holiday break, the Huskies have ripped off a 6-3-2 record that includes wins over nationally-ranked Boston College and Maine and a scoreless tie against BU.
Thus, there should be little surprise that Cronin arrived at this year's annual Beanpot lunch with a bit of a jump in his step and a head held miles higher.
"We've come together in the last ten games," said senior defenseman Yale Lewis. "Everyone seems to be playing as well as they can. We've had a couple of slips here and there, but right now we're playing our best hockey and that's really exciting.
"We were flirting with [playing well] before Christmas, but right after we came back, everyone was rested. We had a meeting as a team and set some goals and everyone is starting to buy into it, and that's what helped us out."
A Change in Tune
The desperation attitude that Northeastern carried last season has clearly left.
Sporting a 1-1-1 record against Boston College and also a tie and a one-goal loss to Boston University, Northeastern's first-round opponent, the Huskies enter this year's Beanpot with confidence.
"This year, the guys believe they can win, which is the first step — whether it's the Beanpot or playing up in Maine," said Cronin, whose club has allowed an average of just 1.67 goals per game over the last nine games and last Friday night walloped Maine, 6-1, in Orono. "They believe they can win. That's certainly a nice mental preparation going into Monday night's game against BU."
The catalyst for change is all-encompassing, and Cronin can point to many different sparkplugs. There's goaltending, led by rookie netminder Brad Thiessen; there's a surer, more confident defense that believes that, even if mistakes are made, there's a good chance those mistakes won't turn into goals; and there's also the return of the Huskies' leader, senior forward Mike Morris.
Morris was injured prior to the start of the 2005-06 season, suffering a concussion in a major car accident over the summer. After being granted a medical redshirt, he returned in September for his final season and, immediately upon setting foot on the ice, made Cronin realize he was something special.
"This is a great time for [Morris]," said Cronin. "You could see him coming on [in last weekend's series at] Maine. When he's on his game and he's got his rhythm, he's arguable one of the better players in the league. To have him healthy and to have his rhythm is a huge bonus for us."
With Thiessen, his impact in goal has been immeasurable. Though Northeastern returned senior Adam Geragosian, Thiessen's presence and ability between the pipes has raised the Huskies' goaltending from good to game-stealing.
"He's mature beyond his years at age 19," said Cronin of Thiessen. "You can't build a team without goaltending. We were keeping our fingers crossed that he would live up to the expectations he established out in British Columbia. You can't build an identity without your goaltender, and he's been good."
Lucky to Have Him
Winning the recruiting battle for Thiessen wasn't as easy as a coach would hope, says Cronin.
"We had looked at him early in the year," said Cronin. "Gene Reilly, our recruiter, saw him out [in British Columbia] in September. The rumor was that he was going to North Dakota. Gene had liked him but put him on the back burner because we all thought he was going to North Dakota."
Northeastern was close to landing another prospect, John Murray from Sioux Falls in the USHL. That process, though, hit some snags.
"There were some clearinghouse issues with his transcripts," said Cronin. "We found out that it would be a gamble in hopes that he would slide through in May and we thought it wasn't worth it."
Left without the ability to fill that goaltending hole for this season may not have seemed like the end of the world. The Huskies still returned Geragosian and sophomore Jake Thaler. Then news on Thiessen changed.
"We heard that Thiessen was available," said Cronin. "Gene called him the day he got back from Clarkson, and Clarkson and Cornell had both offered him.
"Gene called him out of the blue and asked him about his interest in Northeastern. He said he'd heard of our school but didn't know a lot about it and he asked if we had a journalism school. So he got online with his dad and went through the journalism school and realized it was a top-notch school and he made a commitment within four hours."
Sitting here six months later, that commitment may have turned into a gold strike. Though Thiessen's goals against average still looms at a somewhat inflated 2.54, he hasn't allowed more than two goals since the New Year. It's his ability to consistently improve, as well as the fact that he can handle constructive criticism, that makes Cronin realize he has something special.
"One of the things I like about Brad is you can stick your teeth in him sometimes and he doesn't go and sit in time out and throw his toys," Cronin said. "He'll come right back at you in practice and he responds to it in a real mature way."
It's All About the Beans
With many of the pieces seemingly falling into place, Northeastern enters this year's Beanpot not only a confident team but, for the first time in many years, a true contender.
As BU head coach Jack Parker said, "This is probably the best field we've had in terms of parity and the ability for any team to win it. All four teams have played each other real tough."
Speaking of Parker, if Northeastern is to win its first Beanpot since 1988, it will have to go through the toughest possible road, facing Boston University in Monday's opening game.
Even so, Cronin stays positive.
"I guess maybe in some ways I'm blessed because I'm not really a victim of BU's championships over the years here. I'm a fresh face to the Beanpot," said Cronin. "I respect BU's dominance in the tournament and Jack's legacy here, but the bottom line is you just have to focus on the game, one shift at a time.
"I don't talk about BU's dominance in the tournament or our lack of dominance or lack of success over the years. That doesn't bother me."
Should Northeastern survive on Monday against the Terriers, the championship game would pit the Huskies against either Boston College or Harvard. And, of course, a victory there wouldn't just mean the school's first Beanpot victory in nearly two decades, it could also mean the revitalization of a program that hasn't won a league championship in nearly 20 years and hasn't made an NCAA tournament since 1994.
"I wasn't here in the '80s, but when they won the Beanpot in 1980, a lot of the alumni who were part of that point towards that championship as a critical momentum to Northeastern surging in the 80s," said Cronin about a program that in the 1980s won four Beanpot titles, an ECAC and a Hockey East tournament championship and made two NCAA tournament appearance. "The impact it has on recruiting is humongous … the Beanpot is the cherry on the ice cream and when you win it. I think it just makes it more an attractive school from the outside looking in."
It hasn't taken Cronin long to realize how important and influential the Northeastern alumni are. Conversely, in that same timeframe, it's clear as well how much those alums want a Beanpot title.
"Northeastern has had a rich history in hockey. It's been around since the 1920s," said Cronin. "It's got a massive alumni population. People don't understand that. It's a private school with a massive alumni population.
"The Beanpot, for the school, is an opportunity to galvanize that group and I think really beat the drums and get people back on board with the university. You can't understate the significance of that for the school.
"When you win that, it allows the alumni to flex their muscles a little bit and walk around town with their chests out, feeling more confident about themselves and better about Northeastern."
Every Fan's a Husky Fan
Simply put, Northeastern resonates with the city in which it resides. Boston, particularly outside of its downtown proper, is a blue-collar town. Most of the residents are second-, third- or fourth-generation, descendents of hard-working Irish or Italian families.
Harvard is known for its suburban blue-blooded roots. Boston College paints a picture of the wealthy, suburban Catholics. And Boston University is best known for its international student population.
As prominent as those three schools have been on the ice, when it comes to the city of Boston and its annual hockey championship, Northeastern's co-operative education for the everyday American makes the Huskies a palatable darkhorse whom everyone can support.
It's no surprise, then, that the true heyday of the Beanpot took place between the mid-1980s and early 1990s. The Beanpot was the college hockey event. ESPN, even, picked up the television contract for a short time in that span, bringing national attention to a local sporting event.
"It legitimized the fact that four teams could win," said Steve Nazro, longtime tournament director for the Beanpot. "1980 was the greatest tournament we ever had. It was the fact NU was an underdog, the way the games were played, the overtimes and just the emotion that was involved. It was fabulous."
The 1980 Beanpot also brought to light the fact that when Northeastern is involved in a game, the only fans rooting against the Huskies are those of the opposition.
"I think everybody wants to win, but I think that Northeastern is the sentimental favorite of those who can't win," said Nazro. "Northeastern is really, really trying all the time. They work as hard as they possibly can and maybe have a bad break here and there. But I think they are the sentimental favorite, just like BU is the team that three-quarters of the fans would just as soon see lose."
Boston University, with its 27 Beanpot titles in 54 attempts — more than double any of the other four teams — has become the tournament's Darth Vader. For Cronin, knowing that the Terriers are Northeastern's first-round opponent and that, in turn, the Huskies will feel maybe more support than usual, is a bonus.
"There's no disrespect to BU or Jack or anything, but you're real tired of BU winning it every year," said Cronin. "I haven't been around the city for a little bit so I have no idea what it's done to the sports population. Is it, 'Here we go again. BU's going win another Beanpot.' Does it take a shine away from the tournament?
"To me, if there's one school that will benefit significantly from [winning], it's Northeastern, just because we haven't won it in so long. I liken it to the Red Sox's futility in trying to win a World Series. I don't think it's that big of a scale in terms of the national media, but locally, it is."
Whether or not Northeastern can end its Beanpot futility is yet to be seen. Even the greatest clubs on paper can't always produce on the main stage. But one thing's for sure, these Huskies have the hunger, the drive — and now the confident coach — that it takes to win one of college hockey's greatest rewards.