I couldn't resist.
After seeing Jim Connelly's speculation as to whose voice might fill this space today, I had to do my part. Many of you will remember the back-and-forth between myself and Jim in last season's Tuesday Morning Quarterback, and I figured it was my solemn duty to keep it up, for this week at least.
So to the news, opinion, speculation and barbs …
Who's Number One, You Say?
New Hampshire's reign in the No. 1 spot in the USCHO.com/CSTV poll turned out to be a brief one.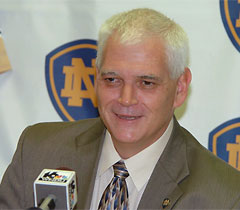 Of course, next week's top team could easily be the Wildcats again. Or it could still be new No. 1 Notre Dame. Or longtime top-ranked Minnesota. Since only four poll points separate the three, and each garnered plenty of first-place votes, it's obvious the voters weren't sure what to make of last weekend's results.
On Saturday night, after the Fighting Irish completed a sweep of Bowling Green and Minnesota dusted off Alaska-Anchorage for the second night in a row, the USCHO.com frontpage speculated that the Irish would be crowned in Monday's rankings.
In response, I received a few emails, ranging from polite to indignant, questioning why two wins against BGSU, with the second-fewest victories in Division I, should promote Notre Dame past UNH. The Wildcats split last weekend, but against Maine, a top-10 program which was itself No. 1 in the nation for a stretch in the early going.
The answer? I don't know. I don't vote in the poll, and I'm occasionally puzzled by the voters' collective decisionmaking, but the case for the Irish is a strong one. Notre Dame hasn't lost consecutive games all season — in fact, the Irish haven't even had consecutive non-winning games in 2006-07, as every loss or tie has been followed by a victory. And ND sports the nation's best goal differential, 1.94 goals per game better than its collective opponents. (UNH is second, at 1.88.)
Goaltender David Brown holds a 22-4-2 record with a 1.70 GAA and .928 SV% — all among the best in the nation while playing nearly all of the minutes in the Irish net — and has been the team's most valuable player. Brown is making a strong case for CCHA Player of the Year honors and Hobey Baker consideration, as well.
(Of course, that's assuming it's possible for a goaltender to win the Hobey ever again, in today's era of better defensive coaching, expanding pads, shrinking goals against averages and sky-high save percentages. Today, a netminder has to do something truly eye-catching to win the national award, and it may be a long time before anyone matches the accomplishment most recently achieved by Ryan Miller at Michigan State. But that's another column.)
The chink in Notre Dame's armor is its schedule; the Irish have played just seven games against teams currently ranked in the USCHO.com/CSTV top 20. UNH has played 15 such games — though 11 of those have come against the bottom third of the poll — and Minnesota 10.
However, ND's record in those contests is a sparkling 5-1-1. And apart from a puzzling home loss to Robert Morris back on Jan. 7, ND's few defeats have been credible performances, none by more than two goals.
Also worth noting: the WCHA again placed three teams in the poll's top five, with Minnesota at No. 2, St. Cloud State fourth and Denver fifth. The perception of that league as being a little top-heavy persists, but what a top it is!
Varmint Hunting
As Minnesota ran off a nation-best and school-record 22-game unbeaten streak, it was hard to see any flaws to criticize.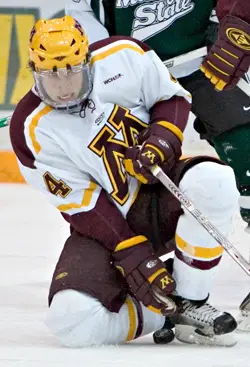 The Gophers' heralded freshman class, led by Kyle Okposo and overall No. 1 NHL pick Erik Johnson and getting unexpected production from players like Jay Barriball, was cruising along like upperclassmen. The netminding, often a target for critics, was sound with both Kellen Briggs and Jeff Frazee making the key stops. Both the offense and defense were humming.
Then the proverbial bottom fell out, in the form of four losses in six games capped by North Dakota's two-game thrashing of the WCHA leaders on their home ice.
The naysayers got louder, and the vultures circled. What was wrong with a team that looked to be a juggernaut just a few weeks ago?
Well, nothing. Nothing that shouldn't have been expected of a young team facing the toughest part of its schedule, at least.
I was there for Friday's UND-Minnesota game, and watched Saturday's contest from the safety of my couch while battling the flu. In both games, I saw a squad that was tired mentally and physically, and a goaltending tandem whose confidence might have slipped. That went especially for Frazee, who let in the now-infamous hop-skip-and-a-jump 180-foot goal by UND's Robbie Bina to change Saturday's momentum, leading eventually to an embarrassing 7-3 loss.
The long road trip to Anchorage could have been another disaster, but the Golden Gophers showed their mettle, routing the Seawolves Friday and battling to a second win the next night. Now, with a week off, head coach Don Lucia's charges have ample time to restore their equilibrium.
The same might not be true of the defending national champions, as the Wisconsin Badgers are just a few more losses away from missing the opportunity to repeat. UW, which got killed in the offseason by graduation and early defections to the pros, has struggled to put pucks in nets and wins on the scoresheet.
With an overall record of 11-15-2 and an eighth-place standing in league play, UW needs a sudden burst — right now — or it will have to win the Final Five to get into the NCAA tournament.
Of course, that's where goaltender Brian Elliott could come in. The All-American netminder's statistics are off this season, but he's still capable of turning in standout performances, and as anyone will tell you, netminding can carry a team in a tournament. The Badgers hope it won't come to that, but their season could ride on Elliott's glove and goalstick.
Not Too Shabby, Under The Circumstances
For a league which was on life support just a few months ago, the CHA is putting in a pretty respectable effort this season.
Two of the five-team conference's members have been getting national attention, with Niagara currently No. 18 and Bemidji State bubbling under after spending a couple of weeks in the top 20 as well.
Both schools have the credentials to warrant consideration for at-large berths in the NCAA tournament, though neither is there as of this writing (Bemidji State is tied for 17th in the bonus-adjusted PairWise Rankings, while Niagara is 19th). And the Beavers, whose nonconference schedule this season is laden with WCHA teams, would be higher if not for a recent five-game losing streak, four of which came against WCHA opponents Michigan Tech and North Dakota.
Could this be the year the CHA gets two teams in the Big Dance? One or both contenders will need to step it up for that to happen, but it would be a milestone for college hockey if it occurs.