Ten years ago, most college hockey fans probably wouldn't have been able to pinpoint Quinnipiac on the map, let alone try pronouncing the name or commenting on its hockey aptitude.
Today, with a brand-new state-of-the-art arena, a growing fan base and a perch near the peak of the ECACHL standings, it's becoming increasingly difficult for the college hockey world to overlook the fast-growing school in Hamden, Conn., at the foot of the Sleeping Giant that until recently had its polling institute as its primary claim to fame.
It's been a long process, but there have been remarkably few valleys or dips on Quinnipiac's slow but steady ascent into acceptance in the privileged fraternity of college hockey.
Humble Beginnings
In 1994, Rand Pecknold, a 1990 Connecticut College graduate, was hired to take the reins of the Quinnipiac College Braves, a Division II team competing in the ECAC South conference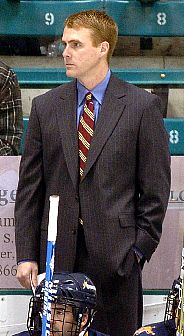 "There was quite a bit of turmoil," says Pecknold of the team he inherited. "The players were getting into trouble, there hadn't been a lot of recruiting done, and we barely even had enough players to play the season with. We would practice at midnight because that was the only time we could get ice. There were a lot of club teams that we wouldn't have been able to beat at that point."
The job itself was difficult enough.
"I was still teaching high school about 70 miles away. I'd get home and sleep from 3 p.m. to 6 p.m., get up, go to Quinnipiac, do some recruiting, go to the midnight practice, go home, sleep from 3 a.m. to 6 a.m., and then go to teach in the morning."
Pecknold survived the rough conditions and began to reshape the team. After winning only one of his first 14 games at the helm, the Braves rebounded near the end of his first season to finish the 1994-95 campaign with six wins. The next two seasons, with Pecknold putting his own recruits into the lineup — a lineup that was becoming heavy with freshmen and sophomores — the Braves made their way to consecutive seasons near the .500 mark, the first time they'd been anywhere near .500 since 1989.
Upgrade
In 1997, rumors began to circulate that Quinnipiac was looking to move to Division I athletics in order to help boost the school's visibility as it began to move forward with expansion plans.
The news didn't immediately sit well with Pecknold and his program.
"The question was whether we were going to be a priority sport," says Pecknold. "They were talking about being Division I across the board, but not every sport was going to be supported equally. I was worried that we would not be as successful at Division I as we had been in Division II because hockey had never been a priority. We worked hard to be successful on the ice."
Fortunately, success was not in short supply that season, as the puzzle pieces began to fit together just in the nick of time. When Quinnipiac made the official announcement near Christmas 1997 that all sports would move to Division I, the Braves were 10-0-1, with six of their victories by five or more goals.
"That was really a big impetus for why we became a priority," says Pecknold of the long season-opening streak. The Braves finished with a record of 19-3-1 in their final season in Division II.
"We felt that we could create an ice hockey program that could become nationally-ranked or contend for the national championship because of the fact that there are relatively fewer teams with varsity programs," says Jack McDonald, the school's athletic director. "Ice hockey is basically a Northeastern sport that gets a lot of visibility in our region. It's a big sport in New Haven, it's a big sport in Boston.
"We looked at the levels of success that small schools like Colorado College, RPI and Clarkson could have in Division I ice hockey and asked ourselves why that kind of opportunity wouldn't be open to us if we focused on being successful."
It didn't take long for Quinnipiac to begin causing a stir in Division I. The Braves were almost instantly the best team in the fledgling Metro Atlantic Athletic Conference's hockey league, winning 14 of their first 15 games on their way to a 22-4-2 in-conference record, and the PairWise Rankings indicated that the program was in line to receive an at-large bid to the NCAA tournament.
Defusing the situation, McDonald, who had been named to the NCAA Selection Committee a year prior, removed Quinnipiac from consideration early, a situation that was likely rendered moot when the Braves were upset by Canisius in the MAAC semifinals.
"I took Quinnipiac off the table," says McDonald. "We had plenty of wins, but none of them were good wins outside of our league. I didn't see it as a matter of demanding respect."
"We couldn't go because we hadn't played a tough enough schedule," agrees Pecknold. "They were probably right. The only thing that I was disappointed in was that none of the big programs would play us. We weren't afraid to play them, they just wouldn't put us on the schedule."
Indeed, Quinnipiac played only four nonconference games in its Division I debut — against Division II Bentley, and then-independents Army and Air Force.
"[Maine coach] Shawn Walsh was really the first coach to step up and play us."
Walsh became the first "Big Four" coach to schedule the Braves, and in their second Division I season, Quinnipiac would face RPI, Maine, and Clarkson, tallying a record of 0-3 against the Big Four while rolling to a 23-1-3 MAAC record and the second straight MAAC regular-season title.
Soon, Quinnipiac was able to put together a full nonconference schedule with the help of several Big Four teams.
"It was a completely different situation than we have now, where a new program like Robert Morris can make the jump and find a much more supportive atmosphere as far as finding other teams. It was just a huge barrier that the four established conferences just would not play a team from the MAAC."
Landmarks began to fall. In December 2000, the team notched its first win over a Big Four team by knocking off Union. The first MAAC tournament win came in 2002, carrying with it the first NCAA tournament appearance, which ended with a five-goal loss to Cornell. October 2003 saw the first victory over a Hockey East school with a win over Merrimack.
In 2002, the school took a proactive step to keep things going in the right direction. At the time, it seemed slightly controversial — a bow to political correctness that didn't sit well with some traditionalists — but the decision to change the school nickname from "Braves" to "Bobcats" has paid off.
That foresight was instrumental in keeping Quinnipiac out of the current imbroglio in which North Dakota has found itself over its "Fighting Sioux" name, and it simultaneously allowed the school to develop a more family-marketable mascot going forward.
The program was beginning to grow, and it was something that even top recruits recognized.
"I was looking for a program that wanted to grow, and I knew that's what was happening at Quinnipiac," says senior defenseman Reid Cashman, a Hobey Baker candidate who is arguably the top player in the history of Quinnipiac hockey. "But I didn't even know it would grow to the level that it has, even when I was a freshman.
"I didn't know about the ECAC and I didn't know about the new rink, but I still had the attraction. I was impressed with the coaching staff and the direction they were taking the program even without all that."
Another Step
When Vermont accepted entrance into Hockey East in 2003, it opened the door for a new member in that exclusive "Big Four" club.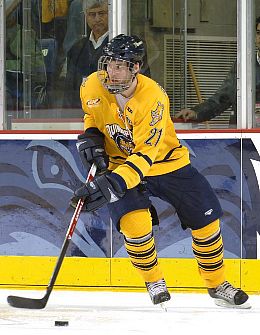 "We were very hopeful that we would be selected to replace Vermont," says Pecknold, "but there were certainly a lot of qualified candidates. We felt that with our academics and our great campus and a rink on the way that we'd at least be in the hunt for it."
After a lengthy application and vetting process, Quinnipiac was officially accepted into the ECAC in November 2004, beating out league-mates Holy Cross, Sacred Heart, and Mercyhurst, and the CHA's Niagara.
"I was surprised that we were the only ones accepted," says McDonald. "It was an honor that the Ivy League and the rest of the ECAC would accept Quinnipiac not only as a good hockey program, but as a very good academic program."
"It was a huge step in the right direction for Quinnipiac," says Pecknold.
With the move came an increase in allowed scholarships, from the Atlantic Hockey restriction of 11 to the NCAA-allowed 18, which allowed Pecknold to begin enhancing the Bobcats' depth and talent base.
Early expectations in the league were not high for the Bobcats. The media chose Quinnipiac to finish in dead last.
"I was a little shocked at that," says Pecknold. "I didn't think we'd exactly be a top-four team, but I didn't think we were going to finish last by any stretch. Out of the gate there was definitely a lack of respect for what we'd accomplished. None of the teams had really seen us play for the most part, so I think it was kind of a lack of knowledge on what we could accomplish."
Quinnipiac easily turned some heads on a number of occasions during their first season in the ECACHL. After starting the season with two closely fought games against Michigan at Yost Ice Arena, the Bobcats whipped off eight straight wins, including their first two ECACHL games against two strong teams in Harvard and Dartmouth.
After a ninth-place finish, the Bobcats traveled to RPI for the first round of the playoffs and dispatched the Engineers in a series sweep, accomplishing a playoff series win in their first season in the league.
Heading into the second-round against Colgate, the Bobcats continued to turn heads, handing the regular season co-champs a decisive 3-0 defeat, putting Quinnipiac on the cusp of advancing to the ECACHL Final Four before dropping the next two to the Raiders.
With a tip of the hat to the Bobcats' impressive first season in the ECACHL, the media was a bit more respectful — they opined that QU would finish around the middle of the pack. With only a month remaining in the season, the Bobcats sit just a point away from first place, and have been nationally ranked for 11 consecutive weeks.
"I don't think anyone, including myself, could have predicted that we would be able to do what we've been doing this year," says Pecknold.
"The best thing is, our best players this year are our freshmen and sophomores," says Cashman. "We have three solid scoring lines that can strike almost at will. The framework for success in this league is already there."
Symbol
On January 28, 2007, the Bobcats opened the TD Banknorth Sports Center, the program's first on-campus home, in front of nearly 3,300 fans. That's about 3,000 more than witnessed Quinnipiac's first home game in Division I.
"[President] John Lahey and Jack McDonald have given us the resources we've needed to be successful," says Pecknold. "This new building definitely puts us in the upper echelon of college hockey in terms of facilities. Our locker room complex alone has to be in the top five in the nation.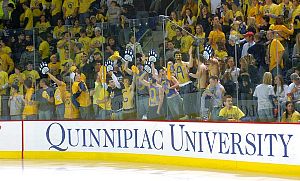 "We're helping the school in turn. We've been getting a lot of exposure since we came to Division I, all over the Northeast. It all helps promote the school. Applications have gone through the roof in the past few years and I'd like to think that we've done our part to help that."
At any rate, the success of the Bobcats over the past decade has been almost a mirror to the growth and evolution of Quinnipiac, which officially changed its name from Quinnipiac College to Quinnipiac University in 2001 to reflect its metamorphosis.
When Lahey took over as president in 1987, Quinnipiac was comprised of some 2,000 students, mostly commuters. Today, the school has a lush, vivacious campus, several new programs, a fully accredited law school, and 7,500 resident students. The renaissance has led to an explosion of applications, and Quinnipiac is becoming an increasingly selective institution with a growing reputation as an outstanding place to learn.
"We're part of this whole 'school-in-motion' thing," says Pecknold. "We're happy to contribute and help the school as much as we can."
The administration, in turn, has been willing to display full support for the program, which is rapidly becoming a symbol for an institution that is making waves.
"John Lahey's vision as our president has been truly remarkable. The way he's helped take us from where we were 13 years ago to where we are now has been important. Without his support and the support we've had from Jack McDonald, there's no way we'd be where we are today. I feel very fortunate to have Jack as my boss."
"At first, we thought maybe it was more of a dream that it would ever happen that we'd be national contenders," says McDonald. "I think now, with our new facilities, and what we've already accomplished, there's no reason to believe that we couldn't make the NCAA tournament and someday sneak our way into the Frozen Four. That's all open to us now with hard work.
"The new facilities and the acceptance into the ECAC were really the last two steps for us to really be able to say that someday we can be national challengers."
Specifically, the new arena is also the first building to open on the school's new York Hill campus, another poignant symbol of how the school and the hockey program have grown exponentially together.
It's certainly a far cry from midnight practices at Hamden Ice Rink.
"All I wanted when I took this job was to get enough kids to have a worthwhile tryout and maybe get to .500 at the level we were at," says Pecknold. "I couldn't have imagined being a Top 20 Division I team."
Where To?
"We're having a good season now, but it doesn't take long for the wheels to come off," says Pecknold. "The jury's still out on whether we can be the kind of team that can put together this kind of season year-in and year-out."
There are still steps to be taken. The Bobcats still have not recorded a victory over a CCHA or WCHA team. They haven't won an in-season tournament other than their own Quinnipiac Cup. They'll likely still need to win the ECACHL tournament to get into the NCAA tournament this season. But the program is obviously accruing more and more advantages when it comes to creating and maintaining solid teams.
"Every year I've been a part of this team, we've gotten better and better," says Cashman. "It's a credit to our coaching staff that they've been able to keep this program improving at this rate for so long."
"Certainly, there are people out there in the hockey community and coaches especially who respect us now for the level that we've attained," says Pecknold. "You're always going to have those naysayers who will keep looking at us as the new kids on the block and it'll take some time to earn their trust and respect.
"We don't have the 50 years of tradition at Division I hockey that they have. If we can be consistently successful here, we can earn their respect, but that isn't something I really worry about. I just want to be competitive game-in and game-out and have our players go to class and graduate on time.
"We've put in a lot of hard work to get where we are. We still need to outwork other teams from a recruiting standpoint and in terms of the time we spend on the ice. Just because we're finding more and more success doesn't mean we can let up in staying hungry for more."
"I feel like the best is still yet to come here," says Cashman. "The sky is the limit for this program. They got kids here without the rink and without the league that can make the team competitive, but when you put together everything we have going for us now, I think that someday soon we can be a national contender on a regular basis."