Las Vegas would have been giving stiffer and stiffer odds as the third period and overtime wore on. Boston University's streak of back-to-back titles and four in the last five years didn't seem to be in jeopardy; it seemed to be on life support.
Boston College had outshot BU 13-6 in the second period, with most of that advantage coming in the latter stages. In the third, the Eagles became downright dominant, getting the tying goal from Nathan Gerbe at 2:40 and then turning up the pressure in search of the game-winner. The Terriers would muster only a single shot in the period from the grade-A region, to nine for BC.
"All hell broke loose in the third period," BU coach Jack Parker said after the game. "We were back on our heels in the second period and we were really back on our heels in the third period. We had to do something because we were waiting to lose."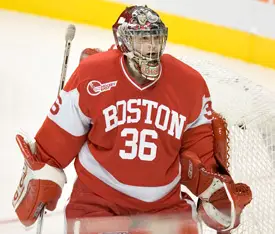 It kept getting worse for the BU faithful in overtime. All the best chances seemed to be directed at BU goaltender John Curry, whose supply of heroics had to be running out.
"That's the best game we've played all year in terms of emotion, intensity, and all-around play," BC coach Jerry York said later.
But then came a faceoff in the BC end after an icing call. Parker had wanted to get back to playing four lines after going with only three due to an injury to Eric Thomassian.
Fearing his forwards had become legless due to fatigue, he moved defenseman Matt Gilroy up front and put out a trio that included the defenseman and two forwards, Brian McGuirk and John McCarthy, who between them had totaled only a single goal this year.
The Vegas odds against BU winning during that particular shift grew astronomical.
McCarthy, however, won the faceoff and McGuirk roofed a shot into the top of the net for his first goal of the year and yet another BU Beanpot title.
"This game was almost bizarre," Parker said. "There have been a lot of Beanpot games and we've been very fortunate, but … this is one of the most fortunate ones we've ever won."
Fortunate, and also a tribute to great goaltending. Curry earned tournament MVP honors while also setting a tournament record for save percentage, stopping 64 of 65 shots.
"For a two-game playoff, you'd better have good goaltending," Parker said. "And [over the years] we've had great goaltending."
Arguably, it shouldn't be a surprise when BU wins. After all, with 28 of the 55 Beanpot titles, the Terriers have now won more than the other three schools combined. Even so, BC's territorial dominance had to leave Eagles fans and players wondering what more they needed to put away the Terriers.
"It's a tough pill to swallow," BC senior Brian Boyle said, "This just shows you that it's a playoff atmosphere [in the Beanpot]. It's playoff hockey where anything can happen."
When it comes to the Beanpot, that anything almost always seems to be a BU championship.
Even in the most improbable of ways.