If you want to continue the argument that North Dakota is a one-line team that won't be able to do much in the postseason because of it, you've got an uphill climb now.
Chris VandeVelde, Matt Watkins and Chris Porter took care of that, emerging on Friday afternoon at least as a solid second line to back up the Sioux's big guns.
They entered the game with 13 goals combined, but they dominated the second period of a WCHA Final Five semifinal game against St. Cloud State to the tune of four goals and eight points.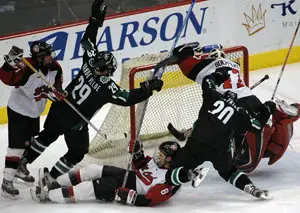 That's not to say North Dakota's top line of Jonathan Toews, WCHA player of the year Ryan Duncan and T.J. Oshie wasn't a star attraction, only that it didn't have to be the main source of offense in the Sioux's 6-2 victory at Xcel Energy Center.
VandeVelde, a freshman who entered the game with one goal for the season, emerged as an unlikely hero with a pair of goals less than four minutes apart in the second period.
"We were just taking shots, and they kicked out rebounds right to me," VandeVelde said. "And I finished."
In their first game on the same line this season, VandeVelde, Watkins and Porter scored key goals for the Sioux to break open a close game in the second period.
And they made it look like they had been together for a while.
"It just fit tonight," said Porter, the North Dakota senior captain. "Our line played great. It gave us a little bit of a spark when we needed it. I like the chemistry we have right now. As long as we keep it simple, I think we'll have success."
Just 70 seconds after St. Cloud State tied the game at 1-1 early in the second period, Porter and VandeVelde executed a nice give-and-go play that left Porter a shot from the right side. Huskies goaltender Bobby Goepfert left a rebound in front, and VandeVelde crashed the net to put it home.
Less than four minutes later, the line struck again, this time with help from Watkins, whose shot from the right side led to a juicy rebound in the left circle that VandeVelde had no trouble sending into the net.
"On all of our goals, we were just putting pucks to the net and crashing the net," Porter said. "That's the way we needed to play."
VandeVelde's only other goal in 33 games this season before Friday's contest also came against St. Cloud State, in a 3-3 tie on March 2.
If the Sioux can get that kind of scoring support, they should have no trouble staying as one of the hottest teams in the country entering the NCAA tournament.
"I know they're not going to score four goals every night," North Dakota coach Dave Hakstol said. "I hope they do, but that's not realistic.
Watkins struck for a 5-2 lead in the second period, using a nice pass from behind the net by VandeVelde.
Porter celebrated tying the WCHA record for most consecutive games played (171) with a third-period breakaway goal after coming out of the penalty box.
The line came together for the first time at practice Tuesday, but you wouldn't have known it three days later.
"They have speed, they can all shoot the puck, and that's got to be their game," Hakstol said.