With the NCAA tournament fates largely already known for Minnesota and North Dakota, on Saturday both teams were playing for the Broadmoor Trophy and something perhaps even more valuable.
Momentum.
Minnesota needed to continue its awakening from its second-half slumber — a stretch that saw the Gophers go 10-8-0 after their explosive 18-1-3 start, during which they coasted to the WCHA regular-season title and eventually a projected No. 1 seed in the NCAA tournament.
The Sioux needed to keep on a roll. The low point of their season was a sweep at home on Dec. 15 and 16 at the hands of Michigan Tech.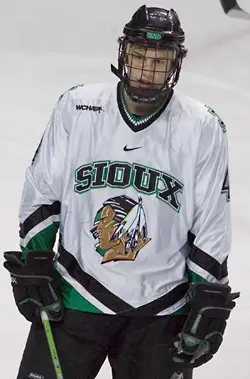 "We made a decision as a team. We had a tough weekend against Michigan Tech," said defenseman Taylor Chorney on the moment that turned the season around.
Much of their early-season inconsistency was due to injuries and trying too hard. The Fighting Sioux weren't playing relaxed, and it showed. At 8-10-1, North Dakota needed to find itself.
The Sioux stayed in the locker room in full pads with no showers for an hour after the series against Tech, with each player trying to find the focus that carried UND to a Broadmoor Trophy in 2006 and a national semifinal appearance.
The team rebounded with a 13-2-4 run and is now loose and a force to be reckoned with in the NCAA tournament, largely on the back of Hobey Baker Memorial Award finalist Ryan Duncan.
Despite Minnesota's higher seed, Minnesota coach Don Lucia looked to make his team the underdog the night before the championship game, joking, "I don't know. I know we don't have a chance," he said. "That is kind of the consensus."
In recent games, Minnesota woes had lay in an inability to play consistent hockey for 60 minutes. From period to period, one didn't know which Minnesota team would show up.
"It's been a little bit of a struggle the last couple months," said Minnesota captain Mike Vannelli.
Both teams needed a good game, a game in which they would have no regrets and leave nothing on the ice.
"Everyone was playing hard tonight — when that happens you get a game like this," said North Dakota head coach Dave Hakstol, who forecasted the impact of the loss on the Sioux's mentality heading into the NCAA tournament.
"If I had to predict with this team, it might give them a bit more resolve," he said.
Indeed, the Sioux may be facing Minnesota again as soon as next weekend in a regional final, under plausible regional setups based on the PairWise Rankings.
For Minnesota, though, what could be more fitting than a 3-2 overtime nailbiter settled by an unbelievable individual effort reminiscent of Neal Broten's goal against the Fighting Sioux to win the 1979 national championship?
"Its hanging up in Mariucci. Neal Broten," said Lucia if he had ever seen a goal like that.
And although only Minnesota skated off with the Broadmoor Trophy, both teams got what they needed out of this game.
"The most important thing is that we played hard and we played together," said Lucia of his team's efforts.