In a surprising twist of events, North Dakota sophomore forward Ryan Duncan was honored with the 2007 Hobey Baker Memorial Award Friday evening.
Heading into the Frozen Four, Duncan had been named to the Hobey "Hat Trick," the final three candidates, but the sophomore was far from a lock to win. There was plenty of talk supporting the other two finalists: Notre Dame goaltender David Brown and Air Force forward Eric Ehn.
Even upon receiving the 41-pound trophy, Duncan was in shock that he was selected.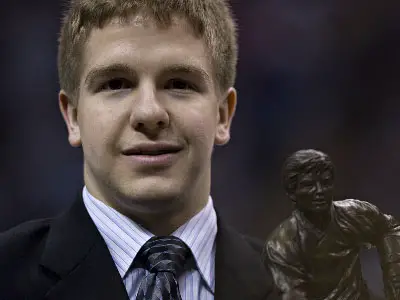 "Realistically, there wasn't ever a point in time when I thought I could win, even when I was sitting there," said Duncan. "I still didn't think I had a chance when you look at their resumes. Being a sophomore, I really didn't think I had much of a chance."
Perhaps even more interesting are the comparisons that will now be drawn between Duncan and North Dakota's previous Hobey Baker winner, Tony Hrkac.
"He had 116 points in a season and I had 57 this year. He had over twice as many as me, so I don't think I can be even be put in the same company as that. It's so surreal for me, and it's just a huge honor," said Duncan.
"It's been 20 years since Tony Hrkac won the award, and the individual honor for Ryan is very special and well-deserved. Our program is very proud to be a part of it and very proud to have a young man like him in our program," said North Dakota coach Dave Hakstol.
Apart from becoming the second Sioux player to earn the moniker of college hockey's most outstanding player, Duncan is also just the fourth sophomore to hoist the Hobey, joining Michigan State's Ryan Miller in 2001 and two Minnesota players: Robb Stauber in 1988 and Neal Broten, the first-ever Hobey winner in 1981.
"We knew that he was a mature player coming in," said Hakstol. "He's been a little bit unsung because he's played with such great players at every level he's played at. But he has a knack of making players around him better."
Unlike some recent years when there a particular candidate was head and shoulders above the rest of the field, Duncan's consistent play throughout the season, even when North Dakota struggled, likely garnered him an advantage over the competition.
"One of the things a lot of people don't realize is that Ryan only played with T.J. Oshie and Jonathan Toews for six or seven games in the first half of the season," said Hakstol. "He was really consistent in his production throughout the year. And that's a mark of a truly great player."
Like most Hobey Baker winners, Duncan battled through adversity in rising to the top of the college hockey world. At just 5-foot-6 and 158 pounds, Duncan has always had to answer the critics who argued he was too short to play. And now, as the shortest Hobey Baker winner on record, he has proven that size really doesn't matter.
Duncan's victory, however, is bittersweet for the college hockey world. Although the North Dakota winger is more than deserving, with another forward winning over a dominant goaltender in Brown, it begs the question: is there really possible for a goaltender to win this award?
"Ryan Miller pushed the bar very high," said Brown.
Maybe Ryan Miller, as tremendous a collegiate goalie as there will ever be, ruined things for candidates like Brown, Brian Elliott, and David McKee.
"After what he did, in order to win this award, it seems as if you're going to have to have some outlandish numbers like a .950-plus save percentage, a below-1.50 goals against, and 30-plus wins to really be taking it home," said Brown.
Brown, who led the nation with 30 wins, recorded a miniscule 1.58 goals against average and a stalwart .931 save percentage with 6 shutouts. Still, it was not enough to convince the voters.
Even more controversy surrounds the notable absence of T.J. Hensick, the nation's leading scorer, from the Hobey Hat Trick. But the criteria for the Hobey are more than just points. Leadership on and off the ice, character, and academic prowess are all considered, and Duncan embodies the entirety of the list. In addition to being named the WCHA Player of the Year, Duncan was also named to the WCHA All- Academic squad.
Despite the whisperings, Duncan should take great pride in his achievement. He played on a line with perhaps the two most talented players in the country in Oshie and Toews, and he still found a way to make them even better players.