It literally started out as a kid's flight of fancy between a pair of hockey-playing brothers who grew up in the comfortable suburbs outside of Boston and had a dream of someday lacing up the skates for the Boston College Eagles.
Joe Whitney and his younger brother Steve were both young skaters playing for the Boston Junior Eagles — a junior hockey program organized by hockey alumni largely from BC and Harvard — and on a whim had a Faneuil Hall artist render a caricature of the puck-moving duo in full Boston College Eagles uniforms.
"We got it in 1997 and we're wearing BC hats and BC jerseys," said the 19-year-old Whitney, who admits it still hangs on the Whitney mantel at their Reading, Mass., home. "We did that as a funny thing.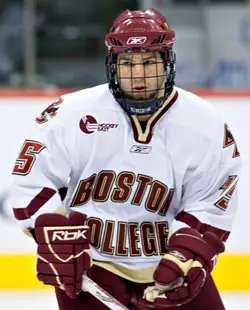 "We were little kids and we thought we were on the college team back then. [Andrew] Orpik's older brother Brooks was a counselor back then and he still remembers me from the Eagles Hockey School."
Junior Eagles coach John McNamara, a 1986 graduate of the Boston College hockey program, still lives across the street from the Chestnut Hill campus and would customarily take the teams to Kelley Rink on weekends to watch the "big Eagles" play. He had the older Whitney and his teammates in tow on a trip to the 2000 Frozen Four title game that saw the Eagles fall to North Dakota.
Whitney watched all those Eagles games in awe with his face pressed up against the glass of the boards, and still remembers the way he modeled his game after the heady, crafty play of Ben Eaves — the player he long looked up to while building his own game.
"I always liked Ben Eaves because he was so smart with the puck and he always made the right decisions with the puck and I pride myself in taking good care of the puck and making the right decisions with it too," said Whitney, who was second in the nation in assists (22) heading into the mid-January. "Plus, Eaves had all the skill in the world too to go along with his intelligence. Players don't always have the hockey sense that he has."
The 5-foot-6, 165-pounder dreamed of someday being the next Eaves, and, well, sometimes, someday actually comes.
It has for the BC frosh, who is just behind Nate Gerbe on the Eagles in the scoring category on the strength of five goals and 22 assists through January 11, an impressive early string of production that has placed him in a rarified group with St. Cloud State's Garrett Roe and Wisconsin's Kyle Turris — a trio of freshmen who are among the nation's top scorers in all of college hockey.
Whitney was already parlayed his playmaking skills into a spot running the point on the high-powered Eagles power play and has helped fill the offensive void at the Heights created by graduation (Brian Boyle and Joe Rooney), disciplinary action (Brett Motherwell) and injuries (Brock Bradford) during the early part of the season.
Longtime Boston College coach Jerry York knew what he had in Whitney after watching him continually light the lamp at Lawrence Academy Prep School and at a handful of international hockey festivals, but his rapid development into a consistent scoring threat has been impressive and a bit unexpected.
"To be perfectly honest, I thought he was going to have a little more difficulty early [in his career]," said York. "I knew he was going to be a great player for us because he's got great skills and imagination, but he seems to have bridged that speed gap more quickly than I thought.
"He's really been able to handle the tempo of our game," added York. "You can't teach what he has. He's able to see people out on the ice and he's almost like a point guard in basketball with the way he can set things up and know where players are — without staring at them. His head is always up on the ice, and that's a rare trait and a pretty remarkable one to have as a player."
That on-ice vision has been a staple of Whitney's game since the winger was a pint-sized scoring force skating on the Junior Eagles with Harvard's Doug Rogers and Matt McCollem and Colgate's Kevin McNamara from the time they were elementary-school kids.
"He sees the ice better than people that are sitting up in the stands watching the game, and to me that's a true sign of potential greatness in a hockey player," said McNamara. "It is so much more difficult to see everything that's happening on the ice when you're at ice level, but you could be 50 rows up and Joe will see something on the ice that you couldn't see up in the stands.
"I played with Craig Janney in the '80s [at Boston College] and I would say he sees the ice like someone like that," added McNamara, drawing a comparison with a player who put up a ridiculous 83 points in his final 1986-87 season with the Eagles. "Janney was six feet tall and that helped him in his ability to play at the next level, but their instincts on the ice are very similar and Joe is a tough and courageous kid."
Whitney's goals for his rookie season aren't grounded in individual statistics or tallying ridiculous point totals, but are instead in line with the rest of his team. He's willing to grind away along the boards and muck out the puck from the foreboding corners if necessary, and seems happy just living out his dream on the Boston College ice.
"It's kinda weird when the National Anthem is playing [at Kelley Rink] and I look around in the stands and think that one of those people was me for the last 10 years or so," said the 19-year-old Whitney, who spurned hockey interest from UNH and Boston University to choose BC. "It's pretty cool. Everything I always expected it to be and then some.
"I think being a good teammate, trying to make the guys around me better if I can and doing whatever it takes to help the team win is my main goal," added Whitney. "Whether it's going out on the fourth line and banging guys around and playing with the bigger guys then I'll do that. Or if it's going out on the power play and putting up goals then I'll try to do that too. I think 'whatever it takes' is the main goal."
"Whatever it takes" seems to have been the attitude that both Whitney brothers took in playing college hockey for the Eagles, because Joe's younger brother verbally committed to BC in September for the 2009 season. Steve Whitney reportedly spurned an invitation from the U.S. National Team Development Program to play with his big brother last season at Lawrence Academy, and now the two will be able to live out the caricature of two little boys decked out in BC hockey uniforms resting on that mantelpiece.
Did the older Whitney ever need to sell York on the hockey talents of his younger brother?
"Oh … he knows how good my brother is," said Whitney, a flash of that scorer's confidence spreading across his face. "I don't have to tell him. He knows."
It looks like, once again, the Whitney brothers are doing "whatever it takes" to make their puck dreams come true at the Heights.