Jim: Well, Scott, the season is sure winding down here. Most leagues have two weeks left to the regular season, while the ECAC, CCHA and Atlantic Hockey will crown their champions this week. Michigan's got the upper hand in the CCHA, but the other two leagues have interesting races with the ECAC down to a two-horse contest for first featuring Clarkson and Princeton. To make things better, the two square off this Friday in Potsdam, N.Y. Over in the AHA, it's one muddy picture when it comes to the league champ. Army, RIT, Sacred Heart and Air Force can finish anywhere from first to fourth in the standings. All of that said, New Hampshire validated the praise we gave it last weekend by sweeping Boston College and locking up the Hockey East crown — even though there are still two weeks remaining in the regular season. Plenty keeping us busy out here in the East, don't you think?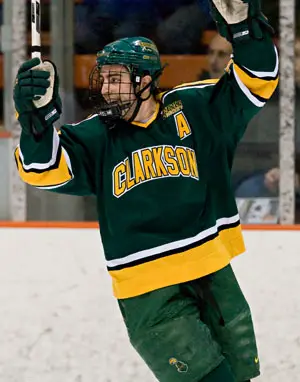 Scott: There sure is, Jim. Whoever ends up with New Hampshire in the NCAAs is probably going to be very unhappy given the Wildcats' current quality of play. I was impressed at how easily they disposed of Boston College over the weekend (2-0 and 5-1 wins), and now they're obviously in a great position to nail down a No. 1 seed in the national tournament. Meanwhile, the ECAC has once again lived up to its reputation for close finishes — though in past years there have been even bigger logjams than we're seeing now. Princeton could really use two wins this weekend to shore up its credentials in the PairWise Rankings, though even Clarkson isn't a lock for an NCAA at-large bid should the Golden Knights fall in the conference tournament. In Atlantic Hockey, you know RIT would love a second regular-season title — this time with playoff consequences, unlike last year when the Tigers were ineligible for postseason play. Like the WCHA, finishing in the top three in Atlantic Hockey is now critical to avoid the play-in game prior to the playoff semifinals, so there's plenty of tension in that race given that only the tournament champion moves on to the nationals. At the other extreme, the WCHA is still looking at as many as seven teams in the NCAAs this year — glad I don't have to decide how to sort out the brackets if that happens.
Jim: The PairWise has been a little crazy with the fluidity with which it's changing. I believe when the PWR first came out, Hockey East had five or six teams in the top 14 and the WCHA had just two. But in less than two months, that's completely turned upside down and it looks like a seven-spot from the WCHA is quite possible. When I see something like this, though, I can't help but wonder what the men's ice hockey committee is going to do to tweak the criteria so that no conference will get seven bids. It seems that whenever there is any sort of lopsided ranking, the committee feels the need for change. Obviously, having seven teams in a field is unprecedented. Is this, itself, the product of recent "tweaks?" I know you have the math brain to explain it if that, in fact, is true. Or is this just an aberration?
Scott: We could spend a month's worth of TMQs on this alone. Last season, the WCHA got three teams in the NCAAs and Hockey East five, but the WCHA happened to have the first four teams out of the tournament by the criteria. If there had been 20 bids instead of 16, the WCHA would have gotten seven teams in. This season, the WCHA happens to have most of its teams on the good side of the dividing line, and Hockey East doesn't thanks to the way individual teams have performed in the second half (see: St. Cloud State, Northeastern, Massachusetts) and in nonconference play (see: Boston University, Vermont, Minnesota-Duluth). Some folks think the PairWise is supposed to work by grading conferences and then handing out more bids to whichever league is deemed "better," but that's not how it goes. It's individual teams that are graded, and this year the results are such that mid-tier WCHA teams have favorable PairWise profiles and mid-tier Hockey East teams don't. In that sense, it is an aberration — but it's an aberration that happens every year to a greater or lesser extent, and I hope the committee doesn't overreact if the WCHA does get seven teams. Every year changes are made, but they're usually limited in their impact — my analysis using last year's criteria indicates that the WCHA would still have seven teams as of now, so that doesn't appear to be the issue. It's simply a year-to-year phenomenon that can go either way, as it did last season.
Jim: I knew that you could provide some decent insight. Good job, Dr. Brown. Sticking with the topic of national powers and rankings, I was a bit surprised to see Michigan remain on top of the USCHO.com/CSTV poll. A loss this late in the season, even if it is to the defending national champion, usually creates some sort of volatility. Personally, I thought that New Hampshire 's performance last week merited the Wildcats taking over the top spot, but I understand that not all voters believe in allowing a team to leapfrog from No. 3 to No. 1 unless both teams in front of them falter. What are your thoughts? Is Michigan still your clear-cut No. 1?
Scott: No. 1, maybe, but clear-cut, definitely not. I don't vote in our poll, but if I did I'd have a tough time deciding between Michigan, New Hampshire and North Dakota. The Wolverines have the best overall record but are 4-2-4 in their last 10 games, as opposed to UNH's 8-1-1 and UND's 9-0-1, with each team playing some tough competition. It boils down to how much you want to evaluate the entire season versus recent results. I don't think there's any doubt that North Dakota and New Hampshire are playing the best hockey right now, but each team lost early games that still resonate with the voters. Meanwhile, Michigan tore up the first half of its schedule, much as Miami did. I think the purpose of a poll is to evaluate who would beat who right now, so my ballot would probably read North Dakota, New Hampshire and Michigan, in that order. But it's hard to ignore the fact that Michigan has just four losses overall versus eight and seven for UND and UNH, respectively. How about you?
Jim: My ballot reads New Hampshire one, North Dakota two and Michigan three based mostly on the fact that I saw in person how impressive the Wildcat attack is right now. They absolutely dominated Boston College, a very powerful team in its own right, this past weekend. And that's not to take anything away from North Dakota. Circling back to the beginning, who walks away with league championships this weekend? My guess is Michigan in the CCHA, Clarkson in the ECAC, and RIT and Army co-champs in Atlantic Hockey. Yours?
Scott: With a three-point lead and only two games left, Michigan is almost a foregone conclusion in the CCHA, though stranger things have happened. I've got to agree with Clarkson as well — if the Golden Knights beat Princeton Friday at home, which I believe they will, it's all over. Atlantic Hockey's a tough one with an Army-Sacred Heart home-and-home to wrap up the season. That could leave the door open for RIT, but Air Force is probably out of the mix. The most likely outcome there seems to be an Army-SHU split, which means RIT would need a sweep of Bentley to tie the Black Knights. I think that combination of wins and losses might be too much to ask, so I'll take Army as the champion by a point or two.