It's playoff time, which means bubble teams fighting for their tourney lives, and surprises as usual in terms of who might be in and who is definitely out. The CHA automatic-bid debate continues, and how great would it be if Army made the tourney?
I'll say it first, the Black Knights of the Hudson have made a huge fan out of me the past five years. Technically they are my home team, so I'm in when it comes to Army.
Now a look at some of what is happening, what has happened, and what should.
The best story of the year that got no attention is that Princeton finished second in the ECAC. Put this in perspective. There might not be a school harder to get student-athletes into than Princeton. Guy Gadowsky came to Princeton from Alaska and has rebuilt what he had in the CCHA, a team that can skate, grind, and freewheel. They can defend, score, and have goaltending.
Gadowsky proved that those schools that no one feels can compete with the big boys — who have it somewhat easier in terms of recruiting — actually can if you do your job right. In that respect, he and Brian Riley at Army should be favorites for national coach of the year. (Princeton is technically a home team for me, even though it is New Jersey and to us New Yorkers the best two things to come out of New Jersey are Bruce Springsteen and the Garden State Parkway.)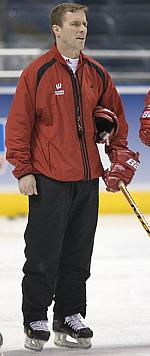 The WCHA again is the most intriguing conference for so many reasons. Paul Braun, the longtime TV personality of Badgers telecasts called it as early as December when he said, "There is a great chance that the two attendance kings for the league in postseason, Minnesota and Wisconsin, will start on the road." Got that one right. The league feasts on those two schools playing home series and especially playing in the Final Five in St. Paul.
They both start on the road (Minny at the Purple Bull and Bucky in St. Cloud). This is said from a marketing perspective, but imagine Wisco and Minny not at the Xcel Center and you'll be using thousands of unused tickets as bookmarks. However, the Gophers, who might have had as turbulent season as any team out there, should be commended for keeping it together.
They discovered they do have a core of players to build with, a goalie of the future in Alex Kangas, and have a solid defensive prospect in Stu Bickel. Lose two-thirds of your top line (Ryan Stoa and Kyle Okposo) and also Mike Carman for a semester and you're entitled to struggle.
The Badgers don't have the depth of some of their WCHA rivals but focused on the process and finished as a competitive team that I'm convinced will upset St. Cloud. Ben Street is a kid who could have a huge impact on this series on and off the ice. Shane Connelly has enough moxie to win this series.
North Dakota had a huge climb to get back to its preseason No. 1 status. As usual NoDak had its ups and downs, but the Fighting Sioux are so well-coached and have great depth. They'll physically pound you into feathers and can score. I don't think I'm overshooting the runway by saying NoDak is Frozen Four material, and as my preseason prediction to win it, I'm staying right there.
That said, Michigan and New Hampshire have my attention. I don't think I saw any team this season more than Michigan, pre- and post-Chad Kolarik's injury. Michigan is good, real good. Billy Sauer has answered many questions yet still has to answer whether he can carry the mail like Jeff Lerg did last year for Michigan State (and, it can be argued, will do again this season).
Mark Mitera is a solid shutdown defenseman who I think needs to play at a higher level than he has at times this season, but when you are the big stud defenseman you'll have a lot of teams dumping pucks into small corners at Yost and pounding you on the forecheck. Mitera plays with a bullseye on his back to match the one on his front in the form of that big M. He needs to be great and I think he will be.
Kevin Porter and Kolarik could write a book on the roles of senior leadership on a young team. If you think Michigan is as tight a team as it is by accident, you're delusional. Porter has been everything his coach needed him to be and more. Kolarik has been everything the team, and Porter, needed him to be.
Kolarik is funny, loose, and a dynamic scorer. Porter is more serious but talk to the two of them together and it's easy to see why Porter has been successful as the captain. Kolarik makes him better because he keeps the captain loose. On the other hand, Porter can tighten the dressing room when needed through Kolarik. It's perfect leadership.
UNH is the team that gets less press than Princeton, but that is just fine for the Wildcats. Their M.O. has been to be the team lying in the weeds and waiting to pounce. They are the undersized running back in the physical division that still runs for 1,000 yards. They aren't great at anything but are so good at everything that they have as good a chance as anyone if not better to win the national title.
Actually, they are great in one area, and that is in goal.
Their strength is their leadership and their leaders are in the positions that are perfect for them to mold this team. Their top two forwards are Mike Radja and Matt Fornataro, both seniors. They have done a great job molding James vanRiemsdyk and Danny Dries. Their top two defensemen are Craig Switzer and Brad Flashains, both seniors.
Kevin Regan, who might be having the best season of any goalie in college hockey, is a senior. As Flashains talked about last week on CSTV's visit to Durham, having the seniors playing every key role (power play, penalty kill, end of periods, big shifts, in goal), helps them as a group lead by example. That philosophy in action has made UNH a team you want very little part of in the NCAA tournament.
UNH could win the whole thing, but you'd better expect Hockey East is coming after the Wildcats this week and next. Boston College will be out for blood after a late-season sweep by UNH in which BC just didn't look great. All-world superstar Nathan Gerbe was held in check all weekend and I'm guessing he'll not let that happen again.
Boston University is playing its usual solid late-season hockey, Providence is dangerous, Vermont is the best shutdown team in the conference — and if Joe Fallon gets hot, watch out. UNH learned its lesson last year about preparation for the national tournament and should get to Denver. By the way, Maine was allowed an off season after its decade of success. The Black Bears will be back next season, and you read it here first.
Have we touched the CHA yet? Wayne State is now officially a dead man walking. The Warriors will open up as the No. 4 seed by playing the defending conference champs from Huntsville. Wayne State's next loss appears to be its last as the program will be suspended after the season. There seems to be speculation that the school will try to resurrect it, but if you needed an upset in the making, this could be it. Alabama-Huntsville pulled off an improbable run last year in Des Moines to send longtime coach Doug Ross out as conference champ, and took Notre Dame to double-overtime in the opening round of the regionals.
A case can be made that Michigan State's run was greatly aided by Notre Dame's marathon against Huntsville. The Chargers were down 4-0 to Robert Morris after one period, then became the fifth team in the CHA tourney last season to score four consecutive goals in a game. The CHA tourney is usually wild, and expect the same this season. Each team plays like it wants to prove it is good enough to be in a better conference, and that is what makes it so competitive.
Speaking of Notre Dame, the entire college hockey world would be thrilled if such a high-profile school won the national title. However, many feel that Notre Dame won't get past Ferris State in the CCHA quarterfinals. That's more a compliment to the Bulldogs, who have had a great second half.
Bowling Green is also much improved, and gets Miami. While I know deep down Miami is probably too deep and too explosive, BG winding up in Detroit next week isn't that farfetched. However, that is an intrastate rivalry, and I can't see Miami head coach Rico Blasi letting the RedHawks lose it at home. The thing about the CCHA is that the underdogs are dangerous. As head coach Rick Comley of MSU has often said, "There are no teams you want to see in that second round."
It has been a Michigan-MSU-Miami conference the past few years, and now Notre Dame is a powerhouse in the making. Then it's the other eight but in that eight are two teams that always are dangerous — don't forget that Northern Michigan swept Michigan State late in the season in Marquette; they'll meet up at Munn in the next round. I still think Michigan is the team of destiny here, but Nebraska-Omaha and Alaska should be commended on a great three-game series that ended in a triple-OT deciding game.
The predictions to win the conference tourneys are: UNH, Michigan, Denver, Princeton, Bemidji State, and Army. The preseason predictions for the Frozen Four were Michigan State, Miami, UNH, and North Dakota.
Lastly, best of luck to assistant coach Chris Lepper and the Minnesota Owls in the Tier 3 Junior A national tournament held later this month in Boston. However, a hunch says the New Jersey Hitmen of the Eastern Junior Hockey League win the tournament.