St. Thomas (19-6-2 overall, 11-4-1 in MIAC)
Tonight's NCAA Opening Round game between St. Thomas and University of Wisconsin-Stout features programs with very different histories.
And it's St. Thomas who has prestige on their side. With 21 more victories than Middlebury, the Tommies are the winningest program in Division III hockey history. Three times in the last five seasons, St. Thomas has won the MIAC championship and advanced to the NCAA Tournament.
They have eight conference titles in their program's history, and were the runners-up to Middlebury in the 2005 national tournament. Five seniors on this year's squad skated in that championship game. In contrast, Stout is making its first-ever NCAA tournament appearance.
With so much history in his program's background, St. Thomas coach Terry Skrypek must be looking ahead to a looming Saturday battle with St. Norbert and a potential final four bid, right?
"We haven't even discussed St. Norbert." Skrypek said before tonight's match-up. "We're totally focused on Stout."
The Tommies come into tonight's game a week after clinching the MIAC title on the road against Hamline. That was a game St. Thomas took control of early, scoring 1:33 into the first and never looked back. The Tommies never trailed to a Hamline team they were only able to secure one point against in two games earlier in the season.
"It was a big win for us. We had struggled against them in the two previous games and it was nice to win a solid one, 4-1." Skrypek said. "We shut their power play down and if they had been able to convert, it could have been a different game."
Hamline came into Wednesday's contest with the strongest power play in the nation, but couldn't convert on eight tries with the man advantage.
"I think the key was to pressure them as quickly as we could and force them into some errors."
On the opposite end, St. Thomas was held to 0-for-5 on the man advantage in that game as well. Skrypek feels his team just narrowly missed some chances and that the number doesn't tell the whole story.
"We had some great chances. We hit one crossbar and one pipe on the power play. So we could have had two goals with a little bit of luck."
Even without scoring when up a man, St. Thomas was able to control the action, outshooting the Pipers, 34-20. That was a similar story to when the Tommies met the Blue Devils earlier in the season.
In that game, St. Thomas out shot Stout 39-25, controlling the pace of the game for most of the contest. Only two late goals, one with the extra attacker, by Joel Gaulrapp forced overtime, where the teams skated to a 3-3 tie. One of those late goals was off a turnover in the defensive zone, while another was a slap shot from just inside the blue line.
"We let them off the hook." Skrypek said. "It was a game we were in control and I think we should have won. We kind of handed it to them on a silver platter at the end of the game."
Despite the fact that Skrypek feels his team should have taken the first meeting between the two teams, he's not taking this match-up lightly, noting that Stout has undergone significant changes since that game back in November, including line changes, personnel shakeups, and an overall adjustment in philosophy.
"Hockey is a game of little battles and you have to win those little battles to make opportunities for yourself. [We] don't have to make any wholesale changes [against Stout]. [We] just have to be on top of the little one-on-ones in the corners that create loose pucks, get the loose pucks, and then get the puck to the net."
Skrypek knows his team will have to play strong defensively against an offensively-minded Stout squad, preventing turnovers in the neutral zone and limiting opportunities for the Blue Devils in the offensive zone.
The approach will be different for St. Thomas than for Stout. The Tommies have a core of seniors who played in a national championship game and can guide the younger players on the team through the pressure associated with playing in the NCAA tournament.
The nerves of playing in the tournament, combined with the normal pressure of being on the road means that the beginning of this contest could be crucial. If St. Thomas can take advantage of the other factors surrounding the game and take an early lead, it could be difficult for the Blue Devils to respond.
In their previous two games, the Tommies have allowed a total of just two goals. Tyler Chestnut has been an integral part of St. Thomas' success this season, and the Tommies will need another strong showing between the pipes to advance tonight.
These teams skated to a 3-3 deadlock earlier in the season in this rink, but there will be no tie tonight. If the Tommies can execute their game plan of mistake-free hockey and get another strong showing between the pipes, they have a chance to face St. Norbert Saturday.
UW-Stout (18-8-3 overall, 7-5-2 in NCHA)
Over the past few seasons, Stout has established itself as one of the elite teams in the nation. The Blue Devils big coming out party came last season as they tied for the NCHA regular season crown and posted a 21-5-2 record.
It wasn't quite enough, however, as come NCAA Tournament selection time Stout was left on the outside looking in.
The Blue Devils had another fine season this year, finishing second in the NCHA and losing to St. Norbert 4-3 in overtime in the Peters Cup Finals. All told, Stout finished with an 18-8-3 record.
This time it was enough, as the Blue Devils learned Sunday evening they will be making their first trip to the NCAA tournament in school history.
"It's great, and I really think the kids earned it," said Blue Devil head coach Terry Watkins. "I think you could look at our record and maybe question it, but you want the best teams playing well at the end and I think we beat some darn good teams in the end."
"Stevens Point I think was a hell of a hockey team. I think they were 12-2-2 going in and we beat them twice in our barn. I was ecstatic we beat them, and then Eau Claire was playing very good hockey late in the year."
The Blue Devils have even gone toe-to-toe with top-ranked St. Norbert twice in past month, earning a 3-3 tie at home before dropping last weekend's 4-3 overtime contest.
"I think to have played St. Norbert as tough as we have twice in the past month is, you know, pretty exciting," said Watkins.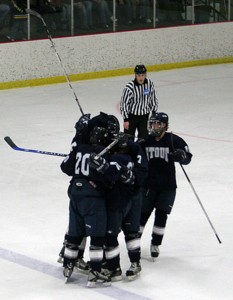 Having gotten it done when it counted, Stout will travel to MIAC playoff champion St. Thomas for its opening round contest. The Tommies are certainly familiar with the postseason, and Stout is certainly familiar with the Tommies.
"Their head coach Terry Skrypek and I have known each other for 48 years," explained Watkins. "We played against each other in grade school, we were teammates in high school, and played against each other in college. We've known each other for a very long time and are very good friends."
The teams are familiar with each other on the ice as well, having met on an almost annual basis for the past decade.
The Blue Devils have gotten the best of the St. Thomas lately, posting a 4-0-1 record against the Tommies since a 7-0 loss on December 12, 2002.
"We've actually beaten them the last few years prior to this year," said Watkins. "I'm not sure how but we even beat them the year they lost the title game of the (NCAA) tournament."
As far as this year is concerned, the two played to a 3-3 tie back in November which is no surprise considering the similarities in each teams' style of play, particularly in the speed department.
"They are an awfully good hockey team. They are very, very talented," said Watkins. "They skate well, they are disciplined, and we have to try to get them off their game. We're going to have to outwork them and if we do I think we have a shot. If not…I think we are in trouble."
Like Stout, St. Thomas has played well down the stretch. Its path to the MIAC Playoff title is evidence enough of that as it outscored its two opponents by an 11-2 score.
"That might be the scariest thing of all: they are playing very well as of late," said Watkins.
Also like Stout, the Tommies are averaging over four goals per game while conceding just over two per contest. Three seniors pace the Tommies' offense, with reigning All-American Nick Pernula leading the way with 12 goals and 29 assists for 41 points.
Sophomore Tyler Chestnut has played well in net for the Tommies, posting a 17-6-2 record with a 2.13 goals against average this season.
"They really have some kids who can skate, and they have guys who can put the puck in the net. I don't care what anyone says but their goalie can play," said Watkins
Tournament tested and talented though the Tommies may be, the Blue Devils bring plenty of ammunition to the fight as well.
All-American Mike Stone has re-emerged as one of the elite goalies in the nation after missing part of the early season. If there were any questions as to Stone's status they were answered at St. Norbert last week — especially on a ridiculous kick save he pulled out of his hat in overtime.
Stone is only 7-4-2 since his return but his 2.12 GAA and .922 save percentage speak for themselves and have only improved as his minutes have increased.
The Blue Devils can score from anywhere, as evidenced by 13 players who have scored in double digits on the year.
Sophomore forward Derek Hanson leads the way up front with 21 goals and 20 assists for 41 points. Sophomore forward Joel Gaulrapp has notched 18-17-35 while forwards Scott Motz, Jeff Wheeler and Nick Klaren check in with 29, 27 and 21 points, respectively.
Despite the firepower that will be on the ice in this match-up, Watkins is a little worried about getting into a shootout with the Tommies.
"I don't think either one of us wants a wide-open game," he said. "That might be a little scary. With the speed they have and the guys they have who can put the puck in the net I don't think we want to see a track meet."
The NCHA receives a lot more press than the MIAC, but one needs to look no further than last season to see what a MIAC team is capable of in the NCAA tournament. To refresh readers' memories: Bethel went into River Falls and outplayed the Falcons en route to its first ever NCAA victory.
That was also Bethel's first ever game in the NCAA tournament, and they defeated a battle-tested River Falls team on their first try. Likewise, this is Stout's first opportunity and they will face a St. Thomas side that is no stranger to the NCAA tournament.
"I don't think either one of us had a great game the night we tied 3-3," said Watkins. "I think they are playing way better than they were then, but I think we are too, so we'll see. It's a great match-up…it's what it's all about."
While of course Watkins hopes his Blue Devils come out on top, he likely speaks for the entire D-III world when he describes how he hopes this contest between teams guided by old friends shakes out.
"What I hope is that we both play well and it's a good goal that wins this thing," he said.
Continuing, "I'd love to see a game like the one we played over at St. Norbert last week. It was interesting; their fans, their coaching staff, I mean we all saw it. The kids left it all on the ice. They got the win and congratulations to them, but when the kids shook hands it was fun to see kids shake hands and give opponents a hug or say a few extra words. To me that's what the game is about.
"It was a hell of a game, and I hope that St. Thomas and us have the same thing."