When you enter a big time Division I program, you always dream of making an impact and a name for yourself. However, the downside is when the depth chart has NHL draft picks ahead of you. Your dreams can quickly be dashed.
For Mercyhurst goaltender Matt Lundin, that's what happened when he entered Maine in 2004. First it was Jim Howard who was the starter. He left after his junior year to sign for the Detroit Red Wings.
Then, hoping to move up to the top position in his sophomore year, along came a guy by the name of Ben Bishop, otherwise known as Big Ben, already selected by the St. Louis Blues.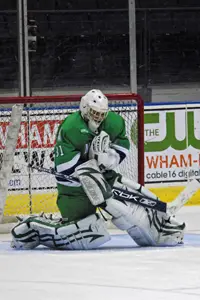 Lundin saw play in nine games his freshman year (2.00 GAA, .928 save pct.), and when Bishop showed up, he did get into 14 games (1.72 GAA, .934 save pct.) with a 7-4 record as Maine initially looked at both options.
However, when Maine coach Tim Whitehead settled on Bishop as the starter, Lundin decided it was time to consider other options. First, since he was young enough, he went back to junior hockey, playing for Sioux Falls Stampede in the USHL, winning the Clark Cup Championship for 2006-7.
Then, looking at returning to college, he chose Mercyhurst.
"No secret that we were searching for a good goaltender," Mercyhurst coach Rick Gotkin said. "Matt was the guy we identified early, and we were fortunate enough to get him to come to Mercyhurst. He was the center of our universe."
"This is a great team to play for," Lundin said. "I'm glad I made the decision to come here."
Just how important has Lundin been to the Lakers this year? He was injured in the first game of the year against Ohio State in a 2-1 lost. While out the first ten games of the season, his team went 1-8-1. Since his return, the Lakers have gone 14-10-6.
Lundin was never completely healthy, but his toughness was never questioned.
"I don't think it's a secret that he's played all year with a bad shouder that requires surgery," Gotkin said.
Lundin played in 29 contests before tonight, sporting a 2.77 GAA and a .920 save pct. More importantly, he led his team to a second half turnaround, and then as a number five seed, all the way to the Atlantic Hockey championship game, where the Lakers lost a heartbreaker, 5-4, in double overtime.
"This year was great," Lundin said. "Win or lose, I couldn't have been in a better locker room. Better coaching staff. Better organization. Better teammates. I wouldn't have wanted to lose it with any other guys."
With one year of eligibility left and surgery planned in April, Lundin, unlike Howard and Bishop, does not plan on leaving early. He'll return for his senior year to make the most of his collegiate career. A career which may have initially been overshadowed, but is now blossoming in the spotlight.
"The future is great," Lundin said.