Following last weekend's high-powered 7-2 romp in the quarterfinals against Manhattanville, the Norwich Cadets have returned to the Frozen Four for the first time since they hosted the championship weekend in 2004.
For this group of Cadets, it's the first time they have advanced to the title round and with no experience in this round; they will be looking to leverage their overall level of play in the playoff run that has seen them outscore their opponents by a 28-6 margin in just four games.
They say that defense and goaltending is what wins championships and coach Mike McShane's team certainly has played well in their own end all season and into the playoffs. But what has set this team apart has been the explosive offense that doesn't even need the man advantage to cause other teams and their coaches' heartburn with their proficiency in scoring goals.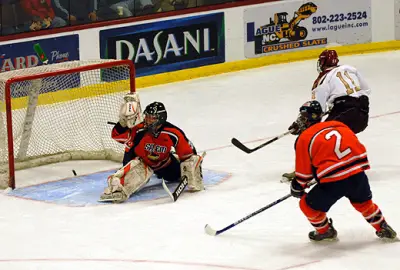 Senior forward Rick Cleaver, a first team league all-star selection and Player of the Year in the ECAC East, has continued his dominant play in the postseason pushing his goal total to 31 for the season. For his career, Cleaver has 10 oals and 12 assists for 22 points in just 10 postseason playoff games including conference and NCAA tournament action.
In four postseason games this year Cleaver has five goals and four assists for nine points. Only Manhattanville was able to hold him off the score sheet but his fellow forwards still managed to score seven goals with four other players having multiple point games.
Teammmates Nikita Kashirsky (20-22-42), Eric Lauriault (15-18-33), D J Fimiani (6-28-34) and Raphael Robitaille (10-19-29) have also continued their offensive output in the postseason and that makes it more difficult for opposing teams to focus on shutting down just one option or one player.
"We have really had good balance all season," stated head coach Mike McShane. "Rico [Piatelli] and Raphael [Robitaille] have also been on the score sheet a lot in the playoffs and scoring five-on-five goals at any point in the season are big momentum goals. We have been very good at home where we played in the conference playoffs and the quarterfinals with great home support."
Norwich will continue to look for the hot hand of David Thompson (15-2-0, 2.12 goals against average, .902 save percentage) to back them in net and he won't need much motivation to excel than looking at his counterpart in the opposing net. Senior Kyle Jones comes into the match-up with Norwich having won 27 straight games and winning Player of the Year honors in the NCHA. Thompson, a sophomore, would like to play a big part in ending that winning streak on Saturday and hope his high-scoring teammates can put the pressure on the other end of the ice.
This match-up may ultimately decide whether or not the advantage goes to the strong defense and goaltending or the offensive juggernaut. The game will be played on the Olympic size sheet of the 1980 rink at lake Placid so there will be lots of room for the Cadets to coordinate their offensive maneuvers.
This team of Cadets has never played on this stage before so there will certainly be a lot of excitement in playing for a chance to win their third national championship.