College sports is so much about fresh faces as athletes cycle through every four years or so. Thus, there isn't much time to get the most from your players on the team. Therefore, when freshmen make an immediate impact, it's a bonus. An added impact that can sometimes propel a team deep into the national playoffs.
"We always think we're bringing in players who will make an impact right away," Plattsburgh coach Bob Emery said. "Recruiting is an educated guess at best. It's a big jump in level, and you never really know who will be able to make that jump and who will not."
Plattsburgh is a team that has benefited from a freshmen class that has not only excelled, but has been amongst their leading contributors this year. Their top goal scorer, top points getter, top assists man, and number one goalie are all playing in their first collegiate season. Plattsburgh placed four members on the USCHO.com SUNYAC All-Rookie team.
"We're going to rely heavily on our freshmen again," Emery told the Press-Republican before the season. "We're hoping the freshmen become even a bigger part of the team during the second semester."
It didn't take nearly that long. Which is a good thing, considering there are only three seniors on the team.
It all starts in net where Bryan Hince solved many of the Cardinals problems the past few years. The Kapuskasing, Ontario native has played in 25 of the team's 28 games this year, sporting a 2.02 GAA, a .916 save pct, and a 21-4-0 record.
"Our game is so much about goaltending," Emery said. "Without Hince having a year like that, we don't have a year like this."
Working your way out, there is Ryan Corry on defense. From Calgary, Corry is the team leader in assists with 25.
On the forward line is Eric Satim from Montreal. Satim has nine goals and 19 assists for 28 points. If there was a Lady Byng award for college hockey, Satim would be a contender as he has only three penalties all year.
On top of the team scoring chart is fellow forward Dylan Clarke. Hailing from Belleville, Ontario, Clarke leads the Cardinals in goals (19) and points (34).
"Good sized kid with a great reach," Emery said. "He's a born scorer. Other than Clarke, we probably don't have a natural goal scorer."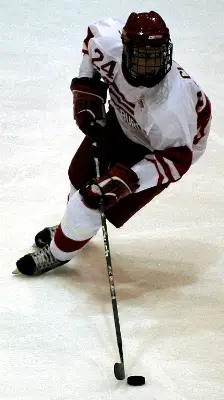 Nine of Clarke's goals came on the power play and he is tied for the nation's best with seven game winning tallies. The latter stat is a huge contribution as Plattsburgh won seven one goal games, eight if you don't count empty-net tallies.
"We won a lot of one goal games," Emery said. "Clarke scored a lot of key goals. If you don't have a guy that gets the right goal at the right time, we probably don't win all those one goal games."
Forward Dan Sliasis and Devin Bancroft are two other freshmen who played in Plattsburgh's 5-2 win over Hobart in the NCAA quarterfinals.
The freshmen class has certainly added to the performances of the upper classmen such as Riley Hill, Joey Wilson, Nick Rolls, Ward Smith, and T.J. Cooper. An overall situation that makes Emery very happy.
"Even though we have freshmen that made a key impact, there's no superstars on the team that we have," he said.
Every college team needs to constantly add new players and spend time on developing them in their first year. When the incoming freshmen make an immediate impact and become amongst the leading performers on your team, you wind up like Plattsburgh: playing in the national semifinals for the 14th time in school history, looking to win their third national championship.