Wisconsin freshman forward Kyle Turris signed a pro contract with the Phoenix Coyotes and will forgo his final three years of collegiate eligibility. Turris, the third overall choice in the 2007 draft, left for Phoenix today.
"From the very start, I had told Phoenix that when they thought I was ready and when they wanted me to come, that I would go," Turris told The Capital Times.
The 6-1 180 pound forward finished his freshman season at Wisconsin as the team's leading scorer, netting 11 goals and 25 assists to go along with 38 penalty minutes in 36 games. Turris was named to the All-WCHA third team as well as the All-Rookie WCHA team, and was National College Hockey Rookie of the Month for October. He was named a Red Baron Pizza WCHA Offensive Player of the Week for the week of October 23, 2007.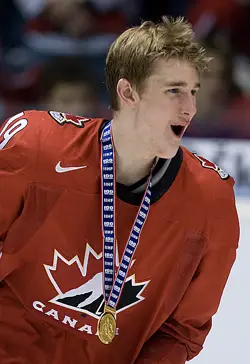 Turris also led Canada to a gold medal in the 2008 World Junior Championships in the Czech Republic, tying for the team lead in points with four goals and two assists in five games.
Turris also helped Canada to a 7-0-1 record in the 2007 Super Series, a series of eight games between the top juniors of Canada and Russia. Turris scored seven goals to lead all goal scorers in the series.
Before coming to Wisconsin, Turris played for the Burnaby Express in the British Columbia Hockey League, where he was named the league MVP after scoring 121 points in 53 games.
Turris is excited about the opportunity to play for Phoenix, though he admits that he will miss Wisconsin.
"They showed a lot of interest and wanted me to come for the last couple of games to get experience for next year," he told The Capital Times. "I signed earlier today, but it was a tough decision because I love Wisconsin. I wouldn't have traded this year in for the world. It was incredible. The college atmosphere, the lessons I learned. I couldn't have had a better coach than coach (Mike) Eaves. He taught me so much. I have to thank him so much, but I was lucky to play with some great players and learned lots from them too."