National scoring leader. National champion. Frozen Four Most Outstanding Player.
Boston College winger Nathan Gerbe did it all this season.
Well, almost. Anyone want a re-vote for the Hobey Baker Memorial Award?
"As much respect as I have for Kevin Porter," Notre Dame coach Jeff Jackson said, "if they name the Hobey Baker after this weekend, they may change their mind."
Michigan's Porter got the top individual award for the season, but Gerbe is walking away from the Pepsi Center with the big prize.
Gerbe took the Frozen Four by storm, registering five goals and eight points in the two games, leading the Eagles to their third national championship.
Only Colorado College's Bob McCusker, who had seven goals 51 years ago, has ever been more productive in the Frozen Four among the most outstanding players.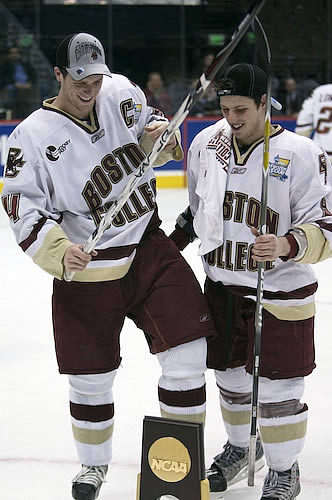 In Saturday night's 4-1 victory over the Fighting Irish, Gerbe scored twice, giving the Eagles a 2-0 lead and putting them on track to avenge national championship-game losses in his first two seasons with BC.
It was another top-flight performance on college hockey's biggest stage, and Gerbe was a big-time performer in the spotlight.
"I think it's what every player wants," he said of playing on the big stage. "They want to be part of something special, and you always want people watching. You want the biggest stage possible. It's what everyone wants to have — Tiger Woods, [Sidney] Crosby. Everyone wants the big stage, so you've always got to put yourself there."
Gerbe tied the record for goals in a single NCAA tournament with seven, and his five goals in the Frozen Four ranks fourth all-time.
He finished the season with 13 goals and 24 points in his last 12 games. His first goal Saturday clinched the national goal-scoring title — he was tied with Porter at 33 entering the game.
His season total of 68 points was five better than Porter in the same number of games.
"I really don't think about it at all. It's just numbers to me," Gerbe said. "The biggest thing is that trophy is right next to us."
Afterward, there were a number of connections made between Gerbe, who stands 5-foot-5, and a former BC forward of roughly the same stature.
Brian Gionta was a finalist for the 2001 Hobey but lost to Michigan State's Ryan Miller. The next day, however, the 5-foot-7 winger helped the Eagles win the title.
Both players have great hands, impressive speed and the ability to disguise the angle of their shot, making them tough for goaltenders to stop in close.
Gionta and Gerbe share the occasional conversation.
"He gives me a few messages here and there … maybe a little pointer here and there," Gerbe said. "But not too often. I don't want to bug him, especially now. He's in the middle of the playoffs."
Gerbe had a playoff run to remember. He scored in all four NCAA tournament games for the Eagles, and his seven-goal total included three at even strength, two on the power play, one shorthanded and one into an empty net.
As much as his goals changed the Frozen Four, his work ethic was being praised Saturday night.
"I don't know if there's a kid in the country that works harder than he does," Notre Dame defenseman Kyle Lawson said.
"He's one of the hardest workers on our team, if not the hardest worker," linemate Ben Smith said. "He's always flying. That's what he's worked hard on. Some of it's natural, but he works really hard on his agility, his speed, his quickness. It's a good spark for our club, especially when he's flying through the zone, getting breakaways and everything."
The work ethic showed on his second goal Saturday, when he dived near the right post to poke home the rebound off the boards behind the net.
"You want to leave it all on the table, no matter what, if you get hurt or anything," Gerbe said. "You've got time to heal now."
Gerbe also has time to make a decision about his future. The Buffalo Sabres draft pick didn't commit to anything Saturday night about where he'll play next season.
"He's going to be a terrific player — hopefully for us next year, but if not, down the road for the Sabres," BC coach Jerry York said.
A line from an Eleanor Roosevelt poem came up when Gerbe described what it was like to hold the national championship trophy.
Many people will walk in and out of your life,
But only true friends will leave footprints in your heart.
"Especially for our team this year, these memories, it's going to be footprints in each other's hearts forever, this trophy," Gerbe said. "It's a great feeling. I'd way rather hold this than the Hobey."