Music by Pearl Jam echoes off the cement locker-room walls. A tall player with a No. 27 on his back taps a soccer ball to No. 6, while the guy with the 'C' on his chest sits on the bench lacing up his skates. Laughter and anxiety float about the room as the sea of maroon and gold jerseys watch the minutes tick by on the clock until game time.
This, to some degree, is what the pregame atmosphere is like for the 2008 NCAA men's ice hockey national champions.
Boston College took home the NCAA trophy this past spring, after appearing in the Frozen Four finals every time since 2006. Everyone knows the Eagles hold the title and are dominant in postseason puck, but the question is — what's the key to their success? And can they do it again?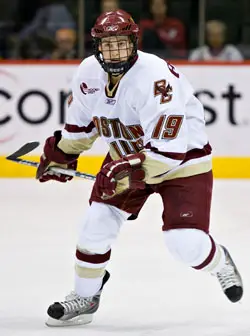 Simple: The reason BC won is because the Eagles are one. Team unity is the secret weapon, and the positive, hard-working attitude emitted from the players and coaching staff is the glue that binds the club.
"We're a very tight team," junior forward Ben Smith said. "That's one of the things that brought us where we are — that we are such a tight-knit team."
In order to maintain those close relationships, head coach Jerry York said it's important that he instills certain values in the newcomers every year.
"You have to be aware of that jump from where ever they [the freshmen] played last year to here; the level of play is considerably higher," said York. "Commitment, teamwork, and just great work ethic are the three values I really stress."
With 15 returning players, the Eagles will take the freshmen under their wings, potentially welcoming them to another championship experience.
"There are some nice privileges that come from winning and once you get a taste of it, I mean, it really motivates you to want to win again so that you can share it with the new guys that haven't had that opportunity," said senior captain Brock Bradford. "You kind of have to pinch yourself and see that everything is really happening; soak it all in because it's only going to happen maybe once or twice in your lifetime."
And Bradford wants to make sure it happens again this season, because last year he was out all but five games due to a broken arm. It was those injured days that tested Bradford's character and helped unite the team even more.
"I think last year — even though he didn't play — was a good year for him [Bradford] because that's where he became one of the leaders in our locker room," said Smith. "He was a leader before, but last season he was always that guy coming down in between periods telling people what they were doing wrong. He became a guy that a lot of us started looking up to."
"He stayed positive and stayed as close to our team as he was when he was playing; helping guys out, saying little things," senior forward Andrew Orpik said. "I think that echoes the fact that a guy who didn't play for a whole year was still elected captain."
Bradford remains a key component in keeping the Eagles working together as a team.
"I think his work ethic on the ice kind of resembles who he is off the ice. He's dedicated to school, dedicated to hockey, and dedicated to being a good friend," said Orpik, who is also Bradford's roommate. "He's responsible and you can always count on him to make sure everybody is staying together."
One player out of the loop is Nathan Gerbe. Last year's scoring sensation who registered 35 goals, 33 assists, opted to go pro and forego his senior season. There's no doubt that USA Hockey's College Player of the Year will be missed, but the 2008-2009 Eagles are confident they can keep up the quickness on offense.
"You lose a guy like Nate Gerbe, it's tough, but we have so many good players who are capable of building off their good seasons last year, we should be fine filling the void offensively," said Bradford.
One such player is Smith, who last year posted a 50-point season (25 goals, 25 assists), ranking second on the team with 10 power-play goals. Smith thinks that if the offense brings it up a notch, BC will survive without Gerbe's presence.
"With Joe Whitney, Brock Bradford, Brian Gibbons, and myself — we'll all have to step it up," said Smith. "We have some great freshmen that came in — especially forwards like Barry Almeida, Paul Carey, and Jimmy Hayes — we have some really good players that will step right in and play some big minutes for us."
Smith also believes he has the opportunity to better himself.
"I'm just trying to build off from year to year so I hope this season will be better than last season," said Smith. "Maybe I won't get 50 points this year, but hopefully our team will get back to that title game and I'll become more of a leader."
Despite having that 2008 NCAA trophy in the glass case, the team still sees room for improvement, especially regarding an 11-9-7 record in Hockey East that dropped BC to fourth place in the regular season.
"I think if we can be a little more consistent during the season this year then it will set us up a little better in the tournament," Bradford said. "With consistency we should have a better chance of hopefully winning a regular-season title too, but it's tough every night so we just have to bring it."
Between the pipes is one place that does not need much improvement from last year. As a freshman, John Muse gained All-Tournament recognition at the Frozen Four in Denver. During the season Muse had a 2.20 goals-against average and a .921 save percentage.
"Right now we have this stable, solid background in net, and I think that's good for us confidence-wise moving into the new season," Smith said.
Looking ahead to this season may be a challenge for the team because after winning the title, the Eagles were honored at the White House, the Massachusetts statehouse, Fenway Park, and Boston Garden among other events.
"The first couple of days after I got home [from the NCAA title game] it's the first thing I was thinking about and even dreaming about before it actually happened," Orpik said. "But raising the banner is going to kind of close the book on last year."
Smith added, "Coach is right — the trophy is up in the hockey office — it's there and nobody is taking it from us. We just need to go out there and get another one."
Asked to describe his team in three words, York said, "Quickness, comradeship, and toughness." It's the friendships that York has emphasized among the players and his own relationship with the team that have induced a winning atmosphere.
"He [York] is a guy you can play with for four years," Bradford said. "He's a great mentor on and off the ice, a great ambassador to the game. We're lucky to have him."
"I've never had a coach that is just more excited to practice than the day before. The fact that Coach brings a positive mentality to the rink every day helps the team stay together in the good times, and especially the bad times," said Orpik.
Bradford said York's values in leading a balanced life have influenced the team's bond.
"Coach York wants us to focus as much in the class room as we do on the ice, so we really concentrate here that you're a person a lot longer than you're a hockey player," Bradford said. "Honestly I can say that everyone gets along, respects each other, and calls each other friends."
The theme of teamwork never seems to get old — especially in the movies. The Disney film The Mighty Ducks incorporated the Queen classic "We Are The Champions" — a tune that BC could have blasted out of its own locker room after winning the national title. As said in the movie, "Ducks fly together." It's pretty obvious that Eagles do too.