"We feel really good about our team," says Miami head coach Enrico Blasi. It's just worth repeating.
With Miami's success in recent years and a gorgeous newer facilities to keep the RedHawks in the thick of the recruiting battle, there's no reason why Blasi should feel anything but good about Miami hockey.
The RedHawks matched league champ Michigan's 33 overall wins last year, finished one point behind the Wolverines in conference standings, lost the title game of the CCHA championship tournament 2-1 to Michigan, beat Air Force in the first round of NCAA tourney play, and ended their season against eventual national champions Boston College, 4-3, just over 12 minutes into overtime.
That is quite a ride, and there's nothing serendipitous about it.
Not Just the Numbers
"We feel good that the culture is very stable and our guys understand how to prepare and play and what the process is throughout the entire season," says Blasi, "and what it takes to compete at a high level."
It's creating the kind of culture that Blasi and his staff have at Miami that has the potential to produce excellence consistently for years to come. It's a CCHA given that when the Michigan Wolverines lose marquee players they still return high achievers ready to regroup and maintain, yearly. It's also been a CCHA given that in recent years that few other teams have been able to imitate and recreate the same kind of success that Berenson has in Ann Arbor.
But one look at Blasi's returning RedHawks, and any fan can see the real potential for consistent success.
Sure, the 'Hawks had said goodbye to superstar forward Ryan Jones and the often overlooked goaltender Charlie Effinger, and would-be senior goalie Jeff Zatkoff opted out of his last year for pro play, but look at who remains. Sophomores Carter Camper and Tommy Wingels, junior Jarod Palmer, and seniors Brian Kaufman and Justin Mercier accounted for 77 of Miami's 169 overall goals last season, and a slew of other players are capable of finding the net for the RedHawks. Miami's defense corps is young, but led by the more than capable senior Kevin Roeder.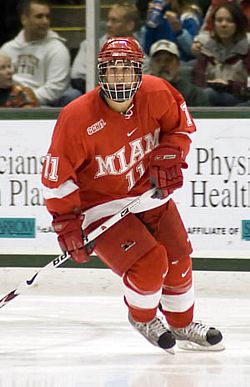 And don't forget about Andy Greene. No, the former captain hasn't returned to Oxford, but Greene (2002-06) was in part responsible for selling Blasi's brand of hockey to the RedHawk program. As captain, Greene helped create that culture that produced Ryan Jones and that will no doubt live on in this year's captain, Kaufman.
Shades of Ann Arbor.
One Little Number
The only question mark for the RedHawks is in net. Miami will have two freshman goaltenders, Connor Knapp and Cody Reichard, for the first time since the 2003-04 season, although Reichard is legal to consume adult beverages in his home state of Ohio. This will test whether the RedHawk machine is truly self-perpetuating.
A Coincidence, Really
In the offseason, Miami lost another key component to the RedHawks' success, assistant coach Jeff Blashill, who joined the program in 2002. The former goaltender for the Ferris State Bulldogs left to become head coach of the Indiana Ice of the USHL.
That left an opening on the coaching staff, and joining Miami is Brent Brekke, former Western Michigan captain and the CCHA's Best Defenseman of the Year (1993-94).
The CCHA acquired Brekke through a trade with the ECAC. In order to take Brekke back into the league and specifically into Ohio, the CCHA was forced to send Ohio State associate head coach Casey Jones to the ECAC. It's complicated and involves considerations to be named later, but Brekke spent nine years as an assistant at Cornell, to which Jones — a former Big Red player and assistant coach — returned after 13 years.
Really.