There's an old quip that can now be applied to each CHA school.
Beer will not be served at any of the schools' games this year because they all lost their openers.
Groan.
Heck, even a double groan with debris tossed in the direction of this writer. It would be well-deserved.
Alabama-Huntsville and Bemidji State were both swept on the road, but not convincingly, Robert Morris lost its one game and Niagara lost and tied on its CCHA road trip.
Not a good way to start, but alas, the season is just beginning. More on the first weekend later — NHL news with a CHA connection gets top billing this week.
Ex-UAH Captain Ross Makes NHL Debut
More than a handful of former CHA players appeared on training-camp rosters (and a few NHL rosters!) as North American pro seasons have started to get under way.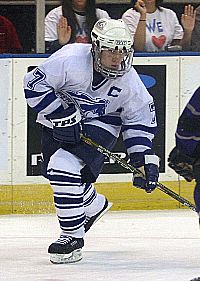 For starters, former Bemidji State captain Andrew Murray and former Alabama-Huntsville captain Jared Ross cracked NHL rosters as Murray earned a spot with Columbus after signing a contract extension in the offseason and Ross was recalled by Philadelphia for its season opener against the New York Rangers and saw 5:25 of ice time last Saturday night.
"It's amazing how many people called me, texted me, telling me congratulations," said Ross to NHL.com. "Huntsville had a bar that played the game and a lot of people went to watch it. The first time I stepped on the ice, all I could think of was 'Don't make any mistakes,' but there's a lot of people watching.
"My dad (ex-UAH head coach Doug Ross) said no matter what happens, I've accomplished something."
Ross, then a healthy scratch Monday against Montreal and Tuesday against Pittsburgh, became the first UAH alum and Huntsville native to play in the NHL. He was also the lone U.S.-born player in the lineup and earned a two-minute minor for holding 33 seconds into his first shift. The Rangers scored just after his penalty expired.
Ross played on the fourth line with Riley Cote and Arron Asham, but also had two shifts on the third line with Scott Hartnell and Joffrey Lupul.
"It was fun," Ross admitted in the Huntsville Times. "It was everything I expected. I can't wait to do it all over again."
Murray scored a goal in Columbus' opener Oct. 10 and is 14-for-25 on faceoffs this season in three games.
Last year, former Niagara captain Barret Ehgoetz won a Kelly Cup championship with the ECHL's Cincinnati Cyclones and former RMU captain Rob Cowan nearly won an IHL title with the Port Huron Icehawks before going down in seven games to the Fort Wayne Komets in the Turner Cup finals.
Cowan is back in Port Huron this year
"Cowan is a big kid and solid defenseman," Icehawks head coach and general manager Stan Drulia said. "He is knowledgeable about the game and sees the entire ice well. If he uses his size to his full potential, we expect him to have a big season."
Ex-Bemidji State goalie Matt Climie should be the starter with the ECHL's Idaho Steelheads after signing a two-year deal with Dallas at the end of last season.
"Dallas expects to see great things from Matt," Idaho head coach Derek Laxdal said. "And their not having an American Hockey League affiliate this year helped us get a high-caliber goaltender that we may not have had otherwise."
Forward Justin Cross is entering his third pro season and all three have been with the Kalamazoo Wings of the AHL. Cross played with Niagara from 2002-2006.
"We expect Justin to keep growing as a player," said Kalamazoo general manager Wade Welsh. "Suffering through injures last year, we expect the productivity to increase with a healthy Cross."
The list:
Alabama-Huntsville
Steve Briere, Huntsville Havoc (SPHL)
Craig Bushey, Huntsville Havoc (SPHL)
Tyler Butler, Rocky Mountain Rage (CHL)
Troy Maney, Huntsville Havoc (SPHL)
Brett McConnachie, Amarillo Gorillas (CHL)
Scott Munroe, Philadelphia Phantoms (AHL)
Jared Ross, Philadelphia Flyers (NHL)
Mike Salekin, Reading Royals (ECHL)
Bemidji State
Matt Climie, Idaho Steelheads (ECHL)
Luke Erickson, Alaska Aces (ECHL)
Ryan Huddy, Stockton Thunder (ECHL)
Blaine Jarvis, Idaho Steelheads (ECHL)
Andrew Martens, Manchester Monarchs (AHL)
Joey Moggach, Laredo Bucks (CHL)
Andrew Murray, Columbus Blue Jackets (NHL)
Matt Pope, Bakersfield Condors (ECHL)
Nathan Schwartzbauer, Dayton Bombers (ECHL)
Rob Sirianni, Wheeling Nailers (ECHL)
Riley Weselowski, Idaho Steelheads (ECHL)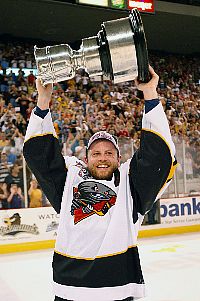 Niagara
Sean Bentivoglio, Bridgeport Sound Tigers (AHL)
Matt Caruana, Bakersfield Condors (ECHL)
Justin Cross, Kalamazoo Wings (IHL)
Barret Ehgoetz, Cincinnati Cyclones (ECHL)
Jeremy Hall, Mississippi Sea Wolves (ECHL)
Casey Handrahan, Kalamazoo Wings (IHL)
Andrew Lackner, Mississippi RiverKings (CHL)
Scott Langdon, Reading Royals (ECHL)
Marc Norrington, Fayetteville FireAntz (SPHL)
Pat Oliveto, Mississippi Sea Wolves (ECHL)
Les Reaney, Stockton Thunder (ECHL)
Kyle Rogers, Toronto Marlies (AHL)
CJ Tozzo, Ontario Reign (ECHL)
Robert Morris
Sean Berkstresser, Wheeling Nailers (ECHL)
Logan Bittle, Colorado Eagles (CHL)
Christian Boucher, Rio Grande Valley Killer Bees (CHL)
Aaron Clarke, Wheeling Nailers (ECHL)
Rob Cowan, Port Huron Icehawks (IHL)
Ryan Cruthers, Mississippi Sea Wolves (ECHL)
Jeff Gilbert, Laredo Bucks (CHL)
Brett Hopfe, Laredo Bucks (CHL)
Chris Kaufman, Bakersfield Condors (ECHL)
Joey Olson, Johnstown Chiefs (ECHL)
And for our nostalgic readers …
Findlay
Mike Batovanja, Wichita Thunder (CHL)
Jon Horrell, Bossier-Shreveport Mudbugs (CHL)
Kenny MacAulay, Fresno Falcons (ECHL)
Wayne State
Jordan Black, Bloomington PrairieThunder (IHL)
Jason Bloomingburg, Augusta Lynx (ECHL)
AJ Bozoian, Bloomington PrairieThunder (IHL)
Billy Collins, Muskegon Lumberjacks (IHL)
Tylor Michel, Bakersfield Condors (ECHL)
Mark Nebus, Wheeling Nailers (ECHL)
Niagara Skunked On CCHA Roadie
If it weren't for Chris Moran, Niagara could have had two notches in the loss column instead of just one.
Moran scored four of NU's five goals over the weekend as the Purple Eagles lost at Western Michigan and then tied Bowling Green on their season-opening road trip.
Niagara fell 4-2 to Western Michigan last Friday night after blowing a 2-1 in the third period.
"For just over two periods, I thought that we played well and even dominated at times," NU head coach Dave Burkholder said. "It was a classic game where we couldn't get the two-goal lead to put them away, especially given the number of grade-A chances that we had."
Niagara goalie Juliano Pagliero finished with 21 saves and Ted Cook assisted on both of Moran's goals.
"They beat us twice at their place last year, so it was a nice little redemption for us, too," said winning WMU goaltender Riley Gill.
Niagara and Western Michigan play one another each season, rotating the games from Niagara to WMU. The series has seen its share of intense moments as Niagara's Jason Williamson and WMU's Vince Bellissimo dropped the gloves at Lawson Ice Arena in a game from Nov. 2004.
Saturday night, Moran scored two more, but NU once again couldn't hold a third-period lead and had to settle for a 3-3 tie at BGSU.
"Overall, I think the team is in a good spot conditioning-wise," Burkholder said. "[The] effort should help with our confidence."
With just four minutes left in the game, Pagliero made the initial save, but couldn't extend his pads far enough to stop David Solway's rebound shot to tie the game at three.
Ryan Annesley had a goal and an assist for Niagara and Pagliero was busy in stopping 47 shots.
"He (Pagliero) is a terrific goalie," Bowling Green head coach Scott Paluch said. "We played well and it was a hard-fought game, but their goalie was terrific. We wanted to get a lot of people in front of Pagliero, and I thought we did a very good job of that, but he just made a lot of saves."
Beavers Swept By Minnesota State
Bemidji State, though not for lack of effort, dropped both ends of a series with in-state rival Minnesota State last weekend in Mankato.
In a game littered with 26 penalties, Minnesota State scored a pair of unanswered goals during the final nine minutes of the second period to take a 5-2 victory in both teams' season opener Friday.
A total of 52 minutes were served in the penalty box, resulting in 22 power-play opportunities. The Beavers capitalized on two of their 12 chances on goals from freshman Brad Hunt (first NCAA tally) and senior captain Travis Winter. Brandon Marino assisted on both.
In just his sixth collegiate appearance, sophomore goaltender Matt Dalton looked sharp and made 24 saves.
Saturday night, BSU nearly pulled off the upset.
Down 3-0 with less than three minutes to go, Shea Walters (first collegiate goal) and Tyler Scofield scored 26 seconds apart, but an empty-netter from the Mavericks sealed the game.
"We were a better team tonight and that is all I could ask," Bemidji State head coach Tom Serratore said. "I was very happy with our pace. We had great tempo, got some good scoring chances and were better defensively."
Scoreless through 30 minutes, the Mavericks got the first big break of the game at the 10:49 mark of the second when BSU freshman Ben Kinne was whistled for tripping Geoff Irwin on a breakaway. The penalty set up the Minnesota State forward with a penalty-shot opportunity, but Orlando Alamano literally stood on his head to keep MSU off the board. Alamano found himself on his back after Irwin's deke and threw his arm up to knock the shot out of the air with his glove.
BSU outshot the Mavericks, 12-10, during the final 20 minutes. Kinne earned his first NCAA point by assisting on Walters' goal.
Alamano finished with 33 saves in the loss.
The victory is the fourth consecutive for MSU in the series as the Mavericks continue to chip away at the Beavers' 44-33-13 lead all-time.
This weekend, Bemidji State heads west to Air Force where the Serratore family feud continues, as Tom Serratore will coach against his brother, AFA head coach Frank Serratore. The pair coached against each other for five seasons in the CHA from 2001-2006 and during that time, Bemidji State was 18-1-1 versus Air Force.
UAH Hangs Tight With Colorado College
Alabama-Huntsville surprised Colorado College last weekend and almost came home with a couple of wins.
Almost. It was close.
But as the late Gorilla Monsoon used to say, close only counts in horseshoes and hand grenades.
The Chargers battled to a hard-fought 1-0 loss Friday night as UAH sophomore netminder Cameron Talbot turned away the first 33 shots he faced on the night until Chad Rau broke open the scoreless tie to give the Tigers a 1-0 lead heading into the second intermission.
Talbot stopped 43 shots, the first 40-plus save performance by a Chargers goaltender since Marc Narduzzi stopped 49 against Notre Dame in the 2007 NCAA Midwest Regional double-overtime thriller.
The Charger power play was perfect on the night in killing off eight Tiger power plays.
UAH never gave up Saturday night before eventually falling 5-3 to the Tigers.
Brennan Barker tied the game 1-1 at 2:19 of the second from freshman Cody Campbell (first NCAA point) and Andrew Coburn. The Chargers came out strong in the start of the third and got an early tally only 1:03 in from Cale Tanaka to knot the game at 2.
Back-to-back power-play goals put the Tigers in front 4-2 until Coburn made it a one-goal game again at 14:18 of the third period when he came in on net and beat CC's stick side to make it 4-3. Brandon Roshko picked up his second assist of the game.
An empty-net goal with 10 ticks left gave CC the final margin.
Blake MacNicol made 36 saves in the loss. UAH also went 0-for-9 on the power play.
"I'm proud of the way the guys competed," Alabama-Huntsville head coach Danton Cole said in the Huntsville Times. "This was a good measuring stick … a big step for the team.
"I liked the progression of getting better as they went through the weekend."
The Chargers are idle this weekend and return to the ice Oct. 24 when they host Tennessee's club team in an exhibition game at home.
Colonials Fall To Merrimack
Robert Morris managed just one goal in its 3-1 season-opening loss on the road to Merrimack last Saturday night.
Late in the second period, freshman Ron Cramer grabbed a rebound off the stick of sophomore Branden Gay to get his first collegiate goal.
The RMU power play was stonewalled as it went a paltry 0-for-9. The Colonials were also outshot, 32-24.
Wes Russell made 29 saves and was named the third star of the game.
"We put ourselves in a position to win going in to the third period, but in the end our inexperience cost us," Robert Morris head coach Derek Schooley said. "We had numerous chances on the power play which could have tied the game our put us ahead. It was a good learning experience for our young team and hopefully, we can continue to learn from games like this."
RMU opens the home schedule against Ferris State this weekend.
"Ferris is a very well-coached hockey team and they play with an incredible amount of passion," said Schooley. "They have a very mobile and skilled team. This is going to be a good test to see where our young hockey team is at."
Recruits Already Starting To Roll In
Bemidji State and Niagara have both reportedly picked up verbal commitments for next season and both players seem to have some hype surrounding them.
The Beavers hope Victor Anilane can make an impact. Based on a report on Anilane from IllegalCurve.com, that shouldn't be a problem for the Sioux Falls Musketeers' Swedish forward.
"A big kid (6-foot-3, 200 pounds), Anilane has already grown into his body and is able to use his size effectively," the report read. "Deceptively fast, Anilane's long, fluid stride allows him to get up and down the ice with relative ease. Because he is a big player, he doesn't appear to be fast. However, the lanky Swede has no problem with the pace in the up-tempo USHL and also exhibits good quickness. Blessed with good hands, Anilane is very dangerous in close. He can use his large frame to screen the goalie or can beat him with his shot, which seems to be quite lethal from the hash marks in. He also possesses good vision and is patient when making a pass."
NU will bring Penticton Vees' captain Brent Vandenberg in the fold in 2008-2009. Vandenberg is from Burlington, Ont., but is playing in the British Columbia Hockey League this year after the past two with his hometown Cougars of the Ontario Provincial Junior Hockey League. He scored 35 goals a year ago.