Niagara enjoyed its last moment of last season's championship glory last Friday night, but leave it to St. Lawrence to spoil it.
The Purple Eagles unveiled two new banners at Dwyer Arena commemorating their CHA tournament win and NCAA tournament appearance only to then go out and get smoked, 5-1, in front of 1,805 fans, the third-largest crowd in rink history.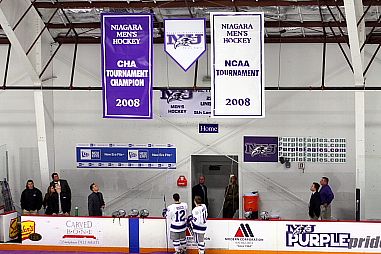 Niagara also lost for the first time at home since Jan. 12.
"St. Lawrence played well," NU head coach Dave Burkholder said. "It's a rare occurrence that we didn't play well at home, but its valuable experience that we have gained early in the year."
After goaltender Juliano Pagliero allowed three goals in less than half the game, Burkholder yanked him for Adam Avramenko.
Paul Zanette responded with a goal, assisted by Dan Baco for his first NCAA point, but that was all NU could muster.
St. Lawrence made it 5-1 just seven minutes into the third period to finish the scoring on the night. Pagliero made 10 saves, while Avramenko finished with 16.
On a side note, former Wayne State defenseman Jeff Caister, now with St. Lawrence, assisted on the Brandon Bollig goal 4:33 into the second period that chased Pagliero.
Saturday night, Bryan Haczyk scored the game-winner at 11:08 of the third period for a 4-3 win over then-No. 14 Clarkson.
Haczyk put Brian Dowd's rebound past Golden Knights netminder Paul Karpowich to send the NU crowd into a frenzy.
"Dowd and Haczyk were tremendous tonight," Burkholder said. "They have been our best five-on-five line so far this season."
Baco, Dowd and captain Vince Rocco also tallied and Pagliero rebounded with a 23-save performance.
In a rematch of its NCAA tournament game from last March, NU travels to Michigan tonight for a rare Thursday night affair. If NU is to win, it'll be without stud forward Ted Cook, who will be out 4-6 weeks after breaking his hand in practice this week.
RMU Beats, Ties Ferris State
Robert Morris head coach Derek Schooley said at the beginning of the season that if the Colonials started out slow, it would be a rebuilding year, but if they started out great, then it would probably be a reloading year.
Let the reloading begin.
RMU hosted Ferris State last weekend and beat the Bulldogs, 6-3, Friday night. The Colonials probably should have won the next night as they blew a three-goal lead, but held on for the 4-4 tie.
Senior defenseman and Wayne State transfer Matt Krug picked up his first career hat trick, Nathan Longpre scored twice and Chris Margott a single to back Wes Russell's 20 saves in goal.
"It was a good, hard-fought hockey game," Schooley said after the game to USCHO. "Wes did a good job in net and our defense is improved. We had a lot of good, hard blocked shots from Chris Kushneriuk and Kyle Burton and you can't say enough about how good our penalty killing was. Sometimes your goalie has to be your best penalty killer and Wes was that for us tonight."
Saturday night, Robert Morris jumped out to an early 4-1 lead only to see FSU fight back and score three unanswered goals in the second and third periods.
Kushneriuk, yet another former WSU skater, potted two and Burton and Longpre added one apiece to pace the Colonials' attack.
Ferris State pulled goaltender Taylor Nelson and with 52 seconds left in regulation, Aaron Lewicki tied the game at 4-all and nothing was settled in overtime.
Russell finished with 36 saves for RMU.
Margott tacked on five assists for a six-point weekend and Longpre also had a big weekend with his three goals and two helpers.
"We took three out of four points from a very good CCHA school and we have to be happy with that," Schooley again told USCHO. "We got sloppy for about seven minutes there in the middle of the game, and it really cost us when Ferris turned it on. We have to be a little more in control. We had way too many turnovers in the middle of the game and Ferris took advantage of them."
Bemidji State Broomed Aside By Air Force
An 0-4 start has caused many head scratches in Bemidji.
The Beavers were swept last weekend at Air Force and Frank Serratore earned bragging rights over his brother, Bemidji State head coach Tom Serratore, at least for this season.
"This was the toughest weekend we have had since I have been the head coach here," said Tom Serratore. "We got beat in every facet of the game. Hopefully, we have bottomed out now and can move on from here."
Air Force won by scores of 6-2 Friday night and 6-0 Saturday night. BSU had gone into the series unbeaten in 19 of the team's last 20 meetings.
Tyler Scofield and Chris McKelvie scored Friday and Matt Dalton made 26 saves.
"We got beat to almost every loose puck in the first," said Serratore. "We came back and made it a game in the second, but just folded in the third and that was too bad."
Also, just seven days removed for a 22 power-play affair with Minnesota State in which BSU was on the man advantage 12 times, the Beavers went the full 60 minutes without a single power play, marking the first time since the team made the jump to Division I hockey in the 1999-2000 season that BSU has been held without a single power-play opportunity.
It got worse the next night as the Falcons' 6-0 shutout completed their first sweep over the Beavers since the teams' first meeting in 1997.
Orlando Alamano made 31 saves for Bemidji State.
Although Air Force won this series from the Beavers, BSU still owns a 23-8-2 lead in the all-time series. That is of little solace to Serratore.
"We are not a very good team right now and need to get back to the basics." he added. "That starts with moving our feet."
UAH Hosts Tennessee In Exhibition Matchup
Alabama-Huntsville was idle last weekend and plays just a single exhibition game Friday night in hosting Tennessee's club team at the Von Braun Center.
The game is a celebration of 30 years of UAH hockey and the significance of the Volunteers is that Tennessee was Huntsville's first-ever opponent.
Several ex-UAH players will be in attendance.
Chargers' head coach Danton Cole said Friday's game is also being looked at as an effort to promote hockey in the southern reaches of the country.
"We put this together to try and help hockey in the Southeast," Cole said in the Huntsville Times. "Hopefully, this will be a good atmosphere for our fans."
Cole added that the game should help gauge where certain players are during the early part of the season. Sophomore goalie Wyatt Russell is expected to start in net.
"We're a work in progress," he said. "We want to see some improvement in our skating and passing, where the guys are reacting and not thinking out there. We'll spread the ice time out pretty well, too, move some guys to different positions."
Alabama and Tennessee's club teams will also play Saturday at the VBC.