During a given week, there was a direct correlation between the number of friends the Shattenkirk brothers invited to their home in New Rochelle, N.Y., and the amount of money Barbara and Patrick Shattenkirk had to spend on window glass.
"We used to play mini-hockey in the basement," said Kevin Shattenkirk, a sophomore defenseman at Boston University who learned the game from his older brothers Eric and Keith. "I always played against an older brother or one of their friends and it helped me out tremendously.
"But we took out a couple of windows here and there with some pucks."
Chances are "couple" is an understatement.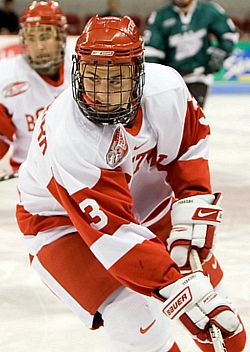 In retrospect, that might have been money well spent considering what Kevin Shattenkirk has accomplished in his time on this planet.
For example:
• In his first season (2005-06) with the U.S. National Development Program, he posted 13-20-33 totals in 53 games for the U-17 Team — which earned a silver medal at the Under-17 Hockey Challenge (he accounted for four goals and three assists in seven games).
• The following season he led all NTDP defensemen in goals (12), assists (22) and points (34) and was named the captain for the U-18 Team that won a silver medal at the IIHF U-18 World Championships.
• At the end of the World Championships, he was voted the Best Defenseman and was named to the All-Tournament Team.
• After recording 4-17-21 totals last season for the Terriers, he was named to the Hockey East All-Rookie Team.
As his stats might indicate, Shattenkirk is an offensive defenseman.
"I think that would be a good classification, my being an offensive defenseman," Shattenkirk said in response to a question. "I try to jump into the rush as the second wave of attack with the forwards.
"That one area has been my strength. It's one area that's helped me play at this level."
Which he has done very well so far, although he admits learning when to jump into a rush and when to play back is a constant process.
"That aspect of the game is a trial-and-error kind of thing," said Shattenkirk. "There are times when I recall getting caught up in the play and the puck wound up in the net.
"A lot of it is experience. You must be in position where if the play does go the other way you can recover. Being an aggressive player, you must think a couple of steps ahead."
Shattenkirk credits associate head coach and BU alum David Quinn with helping him make a successful transition to Division I hockey.
"Coach Quinn definitely has been a major help for me," said Shattenkirk. "His knowledge of the defensive side of the game is better than any coach I've had.
"He's taught me a lot of little things that you need to play at this level and the next level. That's one of the things that drew me to BU."
And why BU beat out the likes of Boston College, Michigan, Harvard and Colorado College for his services.
While Shattenkirk, who checks in at 5-feet-11 and 200 pounds, might not have the build of a classic defenseman, the fact he participates in a strenuous offseason workout program plus the semi-recent rule changes make him a player to be reckoned with on the ice.
"I always focus on trying to getting stronger off the ice, especially during a summer workout program that I follow, but I'll always be one of the smaller guys," said Shattenkirk, who was selected in the first round of the 2007 NHL Entry Draft by the Colorado Avalanche. "But as a defenseman, it's nice now with the rule changes to see guys my size playing defense.
"You have to be a lot smarter than somebody who just goes in and knocks another guy off the puck. Granted, you always want to get stronger but you must know there are some brains that go into playing defense, as well."
Shattenkirk also learned that something else goes into playing hockey, regardless of position — that elusive quality called respect.
In a sense, it hit him over the head like a brick when his U-18 teammates voted him captain.
"It's a tremendous honor to have the 'C' on your jersey," said Shattenkirk. "And it's a great feeling to know that your teammates have that kind of trust in you."
The lessons he learned that season while wearing the "C" carried over into his freshman year at BU.
"Coming in as a freshman and being on the low end of the food chain, you want to find your niche and make sure you're not stepping on anyone's toes," he said. "The kind of approach I took was to earn the respect of my teammates and not scream at my teammates. That loses respect for you and they won't listen.
"It definitely helps having that respect with your teammates and knowing when to speak up. Having that respect is the most important part of leading a team."
Good point.