Jim: Well, after Colorado College spent two weeks in the number-one perch, the top ranking shifted back east. But instead of going back to Boston College, a lost week for the Eagles that saw defeats by Notre Dame and Maine made room for Boston University to become the nation's top team. Having seen the Terriers play this season, this is a much-deserved ranking. The team has incredible depth up front, plays a solid defensive game and, most importantly, has received some incredible goaltending from the rookie tandem of Grant Rollheiser and Kieran Millan. It was goaltending that lacked most on last year's BU club, so head coach Jack Parker must be breathing a sigh of relief now that things seem to have solidified between the pipes. Now the question: How long can BU remain No. 1?
Scott: The schedule says one week, and that's no knock on the Terriers. The nature of the polls is that when you're on top, you stay there as long as you keep winning, but even one loss causes the voters to shift their preferences elsewhere. Looking at this weekend's games, BU has a solid Massachusetts team followed by Northeastern, which of course has been one of 2008-09's feel-good success stories. No. 2 Minnesota, meanwhile, plays Michigan Tech twice. A likely outcome is that Minnesota wins both its games while BU loses one of two against tough competition. If that happens, right or wrong, the Gophers will be No. 1 next week. (At least it's not like college football, where the last team to lose misses the national championship game because voters feel obliged to drop it four or five places in the rankings without a chance to make up the lost ground — but that's a discussion for another day and probably another website.) What do you think?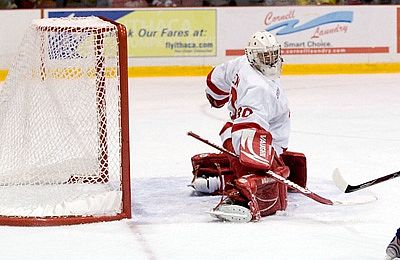 Jim: I agree, though I'm not convinced that at this point in the season such a scenario would play out. Minnesota is one of the few remaining teams without a loss, albeit the Gophers enter this weekend with three ties (which I've always said is the equivalent of one-and-a-half losses. And speaking of unbeatens, that list is growing smaller every day. In addition to the Gophers, Cornell, with just two games under its belt and a 1-0-1 record, also is yet to lose. And then there's Air Force, a hot topic of conversation between us last week. The Falcons need just a single win this Friday evening against Holy Cross to mark the best start in program history. I don't know about you but I'm a fan of milestones such as this and will certainly be pulling for head coach Frank Serratore and his Falcons to keep this streak alive as long as possible.
Scott: I'm obviously still on board the Air Force bandwagon, and I'm looking forward to the Colorado showdown with Colorado College and Denver we previously mentioned, especially if the Falcons can win their games between now and then. Speaking of ECAC Hockey, though, it's time we take up that topic. The most notoriously unpredictable league in the nation is finally in full swing, with typically atypical results. Cornell beat preseason favorite Princeton 1-0 despite being outshot 43-19, then tied Quinnipiac in a game without a goal. That gives Ben Scrivens 125 minutes of shutout hockey to start the season, but unless he's going to finish the season with a zero goals against average, Cornell needs to start putting pucks in nets. So the question is: do Mike Schafer's charges have the offense to mount a challenge?
Jim: Cornell definitely caught my eye last weekend by posting double shutouts. But you raise a very good question as to how good this club can be offensively. The Big Red returned eight of its top 10 point-getters from a year ago including three players who tallied 10 or more goals. Granted, those aren't national-championship numbers, but they lend themselves to the idea that Cornell has the ability to notch wins if goaltending and defense remain strong. The other team that grabbed my attention for all the wrong reasons last weekend was Quinnipiac, which was part of that 0-0 tie with Cornell. The Bobcats allowed just a single goal all weekend, but came away with a 1-0 loss to Colgate and the scoreless tie with Cornell. And yes, you read it right — Quinnipiac didn't score in either of the two games! Head coach Rand Pecknold went as far as to say his top players were just plain "bad both nights." Knowing Pecknold, this is likely an aberration, but it's surprising to see a team that can't put a single puck in the net all weekend long!
Scott: There's a pattern here. The ECAC has long been known as a goaltender's league, but the results so far are even more defense-oriented than usual. Through the first 14 games in conference play, a total of just 55 goals have been scored. That's an average of less than two goals per team per game, despite Dartmouth putting up five-spots on Union and Rensselaer last weekend. Apparently the league office didn't get the memo about how the rule changes are supposed to be producing 6-5 slugfests every night this season. Moving on, though, which games do you have circled this weekend? I'm going to be keeping an eye on the CCHA series between Miami and Michigan State, two teams that were — and still are — expected to finish high in the standings but have combined to go 2-4-2 the last two weeks against teams expected to finish in the bottom half of the conference (though both the Spartans and the RedHawks won the shootouts in those ties). If one team can sweep this weekend, it's back on track, and the other's going to have to start bailing water.
Jim: Leave it to you to highlight Michigan State. What a homer! The two most compelling matchups I see this week are Northeastern vs. BU and New Hampshire vs. BC. This will be the first of four guaranteed dogfights between the Terriers and Huskies when they clash at Agganis Arena on Sunday evening. This is the first time in my memory that these two teams have faced off with both in the nation's top 10, and is a preview (though an early one) of the opening game of the 2009 Beanpot. As for BC and UNH, both are reeling after last weekend. BC got manhandled by Notre Dame and then let Maine stick around long enough that the Black Bears eked out a late-game victory on Sunday. New Hampshire had high hopes heading to Minnesota and posted an impressive 2-2 tie on Friday before collapsing late in Saturday's rematch, falling 6-2. With both teams looking to right the ship, Saturday evening's game should be the ultimate battle.
Scott: I think it's in my USCHO contract that I have to work in a Michigan State reference in everything that I write. Seriously, the BC-UNH matchup should be great. James vanRiemsdyk is the real deal for the Wildcats, and BC needs no introduction, of course. But much as with Miami-MSU, the loser (if there is one) is liable to come out of the weekend feeling lousy. I'll throw in one more series for good measure — it's our favorite underdog-turned-powerhouse, Air Force, against Holy Cross to see if the Falcons can stay perfect on the march to their Thanksgiving weekend showdown with the WCHA's best. Until next week …