Even with just a single game on the docket this weekend, there is no shortage of news in the CHA.
Here are the nuts and bolts of this week's column: last weekend's action down south was competitive, attendance in Huntsville is among the nation's best, Bemidji State may have a shot at the WCHA after all, Niagara made SportsCenter and the aforementioned lone game is in an NHL rink Friday night.
Wow.
Beavers and Chargers Play To Spirited Split
In a preview of what is to come in the CHA this year, Bemidji State and Alabama-Huntsville each won a game down south last weekend in a very intense series.
Friday night, behind three goals from the top scoring line, UAH snapped a six-game winless streak against Bemidji State with a 4-2 win.
The next night, Brandon Marino's goal 2:02 into overtime led the Beavers to a 2-1 victory.
Matt Sweazey scored a pair and Andrew Coburn and Neil Ruffini scored in the Chargers' win and Blake MacNicol made just 13 saves.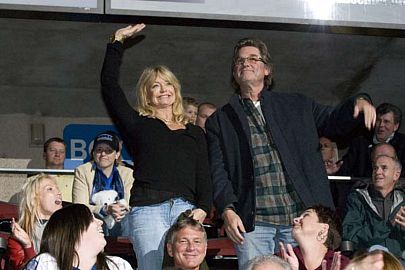 "That was just another lucky one," UAH head coach Danton Cole said of Ruffini's goal to USCHO. "But against a solid, grind-it-out team like Bemidji, we'll take those bounces when they come to us. Give them a lot of credit for playing hard and really staying in it."
Cody Campbell added two helpers for UAH.
Cody Bostock and Graham McManamin tallied for BSU, which got a 21-save outing from Matt Dalton. He looks to have taken over the No. 1 job in net for Bemidji State.
The Charger victory was their first over BSU since Feb. 17, 2007, and also put an end to the Beavers' six-game unbeaten streak.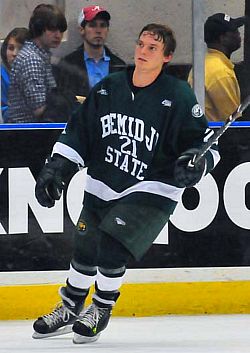 Saturday night, before Marino's heroics, Matt Read scored for the Beavers and Joey Koudys for Alabama-Huntsville.
Brent Tamane assisted on Read's goal for his first collegiate point in his first game of the season.
On the game-winner, Marino funneled the puck towards the goal from the left corner with UAH players draped all over him and got a lucky bounce as the puck found its way into the net.
"We played 60 pretty darn good minutes of hockey tonight," said Bemidji State head coach Tom Serratore. "There is nothing that a hard-fought victory can't cure. Tonight, we played really well and that is gratifying."
Cameron Talbot took the loss in net, but did make 31 saves. Dalton earned his first conference victory of his collegiate career in making 23 saves.
The overtime game is the first of the season for BSU and the victory in extra time extends BSU's unbeaten steak in overtime games to 11 games.
Saturday night's overtime loss was the first at home for UAH since the Beavers also accomplished the feat in a 5-4 extra-frame decision on Feb. 4, 2007. Saturday night's attendance of 4,368 was second only to the 4,389 that watched UAH take on Army on Jan. 7, 2000. It is also one of only three CHA games to ever go above the 4000-fan mark.
More on UAH's attendance later.
Niagara Tops RIT, Canisius
Niagara, meanwhile, stepped out of conference (or is it merely a foreshadowing of the future?) and defeated RIT last Friday and cross-town Canisius this past Tuesday in two CHA-Atlantic Hockey matchups.
Behind five special-team goals, including two apiece from David Ross and Chris Moran, the Purple Eagles cruised to a 6-2 victory over RIT.
Head coach Dave Burkholder was happy with how his team performed under pressure.
"We got a couple goals early," Burkholder said. "The right guys got it going for us tonight."
Egor Mironov tallied the other goal for NU and Juliano Pagliero made 24 saves in the victory, including several highlight-reel saves.
"Pagliero played strong tonight; he played like a senior," Burkholder said.
Senior co-captain Vince Rocco notched three assists for the Purps.
Then Tuesday night — whoa baby!
Niagara scored three shorthanded goals on the same penalty kill in topping Canisius before a sell-out crowd of 2,100 at Dwyer Arena.
Niagara scored all three shorties in the second period after Derek Foam was whistled for interference at the 11:55 mark. Sam Goodwin converted on a 2-on-1 with Danny Baco just 27 seconds into the penalty kill. Then 30 seconds later, Mironov scored on a breakaway and Dan Sullivan's point shot 36 ticks later finished the trifecta.
Niagara's shorthanded output was the 12th time in NCAA history a team scored three shorthanded goals in a single game and also the second time that it happened during the 2008-2009 season. It is the second time that three shorthanded goals were scored on the same minor penalty kill, something that Burkholder was excited about.
"Lately, our penalty kill has been a difference-maker," Burkholder said. "On the penalty kill, guys like Mironov and (Wes) Consorti made good plays."
The last time three shorthanded goals occurred on the same penalty kill was in 1988, when Harvard's C.J. Young netted all three himself in 49 seconds at the end of the second period and during the start of the third.
Consorti and Ryan Olidis scored the other two NU goals and Pagliero finished with 32 saves.
NU's eye-opening effort was also featured on ESPN SportsCenter's "Top Plays" as the No. 2 play of the night for Tuesday.
RMU Stymied at St. Cloud State
One goal over two games will rarely do the trick at any level.
Robert Morris found that out the hard way over the weekend in St. Cloud in getting swept and getting outscored 11-1 in the process.
In Friday night's 4-0 blanking, the lone bright spot was Jim Patterson's 33 saves in his first start of the year for the Colonials.
The next night, Brock Meadows tallied RMU's lone goal and Wes Russell and Patterson combined for 31 saves, with Russell taking the loss in the 7-1 defeat.
Hockey Booming Down South — Seriously
Some people laugh at the notion that hockey is played in Alabama. Even an unnamed rival college hockey website that shall remain nameless.
Laugh at this.
Friday night's attendance for UAH vs. Bemidji State was 3,474.
Saturday night's was nearly a thousand more, at 4,368.
Consider these facts as well.
Saturday night — top six attendances nationwide:
Michigan Tech @ Wisconsin (14,210)
New Hampshire @ Minnesota (10,202)
North Dakota @ Colorado College (7,327)
Robert Morris @ St. Cloud St. (5,513)
Minnesota-Duluth @ Denver (5,122)
Bemidji State @ Alabama-Huntsville (4,368)
Saturday night's BSU-UAH game also outdrew:
Vermont @ UMass-Lowell
Dartmouth @ RPI
Nebraska Omaha @ Northern Michigan
Brown @ St. Lawrence
Michigan @ Alaska
Bowling Green @ Lake Superior State
Ferris State @ Miami
Michigan St. @ Ohio State
Minnesota St. @ Alaska Anchorage
Bentley @ Northeastern
Notre Dame @ Providence
Yale @ Clarkson
Also, the top six CHA home crowds of all-time have been in the Rocket City, including last weekend's double-dip.
4,389, Jan. 7, 2000, Army at UAH
4,368, Nov. 8, 2008, Bemidji State at UAH
4,107, Jan. 8, 2000, Army at UAH
3,646, Jan. 20, 2001, Air Force at UAH
3,474, Nov. 7, 2008, Bemidji State at UAH
3,167, Nov. 9, 2007, Bemidji State at UAH
Bemidji State Still Looking For WCHA Membership
If an expansion moratorium is lifted in the WCHA in January, the Beavers will be the first to jump at the opportunity.
League commissioner Bruce McLeod confirmed Tuesday to the Duluth News Tribune that the WCHA executive committee will decide next week if a vote to repeal the existing moratorium should be taken during the NCAA Convention Jan. 14-17 in Washington, D.C. A favorable majority of the 10 league schools would rescind the ban on expansion, which has been in effect for the past 10 years.
Ground will be broken in March on the new Bemidji Regional Events Center and the new rink may open for the 2010-2011 season.
"We'd like to give Bemidji State a definitive answer, yes or no, about the possibility of joining our league," McLeod said to the News Tribune. "It would be in their best interest to know our intentions so they can make plans for their future."
Bemidji State has never applied to the WCHA because of the moratorium, although the league reached a scheduling agreement with the school last season that guarantees BSU 12 games with WCHA schools beginning two seasons from now.
"Our ultimate goal is to be in the WCHA," said Serratore in the same article. "With our present league down to four teams, going to the WCHA would be a logical step for us. It would be good timing. (The CHA) might only have one more season as a league after this year."
Colonials And Buckeyes Saturday Night At Mellon Arena
In the third annual Pittsburgh College Hockey Showcase, Robert Morris will play Ohio State at Mellon Arena this Friday night.
The RMU women host the Niagara women in the first game of the event.
"Our players are excited about the opportunity to play Ohio State at Mellon Arena," Colonials head coach Derek Schooley said. "This is a highlight not only for our student-athletes, but for Robert Morris University. The support that Mellon Arena, Pittsburgh Youth Hockey and the Pittsburgh Penguins have shown this event has been top-notch."
OSU comes into the game having swept then-No. 11 Michigan State in Columbus last weekend. Schooley knows the work is cut out for his young team.
"Ohio State has been playing very well lately," said Schooley. "This should be a fun hockey game to be involved in as a player, coach or college hockey fan."
RMU tied Ohio State, 5-5, last year in this game behind three straight second-period goals from Ryan Cruthers, Chris Margott and Denny Urban. Russell came into the game midway through the second period in relief of Christian Boucher, who had allowed five goals on 11 shots, and blanked OSU the rest of the way.
In the inaugural event in the 2006-2007 campaign, Notre Dame beat the Colonials, 6-2, only to have RMU rebound two days later and upset the then-No. 2 Irish, 4-2, in South Bend.