Three weeks to go until the CHA community converges on Bemidji, Minn.
Three weeks until we find out the CHA representative in the NCAA tournament as the league's autobid is used for probably the last time.
Three weeks until more banter begins about the futures of Bemidji State and Alabama-Huntsville.
Three weeks until "next season" can be replaced by "the CHA's final season."
It's hard to believe, but tournament time is just around the corner.
And as of right now, it's easy to say Niagara and Bemidji State are the favorites, but looking at last weekend, it's not necessarily a safe bet to pick the Purple Eagles or the Beavers.
Robert Morris is the lone CHA team never to win the league tournament and seeing how the Colonials took three of four points from BSU last weekend, they seriously justified themselves as a team that can turn heads when it matters.
"I was very pleased with our team's effort this past weekend," RMU head coach Derek Schooley said. "Brooks Ostergard really stepped up his play and was very good. It was good to see a goalie step up and make a difference in the game. Chris Margott was a difference-maker. He played hard, competed and contributed offensively. Our young team followed his lead. It was another step in the right direction. We need to keep this positive feeling going forward down the stretch."
Something else that matters is Niagara and Bemidji State meeting this weekend in western New York for a first-place showdown.
"We know our backs are against the wall, but I'm proud of where we are," BSU head coach Tom Serratore told the Bemidji Pioneer. "It seems like we've been on the road forever. By the time the season is done we'll have played 10 CHA games on the road and eight at home. We'll see what happens the rest of the way."
Colonials Stun Bemidji State
RMU skated away with a win and a tie last weekend on home ice against the first-place Beavers.
Shocking? Sure.
An upset? Any coach will say any team can beat any other team on any given night in the CHA, so no, not an upset.
A wake-up call? Yes, for both BSU and the Colonials. And for that matter, Niagara and UAH, too.
Robert Morris snapped a five-game losing streak with a 3-0 shutout of Bemidji State Saturday night as Ostergard, a freshman, earned his first career win.
Margott, Jason Towsley and Ron Cramer scored for RMU in the win to back Ostergard's 32 stops. Nathan Longpre added two assists as well.
"The difference tonight was our goaltending," Schooley told USCHO after the game. "It gives you a lot of confidence when your goalie plays like that. I'm very happy for him and very pleased with his (Ostergard's) effort."
Matt Dalton made 25 saves for Bemidji State.
On Sunday afternoon, RMU came from behind to settle for a 3-3 tie.
Ryan Cramer, Travis Winter and Chris McKelvie scored for the Beavers, who held a 3-1 lead midway through the second period.
Brandon Marino recorded a pair of assists for BSU.
Margott, Chris Kushneriuk and Longpre, whose goal at 14:41 of the second period tied the game at 3-all, tallied for the Colonials.
Ostergard made 32 stops again, while Dalton turned aside 35 shots.
"I thought it was a good point for us to earn on Sunday," Serratore added in the Pioneer. "You want to come away with something from the series and we all know how hard it is to win on the road."
RMU heads down to Huntsville this weekend.
"(UAH) is a team that has been playing well and very hard," said Schooley. "They are getting good goaltending and have some very good players. Danton Cole has done a good job and Huntsville is a tough place to play, so it will be a fun weekend."
Niagara And Alabama-Huntsville Break Even
Egor Mironov showed up once again for Niagara, but his offense only translated for one win for NU as the Purple Eagles won on the road Friday night, but saw the Chargers rebound Saturday night.
Mironov registered three points in Niagara's 4-2 victory in the first game of the series on two goals and a helper. His play also earned praise from NU head coach Dave Burkholder.
"Egor was quick to help when we were 5-on-5," Burkholder said. "He was good on the rush and the forecheck making his line a factor all night. Mironov and (Chris) Moran made solid plays on the power play."
Matt Sweazey and Kevin Morrison had given UAH an early 2-0 lead just 13 minutes into the game.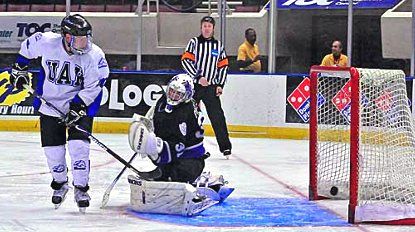 Mironov's first goal cut the deficit to 2-1 and then a three-goal barrage (Sam Goodwin, Mironov, Ted Cook) in a 7:26 span of the second period put Niagara in front.
Juliano Pagliero made 28 saves in net for the win and Cameron Talbot stopped 26 for UAH.
Jumping out to a 3-0 lead, Alabama-Huntsville took a 3-1 decision Saturday afternoon.
Andrew Coburn scored twice and Morrison added a single for the Chargers, who got a 21-save performance from Talbot.
Niagara captain Vince Rocco netted the lone goal for the Purps.
Pagliero made 27 stops in the loss.
"That was a pretty determined group," UAH coach Danton Cole said to the Huntsville Times. "If you work hard, you get good results and they needed some positive feedback for a change."
"The whole team was on tonight," Coburn said in the same article. "Hopefully, we're over the hump and broke through the wall."
Colonials Get Commitment From EJHL Skater
Another local talent will be coming home to skate for Robert Morris in the fall.
The Jersey Hitmen of the Eastern Junior Hockey League announced that defenseman Brendan Jamison has accepted a scholarship to play with the Colonials starting this fall.
Jamison becomes the fifth Jersey player to commit to college this season following captain Ryan Craig, who joined Niagara at the semester break, Alex Gallen (Mercyhurst), Kevin Clare (Michigan) and assistant captain Mike Muhs (SUNY-Fredonia).
Hailing from Allison Park, Pa., a suburb of Pittsburgh, Jamison was a natural fit for RMU.
"Brendan is a big, strong-skating, puck-moving defenseman," commented Jersey head coach Toby Harris. "He is defensively sound and is unbeatable 1-on-1. He also has an uncanny knack for blocking shots and jumping up into the play offensively."
Jamison's final college choices reportedly came down to Clarkson, Vermont and RMU.
Niagara Recruit Wins OJHL Division MVP
Incoming Niagara goaltender Andrew Hare will be coming to Monteagle Ridge with some decent credentials as he was recently named the MVP of the Ontario Junior Hockey League's MacKinnon Division.
This came on the heels of Hare being left off the OJHL All-Star team.
"I thought I did well enough to play (in the All-Star Game), but honestly, it's not that big of a deal," the Burlington Cougars' star said to the Burlington Post. "The guys who made it deserved to be there. I'd rather win (the MVP) than be an All-Star anyway."
"We owe everything to Hare," Burlington captain and Bentley recruit Daniel Koudys said in the Post. "He's been bailing us out. It's a team effort, but we can't rely on him all the time."
Hare finished 23-8-5 with two shutouts, a 2.88 goals-against average and a .914 save percentage during the regular season. His Cougars swept Milton in the first round of the playoffs, with Hare notching all three wins. Burlington starts the second round tonight against Oakville.
He Said It
"My stats are terrible. Every time you get out there, they start yelling my number. I don't even touch the puck now. I don't know if it's a compliment or not. It's frustrating for me. But if it's getting other guys are getting time, that's good. I think Miro(nov) might send me a thank-you card at some point. There's nothing you can do about it." — NU senior forward Ted Cook, to the Niagara Gazette.