It's essentially down to a two-team race for the CHA regular-season title.
After sweeping Niagara in western New York last week, Bemidji State can clinch at least a tie for the title with one win in its season-ending series next week at home against Robert Morris.
A sweep would give the Beavers the championship outright over Niagara.
Fun times, to say the least, eh?
With the league tournament in two weeks in Bemidji, all four seeds have yet to be determined. Robert Morris and Alabama-Huntsville are battling it out for third place and the right to face whichever of NU and BSU finishes second.
Like it's always said, much can be bandied about and predicted on paper — er, a computer screen — but once the games are played, that's what matters.
This weekend will be light with just Niagara and RMU in action (Bemidji State plays two exhibition games), but tune in next week for the exciting conclusion.
Beavers Pad Lead With Niagara Sweep
The Beavers left Niagara Falls for the first time since the 2004-2005 season with a sweep of the Purple Eagles in a rare Thursday-Friday series.
In the series opener, Niagara captain Vince Rocco staked the home team to an early 1-0 lead, but three unanswered goals by the Beavers gave them a 3-1 win.
Brandon Marino, Tyler Scofield and Tyler Lehrke scored for BSU and Matt Dalton made 27 saves in net.
Juliano Pagliero stopped 25 shots for the Purps.
"Defensively, I think we played rather well," NU head coach Dave Burkholder said. "We can stay with this team."
Friday night, the same three Beavers that scored in Thursday's win scored again, with an Ian Lowe marked added to the mix. Brad Hunt and Shea Walters added two assists apiece and Dalton kicked aside 29 shots.
Lehrke's goals were his first and second of the season.
Egor Mironov tallied the lone NU goal and Pagliero finished with 35 saves. Mironov's goal kept NU from being blanked at Dwyer Arena for what would have been just the second time in school history.
"It's a weekend we need to put behind us," said Burkholder.
"It was an emotional weekend," BSU head coach Tom Serratore told the Bemidji Pioneer. "The guys really earned this sweep; they played six great periods of hockey. We've had our brains beat out in (Dwyer) a lot — that makes these two wins even more gratifying. I can't believe the intensity and jam we had … just unreal."
NU still owns a 20-17-8 edge in the all-time series, but since Oct. 27, 2006, BSU holds a 6-4-4 advantage and has won three of the last four meetings.
For the Purple Eagles, it was the first time they were swept at home since Oct. 2005, where they dropped two decisions to Vermont.
NU is off to Robert Morris this weekend, while the Beavers play host to the U.S. National Under-18 Team this weekend in a pair of exhibition games.
RMU Takes Both From Chargers
A little luck never hurts this time of the season.
In Saturday's game at Alabama-Huntsville, the Colonials caught a break when a third-period goal was disallowed and RMU went on to take a 6-3 win.
The goal would have given UAH some life, as it would have been a 5-4 game at that point.
"I felt like we were on a roll," said UAH captain Scott Kalinchuk to the Huntsville Times. "I don't want to take anything away from them (Robert Morris), but that could've turned it around."
Robert Morris won, 3-1, Friday night.
"Our team played very well this past weekend," Colonials head coach Derek Schooley said. "They worked hard and competed well. We got everything needed to be successful — good goaltending, timely scoring, good special teams and a great work ethic. It was another good step forward."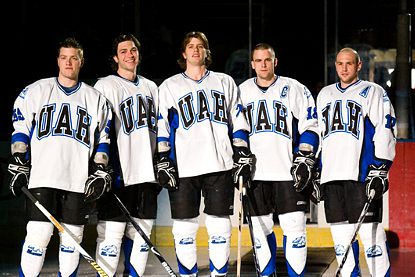 Friday night, Nathan Longpre had a goal and an assist and Jason Towsley and Trevor Lewis also scored in the win to back Brooks Ostergard's 19-save outing.
Matt Sweazey recorded UAH's goal and Cameron Talbot made 24 saves.
In Saturday's contest, six different Colonials — Ron Cramer, Scott Kobialko, Longpre, Lewis, James Lyle (also with an assist) and Chris Kushneriuk — scored and Ostergard steered aside 22.
Denny Urban had three assists for RMU and Chris Margott a pair.
Nick Chiavette and Furman South assisted on Lyle's goal for their first collegiate points.
Sweazey registered a goal and a helper for the Chargers to go along with solo goals from Andrew Coburn and Cody Campbell.
Talbot played the first 40 minutes and made 14 saves. Blake MacNicol played the third period and made five stops.
UAH is idle this weekend, while Robert Morris hosts Niagara.
"We have played hard against Niagara without a lot of good results," added Schooley. "Their goalie has been on against us and they have had timely scoring in all four games against us. It will be another challenge for us to keep taking steps in the right direction.
"This will also be a very emotional weekend for our seniors (Matt Krug, Margott, Jake Obermeyer and Towsley), who have given a lot to this program."
Fast Fact
Three NTDP alums have played in the CHA over the years — Rob Bonk (Niagara), Nick Shrader (Wayne State) and John Vadnais (Bemidji State).