If the favorites hold, the final of the West Regional will look familiar to WCHA fans. Denver and Minnesota Duluth — which met last weekend in the league finals — are top seeds in the regional, respectively, which along with its venue gives this corner of the NCAA bracket a distinct flavor.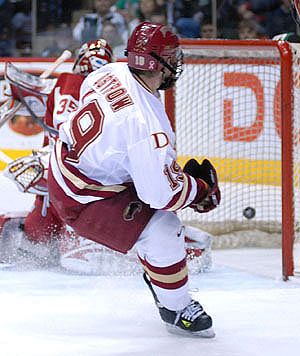 The Pioneers are the No. 1 seed but are coming off a loss to the second-seeded Bulldogs, who made history by storming to the WCHA title with three wins in three days. Denver looks forward to the expected return of Tyler Bozak, who missed the second half of the regular season due to injury, but if UMD netminder Alex Stalock and forward MacGregor Sharp play the way they did at the WCHA Final Five, it may not matter.
Before that hypothetical rematch can happen, though, the other two teams in the regional will have something to say. Denver takes on Miami in the opening game at Mariucci Arena, setting up the sort of teacher-versus-student matchup that practically writes stories by itself.
RedHawks head coach Enrico Blasi played for current Denver bench boss George Gwozdecky when Gwozdecky fronted the Miami program, then was an assistant to Gwozdecky with the Pioneers before taking over the 'Hawks in 1999.
Skating opposite Minnesota Duluth in the second semifinal will be Princeton, which is making its second consecutive NCAA appearance. The Tigers, like the RedHawks, got into the NCAAs via Saturday's results — though Princeton did so with a tie on the ice in the ECACs while Miami sweated out the weekend at home after losing in the CCHA quarterfinals.
Miami vs. Denver
Friday, 4:30 CT, Mariucci Arena, Minneapolis
University of Denver Pioneers
Record: 23-11-5 (16-8-4 WCHA)
Seed: No. 3 overall, No. 1 West
How in: At-large
2008 NCAA tournament: Lost in regional semifinal
While some of the teams in the WCHA may have failed to live up to expectations this year, the Denver Pioneers were one of the few to finish up as expected.
The Pioneers started well, opening the season with a 6-2-1 record, including racking up wins against fellow tourney participants Notre Dame, Ohio State and Minnesota Duluth.
Mid-November brought a short three-game skid before DU picked it back up to end 2008.
The start of 2009 was rough for Denver, however, losing its own holiday conference tournament to eventual number-one overall seed Boston University. After that defeat and the loss of then-leading scorer Tyler Bozak, the Pioneers started to struggle. However, struggling for the Pioneers still meant staying above .500, as they went 7-4-3 to finish out the regular season and were in contention with North Dakota for the league title up until the final weekend.
Denver then swept an upstart Alaska Anchorage squad to make the WCHA Final Five, where the team beat Wisconsin before losing to a streaking UMD squad in the final.
Still, when looking back at where the team has been, head coach George Gwozdecky keeps mentioning one thing — pride.
"I'm really proud of this team," he said. "They have worked extremely hard, battled through a lot of challenges and met most of those challenges.
"I couldn't ask for a better group of guys to coach. They've really hung in there and through a lot of issues and we're certainly excited to be back in the national tournament."
The Pioneers have spread out the scoring this year, with 13 players tallying double-digit point totals. Leading the pack is Anthony Maiani, whose 41 points were seventh overall in the conference, but only good enough for all-WCHA third-team honors. Rounding out the bunch are Rhett Rakhshani, Joe Colborne, Kyle Ostrow, Luke Salazar and the possible darkhorse in a returning Bozak.
Bozak tore cartilage in his knee in mid-December, shelving him for the rest of the season. At that point, he was the team's leading scorer with 21 points. However, the sophomore has been skating and is slated to play on Friday when the Pioneers face Miami. The question, of course, is how big of a role will he play? After only a full week of practice, his timing and game-time decision making will undoubtedly be off, but he may provide a spark the team needs.
Along with their offensive threats, the Pioneers are the second-best defensive squad in the WCHA, though perhaps deceptively so. Leading the blue line are freshman Patrick Wiercioch, both an all-WCHA rookie and second-team selection, senior Patrick Mullen — who can just as easily convert to forward — and senior captain J.P. Testwuide. Testwuide was injured in the Final Five title game with UMD, but should be ready to go against Miami.
In goal, Denver is led by sophomore Marc Cheverie, fresh off his first full season of WCHA action. Though Cheverie struggled to find his groove early on, he became steadier and steadier as the season progressed, finding his name among the top in all goaltending statistical categories.
The Pioneers have all the pieces to make it to Washington, D.C.; they just have to put them together and get out of a tough West regional.
"In my mind, in the regional there are four very good teams," said Gwozdecky. "Any one of the four could come out of that region as the champion, so we know we've got our work cut out for us against Miami, that's for sure."
Miami University RedHawks
Record: 20-12-5, 17-7-4-2 CCHA
Seed: No. 13 overall, No. 4 West
How in: At-large
2008 NCAA tournament: Lost in regional final
For the second time in three years, the Miami RedHawks enter the NCAA tournament after having watched the CCHA championship tournament from the sidelines. In 2007, the third-place RedHawks earned a first-round bye and dropped two 2-1 games to the eighth-place Lake Superior Lakers.
Two weeks ago, after having earned a first-round bye in the CCHA playoff tournament, the third-seeded RedHawks hosted the six-seeded Northern Michigan Wildcats in a best-of-three series and lost two of three close games. Miami won the first game 3-2, dropped the second by the same score in overtime, and lost the decider 3-1.
"Obviously, the numbers show that we're one of the top 16 teams in the country," says head coach Enrico Blasi, now in his 10th season in Oxford. "Obviously takes into consideration your entire resume for the season."
In both cases, the RedHawks ran into a red-hot goaltender who thwarted their CCHA chances. In 2007, it was LSSU's Jeff Jakaitis who stopped 81 shots in two games. Two weeks ago, NMU's Brian Stewart made 117 saves in three contests, shutting down a Miami offense that was averaging 3.21 goals per game going into the weekend.
So what's a RedHawk team to do?
"We focus on Denver, and that's really all we can do right now," says Blasi. "There are some things we need to shore up before we step on the ice Friday afternoon against them and we've got to play our best hockey."
While their offense can be explosive — the RedHawks put up five or more goals in nine contests this season and went into the playoffs averaging 3.21 goals per game — Miami was held to two or fewer goals for a total of 18 times in 2008-09 with a record of 4-11-3 in those games. Three of those low-scoring wins came against two of the top seeds in this year's NCAA tournament with a sweep of Michigan and a win over Notre Dame, and the RedHawks recorded a 2-0 shutout against both of those squads.
Miami is led offensively by sophomore Carter Camper (20-19-39) who has 12 power-play markers to his name and who earned a slot on this year's CCHA All-Conference first team. Camper's classmates, Pat Cannone (11-24-35) and Andy Miele (14-14-38), round out the top three RedHawk scorers. The often overlooked Miele netted two goals in the series against NMU. Miami has six double-digit goal scorers this season, including Justin Mercier (11-15-26), Gary Steffes (10-11-21) and Brian Kaufman (10-11-21).
The RedHawks have played two freshmen in net this season. Connor Knapp (.904 SV%, 2.09 GAA) has seen 23 games to the 16 that Cody Reichard (.912 SV%, 2.16 GAA) has played. Reichard had the playoff win against NMU and played two games of that series.
The RedHawks are 2-4 all-time in the NCAA tournament, with all six of those games under Blasi. Miami lost last year's Northeast regional semifinal to eventual national champions Boston College, 4-3 in overtime. The RedHawks were eliminated from the NCAA tournament by the Eagles in 2007 and 2006 as well.
Blasi played under current Denver head coach George Gwozdecky in Miami and coached under him in Denver, so the RedHawk skipper is familiar with the Pioneer program. The RedHawks and Pioneers met in the 2004 NCAA tournament, with Denver winning that game 3-1.
"We've done this before, so really nothing new," says Blasi. "Last time we played them in the NCAAs, they won the national champions, so maybe it will be our turn."
Blasi is big on focusing on his own team's issues first, his opponent second. He says that he doesn't think that the Olympic ice sheet will have "much of an effect" on the contest, and that he and the RedHawks can focus only on Friday's game — not what's come before and not what may lie ahead.
"Once that's over with, if we're fortunate enough to move on, then you worry about that Saturday morning," says Blasi. "This time of the year, you really can't look ahead to anything but who you're playing."
Princeton vs. Minnesota Duluth
Friday, 8:00 CT, Mariucci Arena, Minneapolis
University of Minnesota Duluth Bulldogs
Record: 24-14-4 (17-7-4 WCHA)
Seed: No. 7 overall, No. 2 West
How in: WCHA tournament champions
2008 NCAA tournament: none
In some respects, it's fitting that the Minnesota Duluth Bulldogs ended up as a number-two seed in the NCAA tournament.
In any case, it's more right than their seventh-place finish in the WCHA.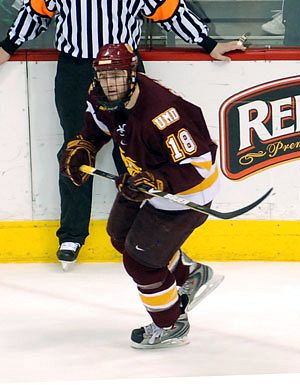 Last weekend, the Bulldogs were the seventh-place team that played like anything but, becoming the first-ever team to win the Broadmoor Trophy as conference tournament champions after participating in the Thursday night play-in game.
To get to that point, the Bulldogs had had an unremarkable season, struggling early on, picking it up around November, struggling again at the beginning of January before going on a 7-2 run to make it into February. The 'Dogs then went 0-3-2 to finish out the regular season, costing them home ice in the playoffs.
However, UMD turned it around, first by being the only road team to win in the first round of the WCHA playoffs, sweeping Colorado College before putting in their remarkable performance in the Final Five, winning three games in three nights.
Now, it's on to the NCAA tournament. You might not know that the Bulldogs have a good track record in the NCAAs — three out of the five times the team has made the nationals they've made it to the Frozen Four, most recently in 2004. However, they'll have to go through a tough Princeton squad first, in a matchup that will showcase two goalies of the year.
In net for Princeton is ECAC Player of the Year as well as Hobey Baker candidate Zane Kalemba. However, Duluth has the WCHA's goaltending champion as well as the WCHA Final Five MVP in junior Alex Stalock.
"I said last year I felt he was the best goalie in the league," said UMD head coach Scott Sandelin. "This year, I've said it since day one — he's our best player [and] he's the best goalie in the league. He's proven that this year with being a first-team [all-conference] guy and winning the goaltending award."
Stalock has been on fire of late, and there's a good reason he was the Final Five MVP. There are 90 of them, in fact, as Stalock stopped all but one of 91 shots on net over the course of three games. Of course, he's also helped out by a strong defensive corps in front of him, led by senior Josh Meyer.
Up front, the Bulldogs have developed a few legitimate scoring threats this season. That's a far cry from last year, when the 'Dogs' leading scorer, MacGregor Sharp, had 17 points. This year, Sharp has almost three times that total in 47 points. Sophomore Justin Fontaine also has 47 points to lead the offense along with freshmen Mike and Jack Connolly, who are unrelated.
There's no saying whether the Bulldogs can make it out of Minneapolis, but Sandelin likes his team's chances.
"When you get to [this] point … you're going to play great teams," he said. "You gotta play well and they're all one-game shots.
"We're excited."
Princeton University Tigers
Record: 22-11-1 (14-8-0 ECAC Hockey)
Seed: No. 12 overall, No. 3 Northeast
How in: At-large
2008 NCAA tournament: Lost in regional semifinal
The Princeton Tigers are the only team in history to qualify for the NCAA tournament by losing a game.
The "loss" (actually a tie; the Stripes lost in a shootout) came against fellow bubble team St. Lawrence in the ECAC Hockey third-place game. It was Princeton's first tie in 80 games, and couldn't have come at a better time: the match was effectively a play-in game to the NCAAs for both schools, with the Saints needing to win to have the possibility to advance.
Princeton was just strong enough after a 90-minute, double-overtime loss to Cornell in the semis to hold off SLU for its second consecutive ticket to the Big Dance.
The Tigers are led up front by junior Dan Bartlett (16-11-27), seniors Brett Wilson (10-15-25) and Lee Jubinville (10-11-21), and junior Mark Magnowski (11-8-19). Jubinville was the ECAC's leading scorer and Player of the Year last season, but coach Guy Gadowsky almost considers the former honor a curse: Jubinville is not a pure offensive machine, but rather a steady and hard-working two-way player who takes as much pride in his defense as he ever did in his offense.
Bartlett played much of the year between wingers Tyler Beachell (4-5-9) and Sam Sabky (5-9-14), earning power-play time and currently riding a six-game goalscoring streak (eight goals and two assists). The feisty pivot has already eclipsed his cumulative point total for his first two years (22) this season alone, and was paired with Sabky and recently returned power forward Cam MacIntyre (31 points in 31 games last year) in Albany.
Wilson and Jubinville are each double-digits off last year's prodigious scoring paces, but some of the dropoff could be attributed to the graduation of transitional force and captain Mike Moore, MacIntyre's long-term injury, and the modest but notable increase in depth among the remaining forward lines.
Defenseman Jody Pederson actually led the team in power-play strikes with four, a small indication of the team's no-nonsense offensive ideology: get the puck, shoot the puck, work for rebounds. The Tigers aren't running a West Coast offense here, more like shock-and-awe. Pederson (20), Matt Godlewski (15) and Taylor Fedun (14) each registered double-digit points from the rear, and only one player — nine-game blueliner Kevin Crane — failed to tally a point in 2008-09.
In the back, goaltender Zane Kalemba continues to dazzle. The Hobey Baker finalist, ECAC Player of the Year and Dryden Award winner as the league's best goalie holds the nation's third-lowest goals-against average (1.74) and second-highest save percentage (.935), and did his darnedest to lift Princeton past Cornell with a number of remarkable overtime saves. He is roundly praised for his work ethic and technique, but moreso for his absolutely unflappable demeanor.
Kalemba's supporting cast isn't imposing on a physical level — only two Princeton rearguards are listed at as much as six-feet, 200 pounds — but the team is extraordinarily disciplined and takes great pride in its systems, structure and defensive responsibility. The Tigers are the least-penalized team in the nation at 10.6 penalty minutes a game, and when combined with a decent 85.8 percent penalty kill, Princeton's PK allowed fewer goals (20) than the country's best penalty-killing unit, Miami (90.2 percent kill rate, 21 goals against).
The final fact that can't be overlooked is that while Princeton is hardly a regular in the Big Dance, this isn't its first samba. The boys from Old Nassau experienced a bit of trial by fire last spring, falling 5-1 to North Dakota on the big ice of Wisconsin's Kohl Center. Don't expect Guy's guys to be quite so jumpy this time around.