The No. 1 team in the nation and the NCAA tournament's overall top seed goes for a perfect ending to a near-perfect season starting this weekend.
Boston University, which already has titles in the Ice Breaker Invitational, the Denver Cup and the Beanpot as well as the Hockey East regular-season and playoff crowns to its credit, can make it six-for-six in championships this season by adding the NCAA title to its mantel.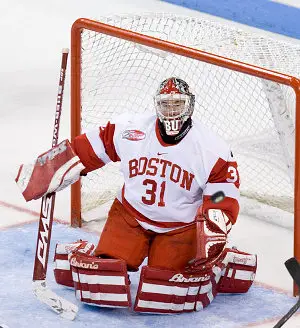 To do that, the high-powered Terriers will need to start by beating Ohio State, which is making its return to the national tourney after a three-year absence. The Buckeyes squeaked into the NCAAs as the last at-large team selected, and will be looking to wipe away the bad taste of their CCHA quarterfinal defeat this weekend.
BU-OSU serves as the nightcap in Manchester, while the opener pairs WCHA regular-season champion North Dakota and host New Hampshire.
It's likely that neither of those teams will be in a chipper mood come Saturday, given that each has lost its last two games — UND at the WCHA Final Five and UNH in the HEA quarters — though neither squad had to sweat out the selection process with solid PairWise credentials.
This is the Fighting Sioux's seventh straight NCAA appearance and the Wildcats' eighth in a row. North Dakota, however, is going for its fifth consecutive Frozen Four, a place New Hampshire has not been since 2003.
North Dakota vs. New Hampshire
Saturday, 2:00 ET, Verizon Wireless Arena, Manchester, N.H.
University of North Dakota Fighting Sioux
Record: 24-14-4 (17-7-4 WCHA)
Seed: No. 8 overall, No. 2 Northeast
How in: At-large
2008 NCAA tournament: Lost in national semifinals
It almost seems like every season under head coach Dave Hakstol is the same for the Fighting Sioux.
Struggle (whether a lot or a little) the first half. Turn it on in the second half. Get to the Final Five (result variable). Get to the national tournament. Get to the Frozen Four, but lose there.
Obviously not every piece of that equation has come into play this season, but so far, all the same pieces have fallen into place.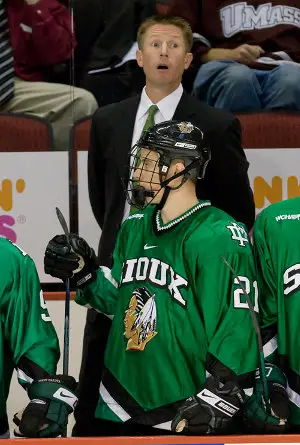 The Fighting Sioux struggled more than usual the first half of the season, going 5-8-1 through the end of November. There were a myriad of reasons for the rough start, most notably the breaking in of a new goaltender and the absence of senior defenseman Joe Finley due to injury.
The first half of December was kind to the Sioux, with the team getting sweeps over Harvard and St. Cloud State, but UND finished off 2008 with a disappointing showing in the Great Lakes Invitational, losing to Michigan State and Michigan Tech.
In January, though, the Sioux got Finley back and figured things out, going 13-2-3 to finish out the regular season. The surge was enough for UND to capture the MacNaughton Cup as the WCHA regular-season champion. UND then dispatched Michigan Tech in two games to make the Final Five before losing to Minnesota Duluth and then Wisconsin.
Now, the Sioux face the effective home team in the regional in the form of New Hampshire.
"They're a team that has real good skill [and] they have a lot of speed throughout their lineup up front," said Hakstol. "That's going to be something we're going to have to deal with — their transition game, with their speed coming up the ice. I think for us also a real key to the game is to make sure we push them back and make them play in their own zone as much as we can."
The Sioux will try to counteract that speed with a team filled with some recognizable names — most notably 2007 Hobey Baker winner Ryan Duncan — but for the most part, UND is not filled with superstars like in years past (Jonathan Toews, T.J. Oshie, etc.). Instead, the Sioux try to embody the true meaning of team, even choosing to travel with every single team member out to Manchester.
"Everybody makes the trip," said Hakstol. "I left that to the captains of this year's team and they were adamant that this team goes as one … we've come this far; we're going all the way to Manchester as a complete team."
The team is led on offense by Duncan, who is still the primary catalyst. Duncan is joined by Brad Miller, who has been playing defense as of late, Chris VandeVelde and freshmen Jason Gregoire and Brett Hextall, who have come into their own.
On defense, the Sioux have the aforementioned Finley, who is not only solid on the blue line but also unafraid to stick up for his teammates. However, the defense is primarily led by junior Chay Genoway, the WCHA's defensive player of the year and arguably the best two-way defenseman in the league.
For those familiar with Sioux teams from the past couple years, the main change you might notice is in goal. Jean-Philippe Lamoureux is gone and freshman Brad Eidsness has filled his skates — and ably so. Eidsness won the job outright by the beginning of the November from senior Aaron Walski and hasn't relinquished control since, becoming one of the league's top netminders.
Hakstol hopes this squad can return to the Frozen Four, but he knows he has to get through New Hampshire and either Boston University or Ohio State first.
"The job is what it is," he said. "Every regional is going to be very challenging, so we've got a good challenge in front of us."
University of New Hampshire Wildcats
Record: 19-12-5 (15-8-4 Hockey East)
Seed: No. 10 overall, No. 3 Northeast
How in: At-large
2008 NCAA tournament: Lost in regional semifinal
To say that the New Hampshire Wildcats are entering this year's NCAA tournament on a down note is a bit of an understatement. A team that has struggled to find an identity all season, New Hampshire looked nearly unstoppable heading into its quarterfinal series against Boston College. The Wildcats had won six of seven, including an impressive two-game sweep of the Eagles with three weeks remaining in the regular.
So the fact that the Wildcats lost the quarterfinal series to Boston College as the third overall seed shocked some. The way in which they did so — falling behind, 4-0 and 5-1 in the series opener and then getting shut out, 1-0, in game two — certainly raised eyebrows.
That said, UNH head coach Dick Umile is trying to keep everything business as usual. After taking some time to recover — both physically and mentally — from the BC loss, UNH was right back at it and already is in the mindset that it can beat anyone.
"We had to sit around this weekend and we got through this. That just jumpstarts you, the excitement and enthusiasm," said Umile. "Hey, we're playing in the NCAA tournament; it's awesome."
For the last week, Umile tried his best to mimic the situations that his club should have been in had it made the Garden. He held daily practices and put together a scrimmage on the weekend to simulate game play.
"We had a great scrimmage, as well as we could have," said Umile. "Blue versus white to make it as game-like as we could."
Now the Wildcats will continue practicing at home for a couple of days before shifting to a nearby rink to practice on a non-Olympic size ice surface similar to what the team will play on Saturday when they open the Northeast regional against North Dakota.
Umile realizes that the team he's about to face has plenty of NCAA experience; all of the seniors have reached the Frozen Four in each of their first three seasons. While UNH's seniors have nearly as impressive a resume — they're playing in their fourth straight NCAA tournament — no UNH team has reached a Frozen Four since 2003.
That alone has the natives restless in Durham, where the Frozen Four became expected after the team got there four times in six years, reaching the national title game twice, between 1998 and 2003.
Since that time, though, the postseason has been UNH's biggest challenge. And playing near home in the NCAA tournament hasn't helped an ounce.
The Wildcats will be hosting the regional for the third time in Manchester. But 2004 and 2007 were nightmares for UNH, falling to Michigan in '04 and Miami in '07, the latter when UNH was the number-one seed.
Adding all that to the fact that the Wildcats will be squaring off against a team that is a powerhouse come NCAA tournament time isn't exactly the recipe for success.
"[North Dakota's] very skilled; they play a very physical game," said Umile. "They were on TV [Saturday] so we've got film of their games … so we know their style and it will just be us being ready and prepared to play."
At this point, then, you have to think winning the regional is beyond Xs and Os for this New Hampshire team. Right now it's about bringing the right attitude and focusing enough to win a hockey game.
"No one is going to be happy playing North Dakota, but at the same time anyone can beat anyone," said UNH senior captain Sean Collins. "I think guys are just definitely excited that we're in the tournament and have the chance to go to the Frozen Four. There are a lot of teams that are on spring break right now, and we're happy we're not one of those teams."
Melissa Parrelli contributed to this report.
Ohio State vs. Boston University
Saturday, 5:30 ET, Verizon Wireless Arena, Manchester, N.H.
Boston University Terriers
Record: 31-6-4 (18-5-4 Hockey East)
Seed: No. 1 overall, No. 1 Northeast
How in: Hockey East tournament champions
2008 NCAA tournament: none
The Boston University Terriers had a stranglehold on the overall number-one seed in the NCAA tournament nearly a month ago. It was at that point that head coach Jack Parker worried about his team starting to read too many headlines.
So you'll pardon Parker if he gets a little sarcastic when asked whether being number-one overall and the favorite of many of the pundits has an impact on his team.
"Our guys probably have already picked themselves to go all the way," said Parker. "That's what our problem is, so I don't think they need anybody else to do that for them. That's not reinforcing it, though. Our biggest opponent today is ourselves — we'll see if we can get that solved."
Parker has been hyping his team's poor play since the Hockey East quarterfinals, when the Terriers dropped the middle game of the three-game series, 6-3. At that time, he said he felt his team hasn't played well since winning the Beanpot, but last weekend was happy to underscore that what's winning BU games right now is not what he'd consider Terrier hockey.
Besides simply poor focus by his club, Parker's also been frustrated with the production of the power play. After a 0-for-4 effort in Saturday's 1-0 win over Mass.-Lowell in the Hockey East championship game, BU is now scoreless in 21 straight power plays and just one for its last 32 with the man advantage.
"You get into stretches where it's hot as heck and then all of a sudden, it isn't so hot," said Parker. "What has happened to us that has been unusual is we've had games where we've gone 0-for-5 or 0-for-8 on the power play but we've not [usually] had two games in a row like that. The next night we'd go 4-for-8.
"This is the longest stretch for us and I think some guys are not playing as well as they were earlier in the year. We're being approached differently [by the penalty kill] — people are trying to figure out how to stop us and they've taken away certain plays and we have to adjust to that. All of that adds up to not being as efficient as usual. In general, we're pretty close to being where we want to be."
That has been Parker's summary point for the last few weeks. When he griped about his team's performance against Maine, he was pleased with a great effort in game three. When he brought to light his team's play in the Hockey East semifinals and finals, he could look back on strong third-period performances in each game.
What about the tournament ahead? To this point, there's always been a tomorrow. Any loss came with the realization that there was an NCAA tournament bid awaiting. Now that the NCAA tournament is here, mistakes at this point are fatal. Lose and the season's over.
"I feel [our] body of work this year has been terrific," said Parker. "I like my team a lot. I don't think we're playing our best hockey right now but we haven't been really challenged that much either. We were challenged, obviously, in the playoffs. Now it's one and done."
As for BU's first-round regional opponent, Ohio State, the Terriers might have a tougher draw than deserved. As the number-one overall seed, logic would say that BU would play No. 16 seed Bemidji State. But because of a quirk in which two number-one and two number-four seeds were from the CCHA, Parker's Terriers had to face a CCHA team to avoid a first-round intraconference matchup elsewhere.
To Parker, though, that matters little because he doesn't even believe the opponent that is listed on the bracket is the toughest one they'll face.
"I don't know much about Ohio State," said Parker. "We'll get some film on them, but I think our biggest opponent right now is ourselves."
Ohio State University Buckeyes
Record: 23-14-4, 13-11-4-3 CCHA
Seed: No. 15 overall, No. 4 Northeast
How in: At-large
2008 NCAA tournament: none
Ohio State is one of two CCHA teams that made this year's tournament after sitting out its league playoff championship tournament a week ago. After coming within one point of earning a first-round bye in the CCHA playoff tourney, the Buckeyes found themselves the No. 5 seed in their league, hosting a first-round series and flying to Alaska for the second round.
The Bucks dispatched Bowling Green in two games in Columbus before taking the Alaska Nanooks to three games in Fairbanks, literally losing the deciding game at the last minute when Ron Meyer's game-winning goal at 19:10 gave UAF a win and a trip to Detroit.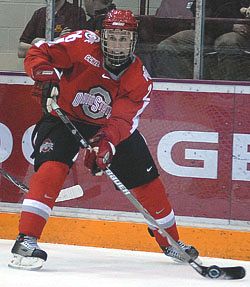 That left the Buckeyes on the bubble.
"We won 23 games and we thought winning those games was important," says head coach John Markell, now in his 15th season. "In the end, we did as much as we could do. We're very fortunate to have gotten in."
The end of Ohio State's CCHA season was exhausting, says Markell. Because of the last-minute nature of traveling to Alaska, the Buckeyes had to travel in four different groups. They played three games and took a red-eye back to Columbus at the start of final exam week at Ohio State, a school that operates on quarters rather than semesters.
In a way, says Markell, losing the chance to play in the CCHA championship tournament may have been a blessing in disguise.
"If we would have gone to the [CCHA] tournament after coming back on a Monday night playing three games in a row, writing exams all day Tuesday and Wednesday, busing up for the banquet Thursday and playing two games, where would we be?
"How much would that have taken out of us? Now we're very fortunate to get in — yeah, we lost the chance to play in the CCHA tournament, which was unfortunate. But we're playing this week."
The Buckeyes have played — and beaten — the other three No. 1 seeds in the tournament in 2008-09, so Ohio State isn't intimidated by the fact that it faces the overall No. 1 seed when it plays Boston University.
The Buckeyes split a pair of games in Denver in October, losing 3-1 and winning 4-3; they took one of four regular-season games against CCHA clustermate Michigan; and they split a pair of home games against Notre Dame, losing a heartbreaking overtime contest, 4-3, after giving up the tying goal with a second left in regulation Feb. 6, then bouncing back two days later with a decisive 4-1 win over the Irish.
Ohio State has put together this interesting season with an interesting roster. Senior captain Zach Pelletier (4-4-8) is in his fifth season — and in graduate school after having earned his bachelor's degree in criminology in spring of 2008. Pelletier was redshirted because of an injury last season.
Senior Corey Elkins (18-22-40) leads the team in scoring, netting twice as many goals this season as he did in his first three for the Buckeyes. He also earned his bachelor's degree in history last Sunday.
All told, the Buckeyes have three seniors, a junior — and 22 freshmen and sophomores. Besides Elkins, five other Buckeyes have 10 or more goals, including freshman Zac Dalpe (13-12-25), who was named to the CCHA All-Rookie team along with defenseman Matt Bartkowski (4-15-19).
It's the sophomore class that is the heart and soul of this team, with significant leadership from Peter Boyd (13-18-31), great set-up play from John Albert (11-28-39) and steady backstopping from Dustin Carlson (.920 SV%, 2.40 GAA), who won the job of starting goaltender early in the season.
This is Ohio State's first trip to the NCAA tournament since 2004-05, when the Buckeyes lost 3-2 to Cornell in the West Regional. Pelletier was a freshman that season and traveled with the team but didn't suit up for that game, so no one on this Buckeye squad has NCAA tournament game experience.
This weekend marks the sixth time that OSU has gone to the NCAA tournament in program history, all appearances coming during Markell's tenure. The Buckeyes are 2-5 all-time in the NCAA tourney.
Markell says his team is excited about the weekend in spite of drawing the No. 1 seed overall. "We're going to have to come out and battle and compete. It's game on because there's no tomorrow. We're up against a heck of a hockey club."
Ultimately, it's the youth of the Buckeye team that is its strength. "They're a funny team," says Markell. "They have a funny demeanor about them before a game. You have to live with it. They keep themselves loose."