The puck drops on the first game of the NCAA tournament Friday afternoon in Connecticut when Michigan and Air Force hit the ice in the East Regional semifinals. Neither team is a stranger to this stage: the Wolverines are making their umpteenth consecutive national-tourney appearance while the Falcons have won the Atlantic Hockey autobid three times in a row.
The teams aren't so familiar with one another, though, having played just once before in their programs' histories, back in 1973.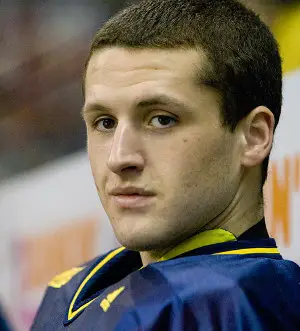 That sets up an intriguing matchup between a perpetual national power in the Wolverines — who almost quietly assembled another top-notch season in the CCHA — and a rising star in the AHA champion Falcons, who were the darlings of college hockey during a spectacular first-half performance.
The other half of the draw features two teams with a lot more mutual history. That game would be Vermont vs. Yale, which were longtime ECAC Hockey rivals until UVM's departure for Hockey East.
The Catamounts and the Bulldogs come in on opposite trajectories. UVM sat out last weekend after losing in the Hockey East quarterfinals and will presumably be well-rested if irritated thanks to the vacation, while Yale completed a triumphant march through the ECAC by doubling up its hardware, adding the tournament title to its regular-season championship.
Yale is the host, Michigan the number-one seed, AFA the underdog on a mission, UVM the team with something to prove. All of that should make for interesting storylines this weekend.
Air Force vs. Michigan
Friday, 3:00 ET, Bridgeport Arena at Harbor Yard, Bridgeport, Conn.
University of Michigan Wolverines
Record: 29-11-0, 20-8-0-0 CCHA
Seed: No. 4 overall, No. 1 East
How in: At-large
2008 NCAA tournament: Lost in national semifinal
"We're glad we're in the tournament," says Michigan head coach Red Berenson. While that may seem like an odd statement from someone who is bringing his team to the NCAA tournament for a record 19th consecutive time, Berenson is absolutely sincere.
"Back in the fall, there were a lot of questions about whether this team would be in the tournament," says Berenson, "but good for them. The way they've come along in the second half is pretty good."
The Wolverines began the 2008-09 season in uncharacteristic fashion: they lost some games. In the first half of the season, Michigan was 11-7-0. Since returning from the holidays and including the midseason Great Lakes Invitational tournament, Michigan is 18-4-0 and UM is 20-4-0 since the start of December, averaging 4.33 goals per game in those 24 contests.
In the first half of the season, the Wolverines were rotating sophomore goaltender Bryan Hogan (.915 SV%, 1.97 GAA) with senior Billy Sauer (.921 SV%, 2.02 GAA) and in spite of the fact that Sauer had the better save percentage, Michigan scored far more goals with Hogan in net than with Sauer.
It pained Berenson — who is fiercely loyal — to bench a player who backstopped the Wolverines to the 2008 Frozen Four, but it may have been a decision that saved Michigan's season.
Michigan comes to the NCAA tournament after losing to Notre Dame, 5-2, in last week's CCHA championship game. By finishing among the top four teams in the conference, the Wolverines earned a first-round CCHA playoff bye, swept Western Michigan by a collective score of 11-3 in a second-round, best-of-three playoff series, and then defeated Alaska, 3-1, in CCHA semifinal play.
The Wolverines are loaded offensively, with six guys who have netted 10 or more goals. Two of the league's three All-Conference first-team forwards play with Michigan and provide the conference's most powerful one-two punch. Aaron Palushaj (13-37-50) leads the Wolverines in scoring, but Louie Caporusso (24-25-19) led the CCHA in goal production for the year. Senior Tim Miller (10-11-21) was named the league's Best Defensive Forward this year.
Michigan's defense is equally talented, and bolstered by the return of captain Mark Mitera, who returned to play in the last regular-season weekend of the year after missing nearly the whole campaign with an injury.
Berenson says that although Hogan gave up five unanswered goals to Notre Dame in last weekend's CCHA championship game, there's no question who the Wolverines will ride into this weekend's play. "Let's face it; he's had a terrific year," says Berenson. "He's our goalie going into the playoffs."
Berenson points to another goaltender from his league who had an even rougher CCHA tournament in 2007, Jeff Lerg, who took the Michigan State Spartans to an NCAA title. "Lerg gave up 11 goals in two games and then went on to win it all."
In addition to making their 19th straight NCAA appearance, the Wolverines are tied with the Minnesota Golden Gophers for the most tournament appearances (32) and own the record for most NCAA championships with nine.
UM is 46-24 in the tourney, and Berenson's teams have been responsible for 25 of those wins. Last year, the Wolverines ended their season with a 5-4 overtime NCAA semifinal loss to CCHA foe Notre Dame.
What may not seem routine for the guys playing the game is a day at the office for the Michigan coaching staff.
"I'm just happy we're playing," says Berenson. "I told our team, 'I don't care where we go and who we play; it's how we play that's important.' If we end up playing Yale out there, we play. We had to play Wisconsin in Wisconsin. We had to play UNH in Manchester a few years ago. We've done all that.
"It's all about us. This team has a chance of being a good team in the tournament and we have to prove it."
The Wolverines are 1-3-0 against the top two seeds in this year's tournament, having lost 7-2 to Boston University Oct. 25, split two close regular-season games against Notre Dame in late January and lost to the Irish last week.
"The best teams we played this year have been BU and Notre Dame," says Berenson, "and if there's anyone better in the tournament, we'll find out I guess in the next two weeks. I think we can play with those teams.
"We're not as experienced, we're not as old, but I think on a given night we can play with those teams. We have to play our absolute best game — offensively, defensively, per player, per line, special teams, everything. But, yeah, I think we have a chance. If we play a real good game, it's going to hold up well in the tournament."
Air Force Academy Falcons
Record: 27-10-2, 20-6-2 Atlantic Hockey
Seed: No. 14 overall, No. 4 East
How in: Atlantic Hockey tournament champions
2008 NCAA tournament: Lost in regional semifinal
In their third consecutive trip to the NCAA tournament, the Air Force Falcons are looking for more than a moral victory. Two years ago, Air Force had Minnesota down 3-1 midway through the third period before bowing 4-3 to the Gophers. Last season, the Falcons led Miami 2-1 after two periods before falling in overtime.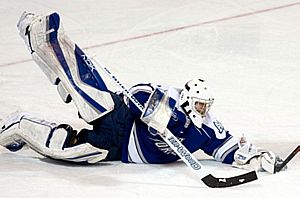 Falcons' coach Frank Serratore is hoping the third time will be the charm.
"We've certainly got a challenge," he said. "Michigan has incredible speed. They're the fastest team in college hockey. But I think this is the best team we've had here. We need to play our game, which is to limit opportunities and play good team defense."
Serratore calls his team's style "competitive patience" and it was played to perfection in the Atlantic Hockey championships, when the Falcons blanked Bentley 3-0 in the semifinals and then shut down Mercyhurst, at the time the top-scoring team in the nation, 2-0 in the title game. Both losing teams commented after about how Air Force never let them "get it going."
Andrew Volkening was stellar in net, stopping all 51 shots he faced in posting the back-to-back shutouts. The junior netminder has a GAA of 2.02 and a save percentage of .916. He's played every minute of the Falcons' 39 games.
Volkening shares the spotlight with two other Falcons. Sophomore Jacques Lamoureux leads the nation in goals (32) and is a Hobey Baker finalist. Senior blueliner Greg Flynn leads all Division I defensemen with 40 points.
"Lamoureux is a natural goalscorer and a legitimate All-American candidate," said Serratore. "But I think we have three. All Volkening does is win, and I'd put Flynn up against any defenseman in the country."
Air Force broke out to a 13-0 start this season, including a win over Colorado College and a 6-2, 6-0 thumping of eventual CHA champion Bemidji State. But the Falcons came back to earth around the holidays, going 4-6-2 in December and January. Since then, they've been 10-3, relying more on defense than blowout wins.
"It's a different team than it was at the beginning of the season, when we were scoring goals by the bucketful," said Serratore. "But I think that the adversity that we went through has made us a better team than we were then."
Junior Matt Fairchild has been the catalyst in the postseason, racking up three goals and two assists in the Atlantic Hockey playoffs. He was named the tournament MVP, but handed the trophy to Volkening during the ceremony.
"That's the kind of player he is," said Serratore. "We rely on him to do it all. Because of his speed and conditioning, he's out there in every situation. He and the other forwards make a commitment to team defense. It's critical that they help out. We generate offense off our defense."
Air Force's defense will be put to the test against a Michigan attack that is averaging 3.62 goals a game.
"We want to be a difficult team to play against and have a chance to win in a third period," said Serratore. "You can't win a game in the first period but you can lose a game in the first period. And you can't do that against teams like (Michigan). I feel good going into the game because we have a good solid defense."
Vermont vs. Yale
Friday, 6:30 ET, Bridgeport Arena at Harbor Yard, Bridgeport, Conn.
Yale University Bulldogs
Record: 24-7-2 (15-5-2 ECAC Hockey)
Seed: No. 5 overall, No. 2 East
How in: ECAC Hockey tournament champions
2008 NCAA tournament: none
The Bulldogs showed a little bit of everything in their sweep through the ECAC playoffs. They bullied through the hard-nosed, tight-checking Brown Bears in 4-2 and 2-0 wins. They demonstrated resilience and quick-strike ability in tipping St. Lawrence in the semifinals, and exhibited flat-out domination (albeit of an exhausted Cornell crew) in their romp to the tourney title.
There's a reason why Yale took both the Cleary (regular-season) and Whitelaw Cups: adaptability. Scary adaptability.
Yale has become a pet team to many prognosticators, a darling pseudo-Cinderella that is a treat to watch and is in a bit of a "nothing-to-lose" scenario, from most fans' perspectives. This newfound adoration from the part-time pundits on ESPN could spoil the focus and work ethic of many inexperienced NCAA participants, but if there's one team that can bear down and focus on the task at hand, it's the Bulldogs.
ECAC Hockey Coach of the Year Keith Allain has done a superb job of convincing his players to buy into his system. All year long the Blue & White have come ready to play, and have done so in the most doggedly exhausting fashion of any team in the league. Allain's one-goal-at-a-time philosophy has allowed the surprising Elis to advance up the charts one win at a time, effectively maintaining focus on the next game, and rarely getting ahead of themselves and taking a game for granted.
As an attribute, the Blue are best defined by their depth. Two of 23 skaters are point-less this season, and they've only combined for a dozen games. The rest of the roster boasts at least two points apiece, with nine players in double-digits and five with more than 25 points.
Only five skaters haven't scored a goal for the Bulldogs this year, for that matter. Sean Backman, on the other hand, has 20 of them. The power play is 16th in D-I at 18.3 percent, good for roughly a goal a game as the Bulldogs draw an average of nearly six power plays a night.
There are probably some other teams out there with better third or fourth lines than Yale's, but very few will boast such equally potent first and second lines. The interchangeably ferocious sets led the New Haven Ivy to the nation's eighth-highest-scoring offense, with 3.39 goals a game, and the country's fifth-best scoring margin: +1.21 goals per game.
The 'Dogs aren't notably big or tough on defense, but fall into a well-practiced trap in transition and earn much of their success in the neutral zone. This system worked well enough to put the Elis eighth nationally in scoring defense (2.18 goals against per game), and while the team is assessed more penalties that it would probably prefer (18 minutes a game), the penalty killing has been superb thus far, successfully defusing nearly nine of ten opposing advantages.
Yale fans enjoy seeing two defensemen among the team's top three plus-minus players, as junior Ryan Donald is a +20 and sophomore Jimmy Martin is +19. All told, seven Bulldogs carry plus-minus figures in the positive double-digits, and only five fall below even.
Goalie Alec Richards has played some great hockey since reclaiming his starting role earlier this year, and while he doesn't usually come up in discussions of the league's top netminders, there is no arguing with his .812 winning percentage. His .926 save rate and 2.06 goals-against. He is also no welcome vision to would-be snipers, taking up plenty of net with his 6'4″ frame.
But then, who would relish facing off against anyone in a Yale sweater this year?
University of Vermont Catamounts
Record: 20-11-5 (15-8-4 Hockey East)
Seed: No. 9 overall, No. 3 East
How in: At-large
2008 NCAA tournament: none
Vermont comes into the NCAA tournament at its low-water mark of the year. After going from Nov. 2 to Mar. 6 without losing back-to-back games, the Catamounts dropped the regular season finale to New Hampshire and then got swept in the Hockey East quarterfinals by Massachusetts-Lowell. Although Lowell's subsequent performance makes that no cause for embarrassment, it doesn't erase the three-game losing streak coming at the worst possible time.
"Our team has done a great job over the last ten days of getting rid of the past and focusing on the future," UVM coach Kevin Sneddon says. "The team had to dump it all out of them and then the next day, we started the process of rebuilding — really focusing on a second opportunity and how few times that happens in your life when you're going after something you really want. We felt mental bricks piling up on our shoulders and we were able to knock those off and talk about a new season."
Sneddon isn't worried about the early exit from the playoffs denying his team the "big game" experience that can prove vital to NCAA tournament success. And that's not just because most of the squad advanced to the league championship game last year.
"We've played in big games for the last month and a half," he says. "The Hockey East schedule towards the end was as intense of hockey as we've played all year just because of the quality of teams and the race at all positions that was going on all year. We've been challenged in a number of different ways in big games."
Sneddon sees many things that concern him about the Yale Bulldogs but the alleged "home ice" advantage at neighboring Bridgeport, Conn. isn't one of them. He knows the Catamount fans travel in numbers as do Michigan and perhaps Air Force. So the Cats won't be facing a universally hostile crowd.
"I don't think Yale has played there, so for all four teams it's a new experience — not like a home-ice advantage," he says. "With travel, they've got a half-hour to go and we've got a bus ride, so I don't really think there's any real advantage or disadvantage."
What does concern him are the Bulldogs' on-ice strengths.
"They play a great style — very up-tempo, great speed in their forwards and contributions from their defensemen offensively, and Alec Richards has done a great job in net for them," Sneddon says. "I think our teams match up very well, but we also have to realize we need to be at our best defensively against a very dangerous team."
Nowhere is this more a factor than on special teams.
"Yale's first or second in most categories in special teams either in their league or nationally," Sneddon says. "When you're [facing] a kill that's going at 90 percent, your power play is going to have to do some special things. We've talked a lot about simplifying things, getting shots to the net and being there for second and third opportunities.
"They're dangerous offensively on the kill, as well. You know, Broc Little's got five shorthanded goals and [Sean] Backman's a dangerous player on the kill, as well. You can't take any time off playing good defense in any situation against Yale."
At the other end, Vermont has killed only 80.2 percent of its penalties, a clear area of concern against a power play as effective as Yale's.
"Our penalty kill has been disappointing this year," Sneddon concedes. "[But] I feel like it's gotten better the second half, and a big part of that is Rob Madore.
"Goaltending is going to be a big factor in this national tournament. I think Rob's had a tough stretch of games leading into the playoffs. He lost his confidence a little bit. I think he started to worry about making the second save before the first and got beat on some shots that I know he'd want back. [But] he's had some phenomenal practices and we expect him to be back to the form he was at three weeks ago."