More Than a Win
Despite what had to be a crushing defeat, being so close to a Frozen Four berth and coming up empty-handed, Cornell head coach Mike Schafer saw more significance to Bemidji State's triumph than just a ticket to Washington, D.C.
"A big congratulations to Bemidji and Tom Serratore and their whole team," Schafer said. "It's tremendous in college hockey right now. They deserve to go to the Frozen Four. An even bigger statement, looking at the college hockey skyline, I think that Bemidji legitimizes some people that make the right decisions.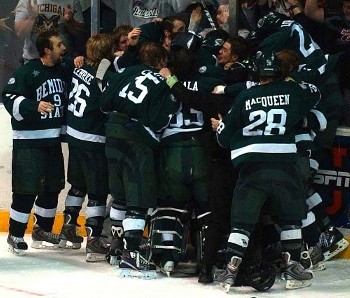 "Some presidents and ADs are looking at teams and they can say, 'Hey, Bemidji got the job done here.' They do things right and now they have a tremendous opportunity to go on and compete for a national title. It's a great win for them and for their league.
"We had opportunities to score and they did a good job of coming back. That was a big goal for them in the third with their top line. We talked about shutting down their top line. We know that they are a great team when they get the lead. We tip our hat to Bemidji and congratulate them."
Air Dalton
Bemidji State netminder Matt Dalton took flight at the final buzzer of Bemidji State's upset of Notre Dame Friday night in a series of leaps that would be more fitting for the NCAA hoops tourney currently being contested.
Dalton, the goaltender on the all-tournament team, turned into an All-World celebrator after Bemidji State's win, vociferously bearhugging every teammate in sight in the postgame on-ice celebration.
Dalton's star has shined brightly for the Beavers this season. The sophomore from Clinton, Ont., has posted 10 wins, a 2.17 goals against average and a .921 save percentage.
Battle of the Band
Cornell held a definite edge in the pep-band competition Sunday night.
Bemidji State's fight song was represented by a recorded version piped through the Van Andel public address system. The Cornell Pep Band countered with a spirited rendition of "Give My Regards to Davy," sung to the tune of "Give My Regards to Broadway."
The 25-member Cornell unit was down from its normal size of "around 50 members for home games," according to trumpet player Miranda Reid of Rochester, N.Y. The group made the nine-hour drive to Grand Rapids, Mich., from Ithaca, N.Y., passing through Canada on the journey.
In honor of the 14 Canadian players who dressed to represent the Big Red, "We sing the Canadian national anthem in rinks where it isn't played," said Reid of the vocal rendition of "O Canada" they performed just after the game's opening faceoff.
NCAA Midwest Regional All-Tournament Team
F Tyler Scofield, Bemidji State
F Matt Read, Bemidji State
F Evan Barlow, Cornell
F Brad Hunt, Bemidji State
D Ryan Adams, Bemidji State
G Matt Dalton, Bemidji State
MVP: Scofield