Boston University vs. Vermont
Thursday, 8:30 p.m. ET, Verizon Center, Washington, D.C.
Boston University Terriers
Record: 33-6-4, 18-5-4 Hockey East (first)
Seed: No. 1 overall, No. 1 Northeast
Road to Frozen Four: Beat Ohio State 8-3, beat New Hampshire 2-1
2008 NCAA tournament: none
Boston University's resume reads like a number one overall seed and then some. The Terriers have claimed six championships already this year: the NCAA Northeast Regional, the Hockey East tournament, the Hockey East regular season, the Beanpot, the Denver Cup, and the Ice Breaker.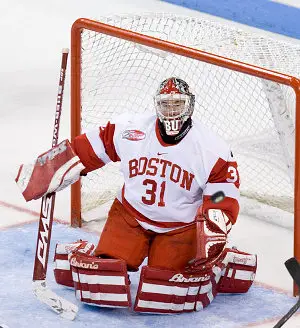 They've posted a 19-1-3 record in their last 23 games. They can boast the nation's top offense (3.91 goals per game) and the third best defense (1.95 goals against per game). They've outscored their opponents two-to-one (168-84).
All that, however, doesn't guarantee a seventh and most important championship.
"We've had a very good year," BU coach Jack Parker says. "We've won a lot of championships, won a lot of games. We have a good power play. Although of recent vintage it hasn't been quite as sharp, it's still a terrific power play. We've been very, very good killing penalties, the second half of the year especially.
"We've been getting great goaltending. We've got a good crew of defensemen, maybe the best six defensemen I've ever coached. And we've got a well-balanced attack up front led by two of the nation's highest scorers in [Colin] Wilson and [Nick] Bonino. In reality, we think we have two first lines with those two guys centering the two lines.
"All that adds up to a successful season. A lot of wins. But it doesn't add up to anything in this tournament.
"The only thing that adds up here is: can you beat the next opponent? They're excited to be here as well. They know that they're only two games away from a national championship."
BU's resume also includes extensive institutional and coaching experience at the Frozen Four. This will be the Terriers' 21st appearance, albeit the first since 1997. They've won four national championships, most recently in 1995.
Parker has now coached in more NCAA tournaments (23) and more national semifinals (13) than anyone else in history.
By comparison, Vermont has reached the Frozen Four only once while Miami and Bemidji State are making their first appearances.
According to Parker, though, all of that plus a $1.50 will get his team a cup of coffee.
"I've seen it all, but I'm not playing," he says. "There isn't a player in this tournament who's been to the Frozen Four before, including the players on my team. So there's no advantage there.
"The fact that we're a brand name college hockey school, that, too, is out the window because Bemidji likes beating brand name hockey schools, Vermont has never been in awe of Boston University, and Miami plays in a terrific league with a lot of brand name schools."
It'll be resumes out the window, then, when BU takes on Vermont, the only team to defeat the Terriers twice this year. While that was all the way back in November, the losses came on back-to-back nights in BU's barn.
"[Vermont is] a real solid team in all phases of the game," Parker says. "They've got a lot of balance up front. You can't really lock into one line and say that's the one you have to stop.
"Both power-play units are moving the puck really well. From an offensive point of view, they put a lot of pressure on you because they can forecheck you and they can also make plays on the initial rush.
"But where they present their biggest challenge is they're getting great goaltending and they really work hard defensively. They're a real solid team in their own end. They're a real solid team on the initial rush. You don't get many jumps against them. You don't get odd-man rushes."
Of course, BU has every bit as many strengths and more. They are without a doubt the most talented team still left standing.
"Everybody has enough talent to win," Parker says. "You're not going to win on talent. The question is who's going to be more focused, more determined. Who is going to execute better without getting emotionally out of position or emotionally in the penalty box.
"Those are the type of things that decide these games plus obviously, great goaltending."
Vermont Catamounts
Record: 22-11-5, 15-8-4 Hockey East (t-third)
Seed: No. 9 overall, No. 3 East
Road to Frozen Four: Beat Yale 4-1, beat Air Force 3-2 (2ot)
2008 NCAA tournament: none
The wait was excruciating. But man, was it worth it.
Despite the fact that Vermont had to wait nearly two weeks to play in the NCAA tournament after losing to Mass.-Lowell in the Hockey East quarterfinals, the Catamounts responded with two superb performances in the East Regional and because of that are just two wins away from capturing the school's first NCAA ice hockey championship.
Head coach Kevin Sneddon admits that the wait may have been a difficult one for his team, but one he felt it handled extremely well.
"The first thing was we needed to take some time to rest and think about what happened," said Sneddon. "Then we pulled the team together after three days and collectively talked about what went wrong.
"We got it all out on the table and said there's nothing we can do about that now. The only thing we could control was moving forward."
Possibly what eased the wait was understanding the PairWise rankings and the fact that, despite the quarterfinal loss, the team's body of work all season was enough to keep it playing.
"We knew we'd be in the national tournament and in some respects that was very positive so the only thing we could focus on was ourselves," said Sneddon. "From that point, our guys were so focused on attention to detail and we liked what we saw as a coaching staff in our team."
That team played poised hockey for two nights, playing a near-perfect game against Yale before having to survive a true war — a double-overtime thriller — against Air Force. By now, unless you've been living in a bubble, you know the strange video-replay ending that placed the Catamounts in the Frozen Four, so we'll save you those details.
But now that Vermont has made the Frozen Four, its first since 1996, there's been another extended wait before it can face Boston University in the national semifinals. This one, though, has been quite special.
"The most fun for me, my first trip to the Frozen Four as a coach, is being able to reconnect to the past and the present," said Sneddon, who noted this week he's had communication with past coaches Mike Gilligan and Jim Cross. "So many alums are proud of our hockey team. I've heard from past coaches, alums. They've done a good job reconnecting with our team. We're here because of those before us who made this program."
Now that the Catamounts are there, though, the task ahead of them is a difficult one. Vermont faces BU, the tournament's number-one overall seed and the only favorite to survive in the regional tournaments, on Thursday.
Some may think that the Cats have an advantage against the Terriers. After all, Vermont is the only team all season to hold a winning record against BU (Vermont won the league series, 2-1). Many may remember Vermont's back-to-back 4-3 wins at Agganis Arena in November that earned the series win. And a few, particularly BU coach Jack Parker, will recall a defensively-focused team that Parker described as "trapping" all weekend long.
So asking Sneddon if he'd be focused on playing the trap against the Terriers on Thursday might seem like a natural question. Natural, if you're looking for a laugh.
"I think it's hilarious," said Sneddon when asked about the trap. "I remember Coach Parker talking about that in the post-weekend comments.
"We go at teams pretty aggressively in the forecheck. At certain times if we can't go in, we'll go into a passive [attack].
"We'll use [the trap] but I wouldn't characterize our team that way. Who doesn't trap in the neutral zone? The fact we're more passive is just a style we use."
Saying Vermont, then, focuses on defense first is appropriate. When the team has played well this year, the defense has led the club. But when things fall apart, that's where the problem lies, and a perfect example was the Catamounts' two-game sweep at the hands of Lowell in the Hockey East quarterfinals.
"We put up some good offense [when we struggled], but we gave up a lot defensively," said Sneddon. "That was the problem with Lowell . They wanted it more defensively."
But the key to Vermont's season was its response after those two losses. Sneddon said the only time he was disappointed with his team's ability to respond was during the Lowell series, which makes its ability to get through the regional to the Frozen Four even more impressive.
"It was a credit to our leaders to respond to the situation," said Sneddon. "The team was pretty down on itself after the Lowell series but came back and competed really well in the regionals."
So what are the keys moving forward? Besides getting solid performances from top players like forward Viktor Stalberg and goaltender Rob Madore, it's playing the way the team has all season long.
"We have to remember our identity of being a blue-collar team," Sneddon said. "We have some great offensive weapons, but we all have to play like we're a blue-collar team: doing all the little things well, playing defensively away from the puck. When we concentrate on taking away opportunities against other teams, we're tough to beat."
Doing so could complete not only an improbably voyage for the Catamounts but put Vermont into extremely uncharted territory: national champion.