Miami vs. Bemidji State
Thursday, 5 p.m. ET, Verizon Center, Washington, D.C.
Miami RedHawks
Record: 22-12-5, 17-7-4-2 CCHA (t-second)
Seed: No. 13 overall, No. 4 West
Road to Frozen Four: Beat Denver 4-2, beat Minnesota Duluth 2-1
2008 NCAA tournament: Lost in Northeast Regional final
A month ago, the Miami RedHawks were reluctant spectators. Having lost their second-round CCHA playoff series on their own ice in Oxford in three games to Northern Michigan, the RedHawks watched the CCHA championship — and their NCAA tournament fate — from a disagreeable distance.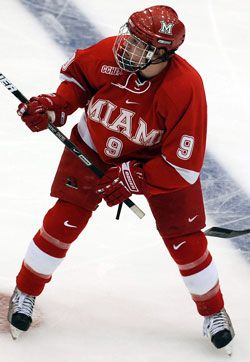 "I can tell you the mood wasn't very good," said head coach Enrico Blasi.
It wasn't the first time that the RedHawks sat out the CCHA championships before going into NCAA play. At the end of the 2006-07 season, Miami finished third behind Notre Dame and Michigan, earned a first-round CCHA playoff bye and lost its second-round home series to Lake Superior State in two games.
At the end of that season, however, Miami was sitting higher in the PairWise Rankings and there wasn't much question about a RedHawk appearance in NCAA tourney play.
Perhaps a little anxiety is a powerful motivator. Miami came into the West Regional rested and ready, a dangerous No. 4 seed that started early and never looked back in a 4-2 win over No. 1 seed Denver before beating No. 3 Minnesota-Duluth, 2-1, to earn the RedHawks their first trip to the Frozen Four.
"It's devastating to lose, especially on home ice, and watch other teams in your league compete for a championship because that was one of our first goals for the year, to win a CCHA championship," said sophomore forward Tommy Wingels. "At the same time, you take advantage of your time off. Guys heal up, you work on things you need to work on."
"We had about two weeks to mentally and physically prepare for our second chance, and that's exactly the way we looked at it," said Blasi. "And we knew it wasn't going go be easy and they shouldn't be easy at this time of the year, but we also thought over the course of the year that our resume was good enough to be in the top 16, top 14 in the country. We had an opportunity and we didn't want that opportunity to slip away."
The Sermon of the Second Chance is something that the entire team bought into, said senior Justin Mercier after the win over Duluth.
"I think that everyone in that locker room, our coaching staff, it was a second opportunity to get into the tournament," he said. "Twenty-six guys in that room believed in ourselves and like Coach said, we had to play our best. We took advantage of the situation, and we didn't take it for granted."
Mercier scored the two goals against Duluth and had the opening goal against Denver, earning him Most Outstanding Player honors in the West Regional. It would be a mistake, however, to think that Miami is the sum of a single player or even a single line. Mercier had just 11 goals going into the West Regional, and four different lines accounted for the four goals against Denver.
For the RedHawks, hockey is all about balance. Sophomore Carter Camper (20-20-40) leads the RedHawks in scoring but didn't find the net in Minneapolis, instead helping on senior Bill Loupee's second goal of the year, the game-winner against Denver.
Freshmen Connor Knapp and Cody Reichard had been splitting time in the Miami net for most of the season until the West Regional, when Reichard got the nod and made 41 saves in two games.
The balance for Miami extends beyond the score sheet. Blasi is always telling his players to maintain an even keel, neither too high nor too low. And this RedHawk roster is balanced in more ways than scoring.
There's strong leadership from the likes of Mercier and lesser-known players, captains Brian Kaufman and Kevin Roeder, but the team's top three scorers are sophomores and nearly all of its defense is very, very young. Both of Miami's goalies and two-thirds of its defensive corps are freshmen.
Blasi, however, isn't so concerned by the relative lack of experience of Miami's blue line.
"Obviously, we thought they were a very talented group," he said. "As individuals, we recruited them for a reason, to hopefully upgrade our team and our skill level at the back end. You combine all those with a senior in Kevin Roeder and a sophomore in Vincent Loverde and we feel we've got a pretty good D-corps."
And the RedHawks are comfortable with either freshman in net, said Blasi. "We are extremely proud of both of our freshmen young goalies. They have come in from day one and have worked day in and day out to make themselves better and make our team better. Whether it's Connor Knapp or Cody Reichard, our team is very confident in front of both them."
Heading into their game against Bemidji State, the RedHawks don't consider themselves the favorite — not after what the Beavers did in the Midwest Regional, said Blasi.
"I think people need to give Bemidji a lot of credit. Notre Dame was one of the stingiest defensive teams in the country [and the Beavers] absolutely dominated them. And Cornell is probably the second-stingiest team in the country and they dominated them, so I'm not sure who the underdog is.
"I don't think there is an underdog. I think both teams are impressive and it should be a great game."
Bemidji State Beavers
Record: 20-15-1, 12-5-1 CHA (first)
Seed: No. 16 overall, No. 4 Midwest
Road to Frozen Four: Beat Notre Dame 5-1, beat Cornell 4-1
2008 NCAA tournament: none
It's not like winning big games is a new thing for the Bemidji State Beavers.
"We've won 942 games, we've won close to 70 percent of our games, we've won 13 national championships, we've won over 20 conference championships," said BSU head coach Tom Serratore.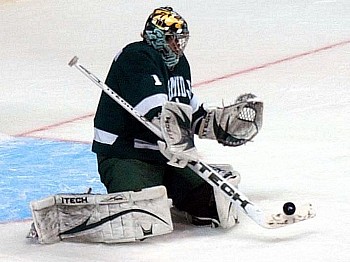 So why is everyone so surprised that the Beavers are making their first trip to the Frozen Four?
"Unless you've ever worn a Beaver jersey or been in the Beaver locker room," said Serratore, "it's hard to understand or fathom what we're talking about."
While it may be hard for many in the college hockey world to understand or fathom why the No. 16 overall seed and the first team from the CHA is competing for a national title — yet another national title — in Washington, D.C., this weekend, the Beavers themselves left little doubt in their two Midwest Regional wins.
Less than two minutes into their 5-1 win over No. 1 seed Notre Dame, the Beavers had goaltender Jordan Pearce and the rest of the Fighting Irish so rattled that Notre Dame never even had a chance of recovering. That's when Chris McKelvie scored his third goal of the season, unassisted, at 1:42, capitalizing on Pearce's mishandling of the puck behind his own net.
That was also the beginning of Bemidji's two-night roll. After coming from behind to knot its game against No. 3 seed Cornell in the second period the following night, the Beavers scored three unanswered third-period goals to make it official with a 4-1 win over the Big Red and a spot at this year's Frozen Four.
In two games in Grand Rapids, Mich., there was never any doubt. For Serratore and the Beavers, there was never any need to doubt.
"There's only been one or two classes that have gone through our program that hasn't won a championship," said Serratore, "so we talk about championships. We talk about how special it is to play for this program and how many times we won games where people never thought we could win games."
Between 1968 and 1980, the Beavers won seven NAIA national championships and from 1984 through 1997, BSU won five NCAA Division II ice hockey championships including the last title (1984) before the NCAA suspended the D-II championship for seven years — and three consecutive titles (1993-95) when D-II title play resumed.
In addition to justified faith in their program, the key to the Beavers' success this year is a relentless style of play.
"The part of the game that we emphasize is our puck pressure," said Serratore. "We have to have good puck pursuit, good puck pressure to get into people's faces. The whole goal is to take time and space away from your opponent, and that's how we want to play."
Even though the Beavers were outshot in each of their efforts in Grand Rapids, that puck pressure resulted in outscoring higher seeds 9-2 in Grand Rapids, with two goals and an assist each night from senior Tyler Scofield, who was named the regional's Most Outstanding Player.
"I think we kept them to perimeter shots," said Scofield after the Notre Dame win. "Matt's been playing big for us down the stretch and we have a lot of confidence in him. I rank him right up there with the best goalies in the nation."
That would be BSU goaltender Matt Dalton, who was disappointed in himself when Cornell took the lead in the second period of the regional final — the only time BSU trailed during the weekend — but when Scofield netted the game-winner at 4:05 in the third, Dalton said that he knew his worries were practically over.
"Then when Tyler scored, it was just like, 'Oh, my gosh.' It was just an unbelievable feeling," said Dalton. "I knew that if we got up we could shut them down pretty good. The D have been playing pretty good lately and the forwards were backchecking unbelievably. I just knew we were going to have it.
"Once we got up, I was just confident. I knew I wasn't going to let anything in. I knew it was just meant to happen."
Dalton can back up that belief with numbers. The sophomore has a .921 save percentage and a 2.17 goals-against average coming into the Frozen Four, and 11 of his 19 wins have come in the second half — and Bemidji has 12 of its 20 wins since the start of the calendar year.
There's no question that many are painting the Beavers as underdogs heading into the Frozen Four, and as the No. 16 seed overall and the first team from the CHA to play for a national title, there may be something to that.
Just don't tell that to Serratore and the rest of the Beavers.
"I think the media to a certain degree looks at this David-vs.-Goliath, Cinderella or whatever you want to call it," said Serratore. "We were in a tough row, we knew that, but we also believed in ourselves and we believe in the program … because this program has won so much and we expect to compete extremely hard.
"Are you going to win games all the time? No, but it wasn't a surprise to us."