Who's Going in Goal?
Miami coach Enrico Blasi was non-committal about his starting goaltender for Thursday's semifinal against Bemidji State, saying he would meet with his staff later Wednesday to discuss the plan.
That's what comes with a goaltending rotation.
Cody Reichard won both games at the West Regional, but he and fellow freshman Connor Knapp have alternated games for most of the season.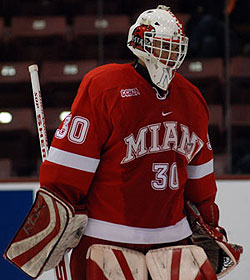 That took a break in January, after Reichard was pulled from a 4-1 loss to Michigan State after the second period. Knapp briefly took over in the No. 1 spot.
"When he (Reichard) did go through that little hiccup in January, I can tell you that Connor was right there with him, helping him every day," Blasi said. "We knew he would be back, and we went back to alternating them as soon as he got his confidence back.
"Two weekends ago was just really a gut feeling by the coaching staff and we went with it. And once he beat Denver, we didn't want to change anything at that point."
What will the gut feeling be this time? We'll find out Thursday.
Fury on the Kill
The success Miami has enjoyed on the penalty kill this season probably has a lot to do with how the RedHawks skate shorthanded.
In a word? Justin Mercier said ferocious.
"It's a very in-your-face, pressure penalty kill," the RedHawks forward said. "We make teams make plays. We make them have to decide on the spot, and I think that can catch a lot of teams by surprise."
Miami ranks second in the nation at 89.8 percent on the penalty kill, and Mercier credited the coaching staff for getting the players ready for what they face in opponents' power plays.
If you're going to play an in-your-face style on the penalty kill, you have to be disciplined and intelligent. Otherwise, there's plenty of room for error.
"We've been doing it now for about five or six years, and so most of the guys that you see out there have done it for a while," Blasi said. "If you had about an hour, I can explain it to you, but I'm not sure I understand it, quite frankly. Coach (Chris) Bergeron and coach (Brent) Brekke do an unbelievable job in preparing the PK.
"Our guys understand the schemes that we're trying to execute. The bottom line is you've got to execute it. You've got to get goaltending, you've got to block shots. You've got to do a lot of things that we stand for and sacrifice your body."
Curiously, however, the RedHawks have a better record when allowing a power-play goal (10-5-3) than when not allowing a power-play goal (12-7-2).
Camper Cooling?
Miami's leading scorer enters the Frozen Four in a scoring slump.
Sophomore Carter Camper has 20 goals and 40 points this season, but just three goals and five points in his last 11 games, a span in which he is minus-8.
Calling On Friends
When it came to finding out how to approach his team's first trip to the Frozen Four, Blasi had some pretty good sources.
"Obviously, I have a couple of good friends that have been there before, so you can do the math and figure out who those guys are," he said.
One, certainly, would be Denver coach George Gwozdecky, who led his team to national championships in 2004 and 2005 and is Blasi's former boss.
"We had a chance to talk right after the West Regional on how to prepare the team, not only on the ice but off the ice and what to expect," Blasi said.
Rested RedHawks
In the last 45 days, Miami has played just five hockey games, one fewer than either Bemidji State or Vermont and four fewer than Boston University.
How did this happen? Three weekend breaks throughout the postseason.
"We had a bye in the first round," said Blasi. "That one didn't go so well. We learned a little bit from that."
By finishing tied for second place in the CCHA, the RedHawks earned a first-round bye in the league playoffs, giving them a weekend off between the regular season and their second-round, home-ice series against Northern Michigan March 13-15.
After losing that series, Miami sat out the CCHA championship tournament the weekend of March 20-21.
"Obviously, we had a week off while our league championship was being played in Detroit, and we were awaiting the outcome of whether we got in the tournament or not. We focused on some things we needed to work on."
And after emerging victorious from the West Regional March 27-28, the RedHawks had the obligatory weekend off between the regionals and Frozen Four.
"I can tell you that we did exactly the same thing coming into this weekend. It's been a long six weeks. I can tell you that. I can tell you going into the first bye week of the CCHA playoffs we were pretty banged up."
Redheaded RedHawks?
Making its first Frozen Four appearance, Miami faces another first-timer in semifinal action Thursday. But given the press attention that Bemidji State has garnered as a longshot, No. 16-overall seed, the RedHawks are the redheaded stepchildren in D.C. this weekend.
It's not just in the sphere of public opinion that the RedHawks are playing second fiddle to a lower-seeded team. Blasi said that the Beavers may actually be the de facto on-ice favorites Thursday.
"Someone asked the underdog question earlier," said Blasi, "and I think we are the underdog. They are a pretty good team. They are playing really well. We know we have to play our best tomorrow afternoon."