Brent Brekke joined the Miami staff last offseason knowing the challenge that lay before him.
He would be working with four freshman defensemen on a team that lost plenty on that side of the ice, and would be charged with keeping the RedHawks' identity intact.
That Miami will play for the national championship on Saturday is all you need to know to figure out how things have played out for Brekke and the RedHawks' young defense this season.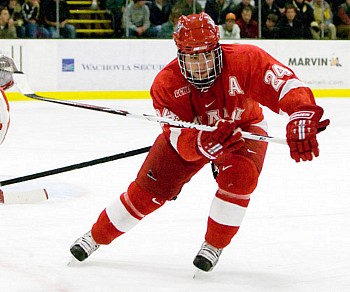 "He brought us all together," senior defenseman Kevin Roeder said. "Knowing that we had four [freshman] defensemen, things could have been rough, but things worked out positive."
Chris Wideman, Will Weber, Matt Tomassoni and Cameron Schilling all have played in more than half of the RedHawks' games this season, giving the team some back-line stability that the coaching staff wasn't sure it would have in a potential transition year for the program.
Plus there was the transition of a new defensive coach in Brekke, a former Western Michigan defenseman who joined the staff from Cornell, where he spent nine years as an assistant in a program known for strong defense.
The RedHawks had the nation's best defense last season in front of talented goaltender Jeff Zatkoff, who left the team for the pros after his junior season. They've fallen to eighth nationally this season, but considering the change in personnel, that's not too shabby.
Consider that Miami has reached the national championship game against Boston University, something last season's team can't claim, and it appears that you can consider this season a success defensively.
The composure of the corps of freshmen and their quick transition to the college game have been key elements.
"It's a tough transition to college hockey," Brekke said. "As a group, they transitioned pretty quickly. They didn't hit the adversity until the second half, which is reverse of usual. Usually, the adversity comes early and in the second half they get a little more confidence and go through their lumps and ups and downs with the roller coaster in the first half and the second half's strong."
Schilling took his share of lumps in the middle of the season and found himself as a healthy scratch for 10 games.
But he earned his spot again in the second half and has been strong, Brekke said.
"I think our defensive corps has stayed composed throughout the whole tournament," Schilling said. "We haven't got rattled. If they score a goal, we try to come back. Like [Thursday], we countered right away. Overall, our defensive corps has been staying composed and making good, smart, easy plays and not trying to do too much."
That's the philosophy — take care of the defensive zone and let the RedHawks' skilled forwards handle the other end.
Wideman leads the defensemen with 26 points — all on assists — and he's the only Miami blueliner in the top 50 nationally of defensive scorers.
That provides a break from their title game opponent. BU has three players in the top 31 of the defenseman scoring ranks.
"Our guys are selective when they jump up in the rush a little bit more," Brekke said. "We really feel we've got a great group of skilled forwards, and our mind-set is let the forwards do the work. Get the puck in their hands and let them do the work. We've just got our own niche in the game of what we can take care of, and we want our forwards, because of their skill level, to take control of the puck."
The progress that Miami's group of rookie defensemen has made has even changed some preconceived notions from the team's forwards.
Winger Tommy Wingels was expecting some tennis scores on the scoreboard this season.
"I thought the majority of our games would be won 6-4, 6-5, just because of our inexperience back there with the young guys," he said. "But we've been winning games 3-1, 4-1, 2-0. Those guys have really matured this year defensively, and the goalies. We have so much confidence in them, and they have confidence in themselves. We'll take our guys against anyone."
When you take into account that the RedHawks also have two rookie goaltenders, their voyage to the end of the NCAA tournament bracket is that much more impressive.
"We knew we had some talent on the D corps and in goal, but there's one thing as a coach that you can't teach, and that's experience," Miami coach Enrico Blasi said. "You have to go through it. We knew we were going to have our ups and downs, but if our guys believed in themselves and continued to work hard, which they have, you never know. We thought they could become a pretty good team."
The six Boston University defensemen that played Thursday had a combined 584 games of collegiate experience entering the tournament. Miami's corps had 354 games.
But it just goes to show there's no one way of getting the defensive job done.
"A lot of teams have older, senior defensemen, junior defensemen," Schilling said. "Supposedly, defenseman is the hardest position to adjust to, but I think that we've definitely gone against that and shown that you can come in as a freshman and play pretty well."