He's considered one of the deans in a game filled with legendary coaches. Even Jack Parker's counterpart in Saturday's national-title game jokes about the elder coach's age.
"A couple of guys asked me how old [Parker] was," said Miami coach Enrico Blasi, himself 37 years young. "I said somewhere between 80 and 100."
Truth be told, Parker, who turned 64 in March, goes beyond legend in the coaching ranks. Named Boston University head coach at the tender age of 28, Parker has hit just about every milestone in the game.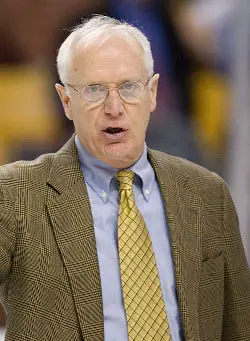 His team this year posted 20 wins for the 25th time under his watch, capturing the school's seventh Hockey East tournament title and its 21st Beanpot championship under Parker.
On January 24, Parker picked up his 800th win, joining rival Jerry York of Boston College and former Michigan State mentor Ron Mason as the only head coaches to do so.
This weekend Parker is coaching in his 23rd NCAA tournament with BU — the most by any active coach and the most for any coach at one school.
Yet since Parker earned the Spencer Penrose Award as national coach of the year in both his first and fourth full seasons at BU (1975 and 1978), that honor has eluded him despite a pretty impressive resume.
And now, as the Terriers are on the doorstep of what could be the best season in program history, Parker willingly throws his endorsement for national coach of the year elsewhere.
"[Air Force coach Frank Serratore] had an unbelievable year this year and did a great job coaching," said Parker. "The only guy who might have had a better year than him was [Bemidji State coach, and brother of Frank] Tom Serratore.
"I was going to write my fellow coaches and tell them to disregard the ballot [for coach of the year]. I think this would be a good year to do something special. I think we should all write in a candidate. Let's all write in the Serratore brothers. We'd be making a pretty nice statement for two guys who are great guys and fabulous coaches."
That idea, of course, was struck down by Hockey East commissioner Joe Bertagna (who heads the committee overseeing the award) but Parker's statement speaks volumes for his belief that he isn't responsible for success, something he says very clearly.
"Most coaches, including myself, think of [coach of the year] as, 'Well, isn't that nice.' But it really doesn't mean anything," said Parker. "The team is what counts.
"I won the Spencer Penrose twice when I was young and even then they didn't seem that big to me."
What is big to Parker is the fact he's still behind the BU bench. As rumors float of a potential retirement in the coming years, many have forgotten that in 1989 the Parker legacy nearly came to an end.
It was that year that the BU athletic director position opened up and Parker was offered and accepted the job. The condition, of course, was that Parker would replace himself as hockey coach to focus full-time on running the department.
On Friday, Parker spoke frankly about the process that ultimately led to him resigning the AD position three weeks after being named.
"It was all about ego," said Parker. "My ego got in the way. I [thought] 'They should make me AD.'"
Parker recalled the press conference where he was named athletic director. He sat with former BU swimming coach Reagh "Doc" Wetmore, himself a decorated and accomplished coach. As the announcement was about to be made, Parker's credentials and successes were being read by the speaker.
Parker leaned over to Wetmore and said, "They must be talking about you," to which Wetmore replied, "They are not. I'm a coach."
It was at that point that Parker realized he'd made a mistake.
Thankfully, says Parker, it was one that was easily fixed. He met with the University's president when they were scheduled to discuss philosophy and direction for the department. Instead Parker arrived with a different message.
"I go in and say, 'I think I made a mistake. I don't want to be the AD. I want to be the hockey coach,'" said Parker. "[The president] said, 'That's no problem; we can fix that.'"
Few knew at the time what that fix would mean. Over the next decade, BU enjoyed its heyday in the sport, posting 268 wins between 1990 and 1999 to go along with nine NCAA appearances, eight Beanpot titles, four regular-season and postseason Hockey East championships and, of course, the 1995 national title.
And while the first decade of the 21st century hasn't been as kind to the coaching legend (until Thursday, BU hadn't made a Frozen Four appearance since 1997) all trials and tribulations will be forgotten if the Terriers post a victory on Saturday night.
And maybe, just maybe, a national title could lock up that national coach of the year award for a coach who, despite what he says, is quite a deserving candidate.