Northeastern senior forward Missy Elumba was named the recipient of the 2009 Hockey Humanitarian Award in a ceremony at the Verizon Center, site of the Frozen Four.
Elumba is the second Northeastern player to win the award and the 14th honoree overall. The award has been presented annually since 1996 by the Hockey Humanitarian Award Foundation to recognize "college hockey's finest citizen."
Elumba was recognized Friday in conjunction with the Hobey Baker Memorial Award and the Frozen Four Skills Challenge.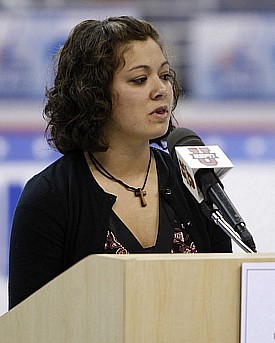 "I am blown away by being named to this award," said Elumba, who plans on attending a missionary training program next year before entering medical school.
"I don't even think I deserve it, but being recognized for this honor is merely a testament to the notion of what can happen when you put others first. When you do that, amazing things can happen."
The Cottage Grove, Minn., native has turned adversity into a gift that continues to touch lives literally around the world.
Elumba suffered a serious knee injury that required surgery early in her freshman season. Additional surgery was needed that caused her to redshirt her sophomore year, and during that time she began teaching pre-schoolers and working with local charities in the Boston area, including helping write grants for the "Strong Women, Strong Girls" program and volunteering at a detoxification center.
That same year, Elumba founded "Students4Giving" at Northeastern, which provides guidance to students on participation in philanthropic activities.
"At first I just felt sorry for myself," said Elumba of her injury. "But as a sophomore I began to serve my teammates first, which helped me feel better about myself. I surrendered to God, and realized that I was here for a reason."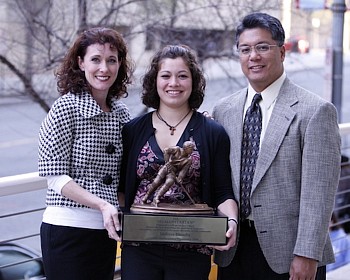 Elumba went on to serve as Northeastern's Student Athletic Advisory Committee president and found the Husky Wish Gift program, which through several fundraisers as well as matching NCAA funds helped raise over $4,000 for Boston-area individuals and community organizations dedicated to increasing opportunities for youth to engage in exercise and sports.
In 2007, Elumba expanded her charitable mission to Mexico, where she volunteered at a local hospital. The following year, she traveled to India to do missionary work and care for the sick and dying. She returned to Calcutta last summer to continue her volunteer work.
"The language barrier was an obstacle in giving care," said Elumba. "But everyone understood love."
Back in Boston, Elumba volunteers at Boston Medical Center as well as organizing and coordinating activities for Boston Healthcare for the Homeless.
Elumba follows in the footsteps of fellow Huskie Chanda Gunn, who received the award in 2004.
"I used to think that the point of life was success," Elumba said. "At some point along the way God grabbed me by the shoulder. I realized that the point of life was not about myself, because God loves me no matter what. He loves all of us."