Former Rensselaer goaltender Nathan Marsters was killed Monday in an automobile accident in Smithville, Ontario, the Hamilton Spectator reported.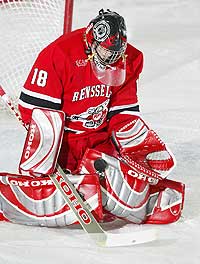 Marsters, 29, was pronounced dead at the scene after a deer crashed through the windshield of his truck.
He played four seasons at RPI and posted the school's career record for games played (115), starts (107), saves (3,118) and goals against average (2.55).
"You can always tell a person's character by the number of teammates that gravitate toward him," former RPI coach Dan Fridgen told the Albany Times Union. "He was always in a really good mood, no matter what the situation was."
A public visitation is scheduled for 3-5 p.m. and 7-9 p.m. Friday at Stonehouse-Whitcomb Funeral Home, 11 Mountain St. in Grimsby, Ontario.