St. Cloud State has given coach Bob Motzko a six-year contract through the 2014-15 season, the school announced Tuesday.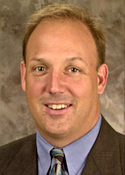 Motzko, who has a 81-58-19 record in four years since taking over for Craig Dahl in 2005, will earn more than $1 million over the length of the contract, the St. Cloud Times reported.
"St. Cloud State University is delighted to have Bob signed up for the next six years as the head coach of our men's hockey program," St. Cloud State athletic director Morris Kurtz said in a news release. "He has certainly built on the foundation established by Craig Dahl and we are pleased with his teams' athletic and academic accomplishments over the past four seasons. I fully intend to do everything in my power to make sure that he finishes his coaching career at St. Cloud State."
Motzko, 48, was voted the WCHA's coach of the year in 2006 and 2007 and guided the Huskies to the NCAA tournament in 2007 and 2008.
"I was very fortunate four years ago to have the opportunity to return to St. Cloud State University as the Huskies' head coach," Motzko said in a release. "Today, I feel very fortunate to be able to continue building on what we have started at St. Cloud State. I am more excited than ever about the future of this University and the men's hockey program. I am really looking forward to a long future with this program."