Maybe it was ironic that mere months after the CCHA chose not to accept Alabama-Huntsville into the conference, UAH opened its season on the road at Notre Dame.
Most figured it would be a cinch for the Irish to get four points from the Chargers, but "most" didn't include the Chargers themselves as UAH earned a split in the series after a dramatic last-second win Friday night.
Cody Campbell scored a power-play goal with five ticks left to give UAH a 3-2 win. Not only was that goal deflating for the sold-out Joyce Center, but so were Cameron Talbot's 39 saves for Huntsville.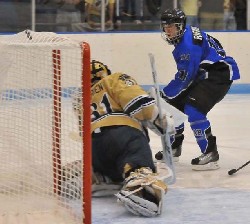 "We knew he was a good goaltender," Irish coach Jeff Jackson said. "He played well against us a couple of years ago in the RPI Tournament. He's big and athletic and he played well for them [Friday] night."
Tom Train and Justin Cseter each tied the game earlier as Train's goal made it 1-1 and Cseter's made it 2-2 when he finished off a break with Train.
In another bit of irony, Ryan Thang was in the box when Campbell scored. Thang's double-overtime winner in the opening game of the Midwest Regional in 2007 eliminated UAH from the NCAA tournament.
The loss for Notre Dame was also its second straight to a CHA team as Bemidji State topped Notre Dame in the first round last spring.
Huntsville also gained some confidence in killing off a five-minute major to Keenan Desmet at the end of the second period and start of the third.
"We got the first 2½ minutes killed, then we had intermission," UAH coach Danton Cole said to the Huntsville Times. "Then we got the other 2½ minutes. We had a break between and were able to catch our breath."
Notre Dame rebounded, however, with a 3-1 win the next night.
Neil Ruffini evened the score, 1-1, at 2:01 of the second for the Chargers' lone goal.
Talbot made a career-high 48 saves.
Cole added that he knew his squad would be in much better shape, literally, this season.
"All summer they did a great job of working out," he said. "We're a much fitter team."
NU, Colgate Play To Tie
Niagara opened its season at home last Friday night against Colgate, but couldn't hold onto a two-goal lead, settling for a 4-4 tie in front of 1,508 fans at Dwyer Arena.
The Purple Eagles were leading, 4-2, heading into the third period, but two goals in a span of 2:25 late in the period sent the game into overtime, where nothing was settled.
"We battled hard and did all the right things for 40 minutes," Niagara coach Dave Burkholder said. "We just couldn't finish it off."
Dan Baco scored shorthanded just three minutes into the game and a little over three minutes later, Brent Vandenberg tallied his first NCAA goal.
Ryan Olidis and Marc Zanette (first collegiate goal) also scored for NU, which got a 26-save outing from Adam Avaramenko.
Bemidji State Brooms Aside Air Force
Tom Serratore won the latest battle of the Serratore brothers as Bemidji State swept Air Force and older brother Frank last weekend in Bemidji.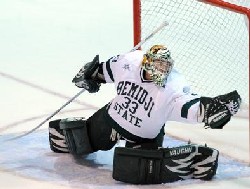 Sophomore Dan Bakala turned away 20 shots in a 3-1 victory Friday evening for his first collegiate win. Bakala went 3-0 last year in exhibition games.
Captain Chris McKelvie, Ian Lowe and Ryan Cramer scored for BSU.
Saturday night, Bemidji State scored four goals in the first period en route to a 7-3 win.
Matt Read scored a pair and Jordan George, Aaron McLeod, Brady Wacker, Brad Hunt and Cramer recorded the BSU goals and Bakala finished with 21 stops.
George, McLeod and Wacker's goals were all No. 1 for them at the NCAA level.
"Overall, it was a good weekend," Tom Serratore told the Bemidji Pioneer. "I think we had some carry over from last year with our veterans, and the young guys are figuring things out a little quicker than normal. As a group, I think they've done job of self-coaching, since we only had a few days of actual practice."
Saturday's victory continued Bemidji State's dominance in the all-time series with Air Force as it improved to 25-8-2, including 16-1-2 mark versus the Falcons at the Glas, and a 20-3-1 record since Jan. 19, 2002.
Colonials Take Both Exhibitions From Queen's
They were just exhibition games, but Robert Morris chalked up two wins last weekend against Queen's University from Kingston, Ontario.
RMU won 8-4 Friday night and 3-2 Saturday night.
Nathan Longpre scored twice and also got goals by Furman South, Cody Crichton, Chris Kushneriuk, Zach Hervato, Andrew Blazek (more on him below) and Scott Kobialko.
In net, Brooks Ostergard made 14 saves.
Saturday night, James Lyle, Ron Cramer and Denny Urban lit the lamp and Ostergard and Eric Levine combined to stop 24 shots.
 
"Tonight was great for our hockey team," RMU coach Derek Schooley said to USCHO. "We would have got nothing out of playing another 8-4 game again. We played hard and got our chances.  At the end of the day, I was pretty pleased. It was a good test for us."
Blazek Thrilled To Play for Hometown Colonials
Coming home to play college hockey is not a dream many players get to realize, but Blazek has that chance with Robert Morris.
Blazek, a Pittsburgh native, committed to the Colonials late in the summer. Prior to his playing in the NAHL with Texas and Topeka, Blazek received two varsity letters in hockey at Upper St. Clair High School in the Steel City.
Topeka head coach Scott Langer had a hand in getting Blazek to the next level.
"Coach Langer got me on the ice and helped with recruiting," Blazek said.  "If it wasn't for him and the rest of the guys, I wouldn't be playing Division I hockey this year."
Blazek also offered advice for the current crop of RoadRunners working through the system in hopes of landing on a college roster.
"I would tell the rookies to get their names out there any way possible, and to develop their skills because college hockey is a lot harder than juniors," Blazek said.
Niagara Hosting '99-00 Reunion on Nov. 8
Niagara will celebrate the 10th anniversary of the program's first NCAA tournament team on Nov. 8 against Massachusetts, its next home contest.
Members of the 1999-2000 Purple Eagles team will be in attendance for autographs, pictures and a special celebration. 
The first 500 fans in attendance will receive an autographed poster of the championship team. The players will be recognized on ice at the first intermission and will be available for autographs during the second intermission.
That '99-00 team featured current men's assistant coach Greg Gardner and current women's head coach Chris MacKenzie. The Purple Eagles boasted a 30-8-4 record which included a 15-0-2 league mark and an upset of New Hampshire in the first round of the NCAA tourney.
Pittsburgh Showcase Goes Again in January
Tickets for the Pittsburgh College Hockey Showcase, hosted by Robert Morris, are on sale.
The showcase will take place Friday, Jan. 8, as the Colonials will take on Miami at Mellon Arena. For the second year, the Robert Morris women's team will kick off the event as it hosts Connecticut.
The middle game will feature the Robert Morris ACHA men's team taking on Penn State.
"Once again, we have an excellent opponent at the Pittsburgh College Hockey Showcase as we face 2009 national runner-up Miami University," Schooley said. "Also, playing for the final time at Mellon Arena should be an exciting experience for our players, fans and university."
Tickets are priced at $12 for general admission and $17 for Igloo Club reserved.  The tickets are valid for all three games.
He Said It
"Everything is just perfect. The academics, the campus, it's 45 minutes from home. The coaches there are over the top. I'm happy that I will get a chance to play there." — Niagara recruit and Eden, N.Y., native Kevin Ryan, a defenseman with Topeka.