With a 1-1 tie with less than six minutes remaining in Monday's Beanpot game, Boston University freshman Alex Chiasson took a cross-ice pass from David Warsofsky and raced up the right wing on a two-on-one break.
Would he be able to break the deadlock with the biggest goal of his life to date?
Pas de problème pour une ailier droite de Québec.
For those who read the last paragraph and believed that they stumbled on a new Web site called French Canadian Hockey Online, well, au contraire. The Beanpot tournament's history may be dominated by kids who grew up dreaming of playing in the home of Bobby Orr and Ray Bourque, but there aren't so many local products in the local classic these days. Thus it should be no surprise that a kid from St. Augustin, Quebec, scored the game-winner — just three years after he started speaking English.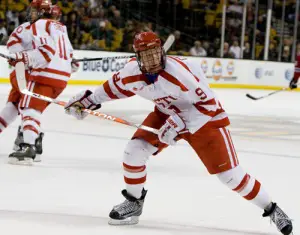 A highly touted recruit, Chiasson scored two goals in his first collegiate game and has been on the top forward lines for the Terriers for the majority of the games since then. He scored four goals in his first seven collegiate games before an injury knocked him out of the lineup and continued to plague him even after his return to action.
"I got injured with a concussion in practice — my first one," Chiasson said. "It was hard for me going through it for a couple of weeks. After Thanksgiving I was on and off for different games. I went home for Christmas and rested up and felt better about myself. I had a meeting with Coach and now I know I have a pretty big job to do on the team — to score goals and make things happen in the offensive zone. I'm playing my best right now and enjoying my time at BU."
After Monday's nail-biting 2-1 win, Terriers coach Jack Parker reflected on the phenom — the 38th overall draft pick by the Dallas Stars in last year's NHL draft — and his play this season. "He jumped off right off the bat," Parker said. "He took a little bit of a slump in November and wasn't playing as well as he was earlier. He seemed to be questioning how hard he should go offensively as opposed to where he should be defensively.
"I think freshmen have a hard time getting acclimated and realizing that it seems like we're asking a lot defensively, but really if you just take care of A, B, and C — then you can go be who you are. I think he's much more comfortable in his defensive role, as is [fellow freshman Wade] Megan. They know they can do what they're supposed to do out there."
Parker has worked individually with the 6-foot-4 right wing and given him plenty of reminders. "Just keeping my feet moving, going to hard to the net, and finishing my checks," Chiasson reported. "I have a pretty good shot, so I try to use it as much as possible. He's been really good with me, and I guess it's helped."
Chiasson's freshman year has given him the opportunity to play on several big-stage games, including contests at Madison Square Garden and Fenway Park. Still, scoring such a big goal in an NHL rink is his biggest hockey thrill to date. "Actually, the first time I heard about the Beanpot was when I was playing at Northwood Prep School [in Lake Placid, N.Y.]," Chiasson said. "It's different when you actually play here than when you just hear about it. It was a great experience tonight. It's a great feeling to get that win in the first game, and now we're playing BC next week."
Terriers captain Kevin Shattenkirk raved about the winger and his classmates. "I think all of our freshmen played great tonight, and I think that's due to the fact that we've played in a lot of big games this year," Shattenkirk said "It's really going to help us down the road and will get us ready for next Monday night."
If Chiasson can get another big goal a week hence, BU fans may need to stretch their vocabulary to include c'est magnifique.