The regular season wraps up this weekend and soon enough, we'll know the seeds for the last-ever CHA tournament, to be held next weekend at Niagara.
It's definitely a bittersweet time for the CHA. Really, it feels like a funeral where everybody is bawling their eyes out, but the priest wants everyone to celebrate the deceased's life.
Hard to do, but life does go on.
And with three of the four CHA squads finding new homes for next season, hockey will go on for those three, as well as for soon-to-be independent Alabama-Huntsville.
First things first, though, and Bemidji State plays in Huntsville this weekend, while Niagara and Robert Morris do battle in a home-and-home set.
BSU clinched the regular season title two weeks ago and pretty much ran away from the rest of the pack this season. All that's left to determine is second place through fourth place.
Robert Morris, currently second, can finish as high as second or as low as third, while UAH can go as high as second and as low as fourth and for Niagara, it's either third or fourth.
Game on!
NU Takes 2 Of 3 from Chargers
It was Ernie Banks meets "Badger" Bob Johnson last weekend in western New York.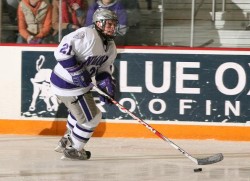 Banks, the Hall of Fame slugger for the Chicago Cubs was famous for saying, "Let's play two today," while Badger Bob always said it was a great day for hockey.
When Alabama-Huntsville traveled to Niagara last weekend, it was a planned weekend of three games between the two longtime rivals. Great day(s) for hockey? Absolutely. Let's play two? Nah. Let's up the ante and play three.
And that the Purple Eagles and Chargers did, with NU winning the first two, but UAH getting the last game on Sunday.
Having already skated to three contests with one-goal margins against Niagara, Friday night's contest proved to be no different as Alabama-Huntsville fell 4-3 to the Purple Eagles.
Matti Järvinen opened the scoring for UAH, only to see Egor Mironov (first goal since Jan. 3) and Robert Martini (first NCAA tally) give NU the lead.
"I do anything to help the team win," Martini said. "It was very nice to see that it went in, but we have to keep looking forward and play hard."
Marc Zanette made it 3-1 Niagara and Tom Train made it a one-goal game going into the third period.
Andrew Coburn tied the game early in the third, but Bryan Haczyk's goal at 6:54 stood as the game-winner.
"This was a big victory for us tonight," Niagara coach Dave Burkholder said. "Our theme tonight was to build momentum during each period. We came out ready and we had to be. When Alabama-Huntsville scored, we answered. I was very proud of my team for the way they responded tonight."
Adam Avramenko posted the win in goal with a 15-save outing, while Cameron Talbot suffered the loss making 23 stops.
Saturday, Niagara scored three unanswered goals in a 3-1 win.
Davide Nicoletti scored just 1:25 into the game for the Chargers, but then Chris Moran, Haczyk and Jeff Hannan solved Talbot with nothing more getting by Avramenko, who made 22 saves.
Talbot took the loss in net with a 29-save night.
"I feel the positive momentum in our locker room and that we are going in the right direction," Burkholder said. "I think we put a stamp on the game in the second period. The second period is what won us tonight's game."
"Plain and simple, I couldn't let the early goal get to me," Avramenko added. "I did my best to shake it off and help the team."
In Sunday's finale, UAH found the winning side of a one-goal game with a 3-2 overtime win to salvage one game of the three-game set.
Neil Ruffini's second goal of the game 45 seconds into the OT won it for the Chargers.
And here's a staggering stat: The win was Alabama-Huntsville's first road overtime victory since Oct. 27, 2000, when UAH topped Western Michigan, 6-5. Yes — nearly a decade since UAH got to celebrate an OT win on road ice.
Train scored the other goal for the Chargers.
Paul Zanette and Hannan tallied for NU.
Talbot stopped 41 shots, while Avramenko kicked aside 19 shots. 
The win gives the Chargers the season series against the Purple Eagles with UAH holding a 4-2 advantage with all four victories coming via 3-2 scores.
"Tonight we ran into a hot goalie in Cameron Talbot," said Burkholder. "I tip my hat to Talbot as he helped the Chargers secure two points tonight."
Moran recorded his 99th career assist on Hannan's goal and now has 136 career points, passing Peter DeSantis (1996-2000) for fifth place on Niagara's all-time points list.
Beavers Split With Nebraska-Omaha
Bemidji State coach Tom Serratore called Friday night's 3-1 win at then-No. 19 Nebraska-Omaha one of the most important wins in BSU's storied history.
It would have made for a better story had the Beavers swept the Mavericks, but UNO spoiled the fun with a 3-2 win on Saturday night.
In Friday night's win, BSU was outshot, 25-17, but goalie Dan Bakala stopped 24 shots to steal the win.
"I just told the guys in the locker room that we've had a lot of big wins in the history of the program, but this is one of the biggest," said Serratore. "It was a total team effort and I am extremely proud of the guys."
Tyler Lehrke had a goal and an assist, while Jamie MacQueen and Matt Read also tallied for the Beavers.
"You lean on your seniors and I can't say enough about how well [Lehrke] has played," Serratore said. "Jamie MacQueen has been outstanding the last two or three series and Chris McKelvie has been steady. Again, there is no question, we lean on those guys and they've delivered."
Saturday night, BSU was outplayed for the first 40 minutes, but did get a second-period goal from Ian Lowe to be down, 3-1, going into the third period.
Read scored on a 2-on-none break with Chris Peluso to make it a 3-2 game, but even with Bakala on the bench for the extra skater, the Beavers couldn't capitalize.
"They got the best of us for two periods — we just had no legs," said Serratore. "But in the third period, I thought we played with a little urgency and made a game out of it. I am glad we responded in the third period. Hopefully, that will carry over to [this] weekend in Huntsville."
He Said It
"I watch it and it's pretty funny. In the summertime, I go down there and you'll definitely see guys like that. They stretch it a lot, but there are guys like that. It's like any other shore town, I guess. It's funny when I'll watch and recognize the spots." — NU forward and New Jersey native Brayn Haczyk, commenting on the MTV show "Jersey Shore," to the Niagara Gazette.
Stanley Cup Coming To Huntsville
The Stanley Cup is slated to make an appearance at Alabama-Huntsville's game against Bemidji State on "National Defense Night" at the Von Braun Center in Huntsville on Friday for plentiful photo opportunities with fans.
"This is a special opportunity for our fans and community to come out and see one of the legends of hockey," noted UAH coach Danton Cole.  "Every player from the time he puts his skates on dreams of winning the Stanley Cup.  I was blessed to have gotten the chance to do just that in '95 with New Jersey."
In addition, the Chargers will be wearing special camouflage third jerseys as part of "National Defense Night."  The jerseys are being sold as a fundraiser for the team and will be presented to the buyers at the conclusion of the contest.
Here's a nice touch, too. If the Chargers hold Bemidji State to two or fewer goals, ticket stubs from Friday night's contest can be redeemed for a general admission ticket for Saturday's regular season finale against the Beavers.
He Said It II
"We're playing with a lot of energy. We're getting scoring from our skilled players and we're getting secondary scoring. Defensively we're playing much better and we're getting good goaltending. We're close to being ready for what you prepare your whole season for." — RMU coach Derek Schooley, to rmucolonials.com.
BSU's Peluso Traded to Maple Leafs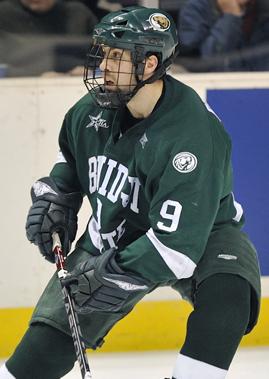 Pretty sure this is a first (and last) for the CHA as a current player's rights were traded at the NHL trade deadline on Wednesday as Peluso was dealt from Pittsburgh to Toronto for a sixth-round draft pick this June.
Peluso was Pittsburgh's seventh-round pick in 2004 when he was playing for the Sioux Falls Stampede of the United States Hockey League. He's also the lone NHL draft pick in the CHA this year.
He's the second NHL draftee of BSU's Division I era; current Columbus Blue Jackets forward Andrew Murray (2001-2005) was the first when he was selected in the eighth round of the 2001 NHL draft. Murray also scored his first goal of the season Tuesday night in a 4-3 overtime loss to Vancouver.
In all, six former BSU players have gone on to play in the NHL: Jim McElmury (Minnesota/Kansas City/Colorado 1972-1978), Dale Smedsmo (Toronto 1972-1973), Gary Sargent (Los Angeles/Minnesota 1975-1983), Joel Otto (Calgary/Philadelphia 1984-1998), Murray (Columbus 2008-present) and Matt Climie (Dallas 2008-2009).
The Maple Leafs have until July 15 to sign Peluso or he will become an unrestricted free agent.