Time to get out the crystal ball — it's CHA tournament time!
Sadly, it's also the last of its kind as next year, well, we all know about next year.
I'm not going to belabor the point about saying farewell to the CHA or getting all mushy and teary-eyed. I won't point fingers and pass the blame can around. That would be too easy and at the end of the day, nothing that anyone can say will change the situation we currently face — that next year, there will be no link at the top of the USCHO home page for the CHA.
I guess we could reflect back on what the CHA was, but then, what was it? Geographically, the league really had no basic footprint, unless said footprint was from a prehistoric creature or the Yeti. We had Findlay, Army, Air Force and Wayne State at one point, but those four schools either folded or joined other conferences.
But now, on the eve of the last CHA tournament, we must gear up to bid adieu to a conference that shocked, stunned and kept pace with the other 50-odd teams, but ultimately faced its dreaded fate.
Tom Petty perhaps said it best when he penned this lyric:
"You and I will meet again,
When we're least expecting it,
One day in some far off place,
I will recognize your face,
I won't say goodbye my friend,
For you and I will meet again."
CHA Tournament Preview
SEMIFINAL NO. 1 — Friday, 3 p.m. Eastern
No. 2 Robert Morris vs. No. 3 Alabama-Huntsville
This game has the potential to go more than 60 minutes. And I hope it does. That being said, there has to be a winner and methinks it'll be the Chargers. Brooks Ostergard vs. Cameron Talbot in goal is intriguing, but it's Talbot who shines on this night, er, afternoon.
SEMIFINAL NO. 2 — Friday, 7 p.m.
No. 1 Bemidji State vs. No. 4 Niagara
While a Niagara upset would certainly turn the tournament upside down, it's not going to happen here. BSU won't run away with the game, but an empty-netter at the end by Ian Lowe, completing the hat trick, gives the Beavers a berth in the title game.
CONSOLATION GAME — Saturday, 4 p.m.
Hey, the more CHA hockey, the better. NU hasn't really had a No. 1 goalie all season, though I like Chris Noonan and would like to see what he can do over the course of a full season as a No. 1. Ostergard is a proven No. 1 and gets the Colonials the win here.
TITLE GAME — Saturday, 8 p.m. (CBS College Sports)
Maybe a foregone conclusion, but Bemidji State will represent the CHA at the big dance. Even if they lose here, I still think the Beavers get in. I think. Just win the tournament outright, OK? BSU will lead from start to finish and will proudly make more than just a little noise next year in the WCHA.
Beavers Take Three Points Down South
Bemidji State capped off its incredible 23-win season with a win and a tie at Alabama-Huntsville last weekend.
Friday night, BSU took a 3-2 win, while Saturday night, the two squads skated to a 2-2 stalemate.
Darcy Findlay, Lowe and captain Chris McKelvie scored for the Beavers, who got a confidence boost by killing off a five-minute checking-from-behind major to Dan MacIntyre in the second period.
"Our last two five-minute majors have been textbook," said BSU coach Tom Serratore. "I can't say enough about how the guys have been killing. That was a second-period five-minute penalty, too, where we have the long line changes, so it was especially important that we made the right plays and we cleared the pucks."
Cody Campbell and Andrew Coburn tallied for UAH.
"That's good penetrating there for 30 shots against these guys," Coburn said to the Huntsville Times. "A team like that, you see the play and go to make the play, and it's covered up already. These guys are just tough to score against."
Cameron Talbot made 29 saves in the loss, while Dan Bakala stopped 28 for the Beavers.
"Winning isn't easy anywhere," Serratore said. "I don't care where we are. [College hockey] is full of great competition and in hockey, there is such a fine line between winning and losing."
The Beavers drew first blood in Saturday's contest when Matt Read skated in on a 2-on-1 and beat Talbot top shelf to take the early 1-0 lead.
Neil Ruffini and Matti Järvinen were the goal scorers and Lowe added the other for BSU.
Talbot turned aside 30 shots and Bakala made 25 saves.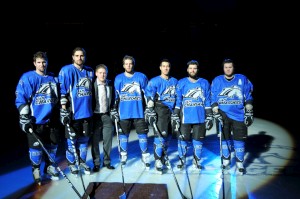 Saturday's "Senior Day" contest also marked the final home game for seniors Brennan Barker, Blake MacNicol, Kevin Morrison, Davide Nicoletti, Brandon Roshko and Cale Tanaka.
"Obviously, you want to win," said Serratore. "But a tie is better than a loss and I think that is how we have to look at it because I think we were very fortunate to get a tie tonight. We couldn't get anything generated and we couldn't get anything going no matter what we tried. We just had no legs."
"We had our chances," UAH forward Chris Fairbanks said to the Times. "The luck is going to fall on our side, we think, the next time."
Purple Eagles Sweep RMU in Home-and-Home
Niagara gained some momentum heading into the tournament by taking both ends of a home-and-home series from Robert Morris last weekend.
Three unanswered goals helped the Purple Eagles down the host Colonials, 3-1, Friday night.
Egor Mironov, Jeff Hannan and Tyler Gotto scored after Ron Cramer staked RMU to an early 1-0 advantage.
"We stuck with it," NU coach Dave Burkholder said. "In the third period, we had seniors who stepped up and made big plays when we needed it."
Chris Moran assisted on Gotto's goal for his 100th career apple.
"It came down the fact that we played one period tonight," Robert Morris coach Derek Schooley said to USCHO. "We were excellent in the first period and we reverted from that in the second and third. Our power play needs to keep it simple and to the basics. Our power play had a chance to extend the lead and it failed to do it."
Noonan made 33 saves for the "W" and Ostergard finished with 25.
NU came back Saturday night and posted a 4-2 win at home. The Purps are now 5-0-1 in their last six Senior Day games, outscoring foes by a 28-11 margin.
"I think we dictated the pace for most of the game," said Burkholder. "We hung in there and had plenty of jump."
Mironov scored a pair to go along with solos from Gotto and Giancarlo Iuorio.
Stefan Salituro was Noonan's kryptonite as he scored both for RMU.
Noonan made 28 saves in the winning effort. Ostergard finished with 15 saves on 18 shots through 27:12 and then Eric Levine stopped 16 of 17 the rest of the way.
All-CHA Teams Announced
The Beavers and Colonials both placed four players on either the first or second team, while Niagara added three players and Alabama-Huntsville added one player on the All-CHA teams.
Earning first team All-CHA honors are forwards Nathan Longpre (Robert Morris), Moran and Read, defensemen Brad Hunt (Bemidji State) and Denny Urban (Robert Morris) and Bakala.
Second team All-CHA players are forwards Chris Kushneriuk (Robert Morris), Lowe, Ryan Olidis (Niagara), along with blueliners Dave Cowan (Robert Morris) and Gotto (Niagara) and Talbot in net.
The Beavers swept the individual awards handed out Thursday. Read was named the player of the year, while forward Jordan George took home the rookie of the year award and Serratore was named coach of the year.
All-Rookie Squad Announced
Bemidji State has three players on the All-Rookie team, including George, defenseman Jake Areshenko and netminder Mathieu Dugas.
Jarvinen, Niagara defender Jason Beattie and Salituro round out the team.
CHA Names Best In Classroom
In its last year of competition, the member teams of the CHA are as competitive as ever, with 57 student-athletes earning CHA All-Academic Honors, the most since the 2006-2007 season.
Bemidji State led all schools with 17 honorees, while Robert Morris was right behind with 14. Alabama-Huntsville and Niagara each had 13 honorees.
"College Hockey America has always prided itself on building the total student-athlete," CHA commissioner Ed McLaughlin said. "Our coaches and institutions deserve credit for making academics a priority on their campuses and for recruiting talented individuals who work hard in the classroom."
This year's All-Academic team features seven student-athletes who have earned their third consecutive spot on the honor roll: Morrison (UAH), Nicoletti (UAH), Kyle Hardwick (Bemidji State), Tyler Lehrke (Bemidji State), McKelvie (Bemidji State), Chris Peluso (Bemidji State) and Ryan Annesley (Niagara).
To earn placement on the CHA All-Academic Team, a student-athlete must have completed at least one year of at his present institution and have an overall grade-point average of at least 3.00 (based on a 4.00 scale) for all terms at his present institution or have earned a 3.00 grade-point average for the previous two semesters. The student-athlete must be both academically and athletically eligible to compete during the present season.
UAH — Matt Baxter, Vince Bruni, Ryan Burkholder, Andrew Coburn, Tom Durnie, Jamie Easton, Chris Fairbanks, Joey Koudys, Kevin Morrison, Davide Nicoletti, Brandon Roshko, Neil Ruffini, Cale Tanaka.
BSU — Ryan Adams, Dan Bakala, Emil Billberg, Matt Carlson, Ryan Cramer, Darcy Findlay, Kyle Hardwick, Brad Hunt, Ben Kinne, Tyler Lehrke, Ian Lowe, Dan MacIntyre, Jamie MacQueen, Chris McKelvie, Chris Peluso, Matt Read, Shea Walters
NU — Ryan Annesley, Adam Avramenko, Dan Baco, Jim Burichin, Sam Goodwin, Tyler Gotto, Bryan Haczyk, Robert Martini, Egor Mironov, Chris Noonan, Ryan Olidis, David Ross, Paul Zanette
RMU — Tom Brooks, Kyle Burton (student assistant coach), Nick Chiavetta, Dave Cowan, Ron Cramer, Cody Crichton, Josh Jones, Chris Kushneriuk, Trevor Lewis, James Lyle, Brock Meadows, Brooks Ostergard, Furman South, Denny Urban
Bemidji State Adds USHL Commitment
Cedar Rapids RoughRiders forward David Boehm has committed Bemidji State for next season.
"We are very happy for David that this opportunity presented itself," said Cedar Rapids coach and GM Mark Carlson. "He has worked very hard on and off this ice to earn this opportunity."
Boehm, a 20-year-old from Naples, Fla., is 5-foot-10 and 180 pounds with eight goals and 10 assists for 18 points in just 14 games this season. He played two games with Massachusetts in 2008-2009 before getting a medical redshirt. Boehm then played the first semester this year at UMass with two goals and four points before going back to the USHL.
Former BSU Captain Surfaces in Cedar Rapids
Ex-BSU forward Travis Winter, a 2009 graduate, has joined Cedar Rapids as an assistant coach.
"We are very happy to add such an outstanding individual to our coaching staff," Cedar Rapids president and CEO Jeff Jauch. "He comes very highly recommended within the hockey community."
Winter served as both a captain and an assistant captain during his time at Bemidji State, including captaining the Beavers to the Frozen Four last spring.
"Travis understands the importance of sheer hard work and sacrifice," added Carlson. "He brings a tremendous passion for the game of hockey and the United States Hockey League. He will be a tremendous asset to our players, our staff and the Cedar Rapids community."
Winter currently serves as a volunteer assistant coach at St. John's in Collegeville, Minn.
McKelvie Going To Frozen Four
McKelvie will be the CHA's lone representative at the Frozen Four Skills Challenge this year.
BSU's captain will play for Team West and will be the second straight Bemidji State player to be named to the skills rosters. Tyler Scofield was named last season, but pulled out when BSU was actually playing that weekend.
Hobey Baker From RMU?
With the fan voting phase of the Hobey Baker Award now complete, Kushneriuk finished in fourth place in the fan ballot, which accounts for a whopping 1 percent of the final vote.
Kushneriuk garnered 12,628 votes.