The mantra of many hockey experts is that defense, goaltending and special teams — more than offense — win championships.
This year's Boston College team begs to differ. The Eagles have been winning low-scoring defensive battles as well as shootouts. For the former, see their 3-0 win over Vermont in the Hockey East semifinals or their 3-1 win over Alaska in the NCAA Northeast Regional (as well as their team defense ranking). For the latter, see the aforementioned Maine and Yale games.
So BC coach Jerry York isn't about to get apologetic about winning by football scores. The key is the winning.
"I prefer any game that we're on the left side of the ledger," he says. "You never know what to expect. Sometimes the puck bounces funny ways. A lot of things affect the outcome of games. No one can really expect a 2-0 game or a 5-0 game.
"You just try to play to win the hockey game. In the national tournament, you just try to survive a game and advance to the next one."
After all, BC hasn't lost since Feb. 19. What's more, during that 10-0-1 stretch the Eagles have trailed for a microscopic 55 seconds.
Which means, it ain't broke and York isn't about to fix it.
"We'll continue to do what we do," he says. "We aren't going to change a thing as far as what we do. We are winning and going to the Frozen Four so we won't just blow it up and do something different.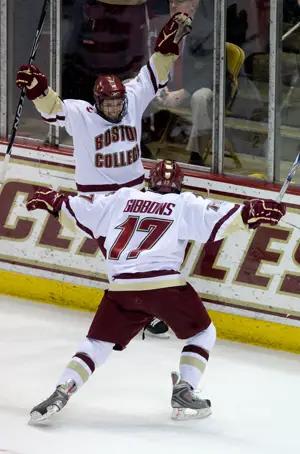 "The other teams are good teams. It's easy to say we're just going to shut out this team or that team but every group has good players and coaches. They're going to make plays and score goals.
"So we'll go into this with the same mind-set that we had going into each game this year. Let's play Eagle hockey, pay attention to details and hopefully we will be able to advance and move on in the tournament."
Of course, York still has areas he wants his team to focus on.
"Puck movement is a big thing for us," he says. "The ability to find the open man and work the give-and-go is something that is paramount to our success. We need to have puck possession and move it very quickly to get it to another person.
"We're trying not to carry the puck too much. I don't like it when it stays on the tape too long. We put some extra powder on the tape this week so that we can move pucks a little bit better.
"We work on faceoffs, line changes, special teams both ways and trying to create offense from good, solid defense. Certainly we'll work on defense, but we have to balance it. We like to be 50-50 on our practice plans."
The Eagles should adjust quickly to playing at Ford Field since they played in a somewhat comparable, though much colder, venue when they played at Fenway Park on Jan. 8.
"There are going to be similarities to the point that it is an unusual venue," York says. "We're generally accustomed to playing in college rinks or NHL venues so to get into a site like Ford Field or Fenway is certainly a situation that we can draw from."