By now, everyone knows the personal tragedy that Miami hockey endured this year. In early February, team manager Brendan Burke, the 21-year-old son of Toronto Maple Leafs general manager Brian Burke, was killed in an auto accident on an icy road near the Indiana-Ohio border.
It's the reason the RedHawks wear the shamrock patch on their shoulders. It's also a sad reason that drew the close team and organization even closer together.
"We are a family," said coach Enrico Blasi. "We're talking about three or four years of being together every single day. That's how we really got through it, being together. If we needed to talk about it, we talked about it. If we needed to do what we needed to do on the ice, we did that.
"What we do on the ice is a game and we love it, but what happened to Brendan, that's real life."
Focusing solely on the ups and downs of this Miami season — losing last year's national title game after taking a two-goal lead into the final minute, Blasi's frankness about relying on his coaches and players during his own divorce, Burke's death — takes away from what should be the sole consideration of this RedHawks team, this weekend in Detroit.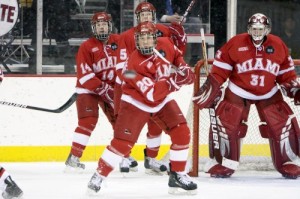 Miami is flat-out that good.
"I think we're a very deep team, both offensively and defensively," said junior captain Tommy Wingels, this year's CCHA Best Defensive Forward award winner. "It's a battle day in and day out for guys to get into the lineup. The guys that aren't in the lineup are good players as well.
"I think it makes us hard to match up against. When you have four lines rolling, obviously it's tough [for opponents] to change lines, but it's best for us when it's like that, too. There's more rest on the bench. You have more confidence in the team when all four lines are going."
You don't have to take Wingels' word for it; just look at the way Miami has scored coming into the Frozen Four. In their last 10 games, the RedHawks have registered 29 goals by 15 different players. In their last four contests, including the two of the Midwest Regional, eight different players have accounted for nine total goals.
"Then our goaltenders as well," said Wingels. "We have two No. 1 goalies."
It's a phrase the Miami folks like to toss around, that two-No. 1-goalies thing, but they aren't exaggerating. In addition to sophomore Cody Reichard, the CCHA's player of the year, the RedHawks can rely on his classmate, Connor Knapp (10-3-4, 1.85, .926).
In fact, the two goaltenders split time for the Midwest Regional. Reichard earned the 2-1 win over Alabama-Huntsville, and Knapp captured the weekend with his 55-save performance when Miami beat Michigan, 3-2, in double overtime.
The RedHawks did show some weaknesses this season, both in the number of penalties they took and in their power-play performance. In Fort Wayne, though, Miami played disciplined hockey, with 13 minor calls in two games. And the power play, which struggled to convert at 14.2 percent in the second half of the season, scored four of five Miami's goals in the Midwest Regional.
"At this time of the year, you're playing high-quality teams, so if we can play even five-on-five and make it a special teams game, we feel pretty good about that," said Blasi. "It comes down to special teams no matter who you're going to play, and everybody knows that. If we can chip in a couple of five-on-five goals, that'll be to our advantage."