Defenseman Chay Genoway, a third-team all-WCHA selection last season even though he played only nine games, will return to North Dakota on a medical hardship waiver.
Related link: With Genoway Back, is North Dakota the Favorite?
Genoway suffered a concussion on Nov. 13 and did not return to the Fighting Sioux lineup the rest of the season, suffering from post-concussion syndrome.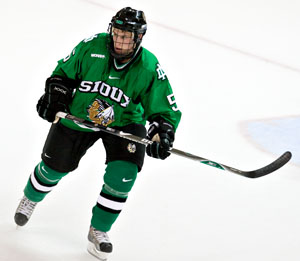 He has been granted a fifth year of eligibility by the NCAA because of the medical hardship.
"I'm just excited to be a part of this, what I think is going to be a fun year next year," Genoway said at a news conference Thursday. "I just know in my hockey career looking back, I think this season next year is going to be the highlight of my hockey career, and that's why I'm coming back."
Genoway was leading WCHA defensemen with 10 points and four goals through nine games last season.
North Dakota won the WCHA playoff championship but lost to Yale in the first round of the NCAA tournament.
"I feel like I was letting my teammates down a little bit last year, not having the opportunity to be out there with them," Genoway said. "I had a lot of high expectations for myself and for the team, and I'm pretty excited about this team next year. There's a lot of motivation for this team and there's a lot of excitement around the rink right now."
He needs 10 points to become the ninth Sioux defenseman to record 100 points in his career.
Genoway said he has not yet been cleared by a doctor to play competitively.
"I've been working out and doing some light skating and stuff like that," Genoway said. "I plan to be ready to play by October."