Defending a national championship is never an easy prospect. Doing it with a roster that contains only 12 holdovers from the previous year is another thing altogether.
That might seem like a daunting task for some schools, but for coach Shannon Miller and the Minnesota-Duluth women, it is just another challenge to overcome.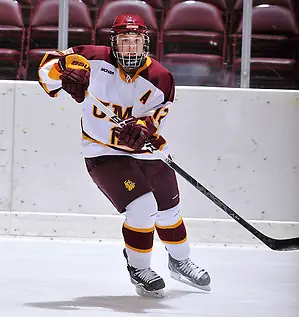 "We're taking the approach that we not are defending our national championship," Miller said. "This team is going for its first national championship. That attitude helps you start fresh and have a good perspective, but with the opponents that are out there, it's going to be a big hill to climb."
If Miller thinks this year's hill is tall, UMD's run to the title last season was far more daunting. The 2009-10 Bulldogs were missing this year's entire top line of Haley Irwin, Elin Holmlov and Pernilla Winberg, and starting goaltender Kim Martin. All four players spent the year training for and competing in the Winter Olympics in Vancouver.
To combat the team's offensive holes, Miller changed the style of hockey Minnesota-Duluth typically employs, installing a simpler, defensive-based system that focused the offensive attack on strong transition play. It took time for the players to adapt the changes, but eventually the Bulldogs jelled together into a squad that won its final nine games en route to its fifth national championship.
However, the 2010-11 campaign presented Miller and the Bulldogs a whole new set of challenges, including integrating another roster. Along with the 12 returnees, UMD added four freshmen and returned the four Olympians back into the fold.
So far the results have been promising for the Bulldogs, who currently sit tied with Wisconsin for the top spot in the WCHA with 24 points.
"Minnesota-Duluth had a really good team last year," said Winberg, a sophomore forward. "Now that those of us who were at the Olympics are back, I feel like we're clicking. Even though there are a lot of new players on the team this year, we're just a great group that has a lot of fun together."
Of course it doesn't hurt for UMD to have one those re-additions be world-class goaltender Martin, who just happens to be a three-time Olympian with Sweden.
"Kim is an awesome goalie, who is always smiling and is always happy," said Winberg, who competed with Martin in Vancouver last year. "She doesn't give up many rebounds and she really helps us win games."
Adding Martin creates a crowded net for UMD, with sophomore Jennifer Harss providing another solid option for Miller. All Harss did in 2009-10 is win 29 games and backstop the Bulldogs' title run.
Martin feels that facing competition like Harss for the starting position will only improve her game.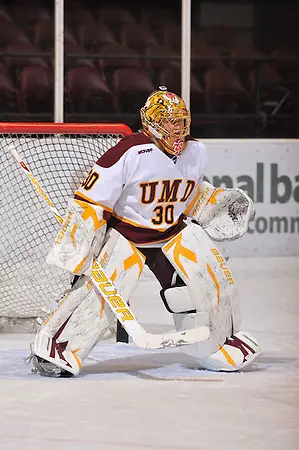 "It has been a positive relationship [because] we've both been pushing each other," said Martin, who backstopped UMD's 2007-08 title team. "It's been good to have someone to compete against, but it's also good for the team to have two goalies who can step up when we need it."
Another significant addition this season for the Bulldogs is Irwin, a junior forward who spent her year away from UMD winning a gold medal with Canada.
"Vancouver was a very special experience for me and something I'll never forget," Irwin said. "But I also learned a lot about what it takes to compete at that level and to win a gold medal. You need those same sorts of things in order to win national championships."
Having Irwin, Winberg and senior Elin Holmlov, who leads the team with 140 career points, back with Minnesota-Duluth this season allows Miller a lot more flexibility on offense, a luxury she didn't have a year ago.
"They're players who take our ability to compete to a whole new level," Miller said. "We're a lot more creative and complicated offensively."
Much of that creativity stems from UMD's uniqueness as a hockey program, which stems from the varied backgrounds of its players. The Bulldogs roster contains players that hail from five countries, and six whose hometown is located outside North America.
"People wonder, 'How do you keep all these different countries and different languages going in the same direction at the same time?'" Miller said. "I say it's easy. The girls are just good people from lots of different locations, but they're all here for the same reason."
Getting a chance to compete alongside talented international players was one of the reasons why players like Irwin chose Minnesota-Duluth.
"We all play different styles," Irwin said. "I've been lucky playing with two Europeans on my line. Skating with them offers you a new way of looking at the game that really helps you develop as a hockey player."
Those different styles make the Bulldogs a tough team to game plan against for rivals like Wisconsin.
"I think their expectations are [always] high," Wisconsin coach Mark Johnson said. "[Minnesota-Duluth] is very well coached and has the talent within their locker room that is used to winning and competing for national championships. … When you put all of those things together, generally you are going to be successful."
And success has been the primary characteristic of Miller's tenure. A 3-1 victory over Wisconsin on Sunday gave the coach 301 career wins at UMD. Miller hopes she can stick around for 301 more.
"I love coaching and I hope to coach another 10 years because it's fun," Miller said. "It's awesome being a role model and a mentor for young women. But reaching 301 says a lot about our program and the people that have been there for the last 11 years."